By Brian Newman Rayl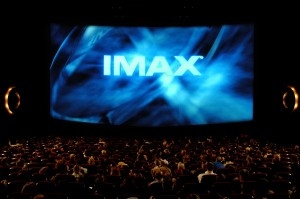 The key to IMAX's (NASDAQ:IMAX) growth outlook for the fourth quarter 2010 and full-year 2011 will be international screen growth, according to a newly issued research note from Martin Pyykkonen, Senior Equity Analyst for Wedge Partners. Box office sales were weak in the fourth quarter of 2010, but screen growth may help to offset that and actually favors IMAX somewhat.
Pyykkonen also pointed out that first quarter 2011 year-over-year comparisons would be tough due to the releases of Alice in Wonderland in Q1 2010 and Avatar released 12/18/2009 but playing through most of Q1 2010. Pyykkonen feels that the current street estimates for IMAX accurately reflect the weakened state of the film industry and tough year-over-year comparisons. These factors are not being accounted for in companies like Regal Entertainment Group (NYSE:RGC) or Cinemark Holdings (NYSE:CNK), where valuations and estimates are still too high.
For the fourth quarter 2010, Pyykkonen estimates $60.5 million in total revenue and $17 million EBITDA, both below the street mean. For Q1 2011, he sees a 14.4% decline in total revenue and $17.7 million EBITDA.
The key swing factors for IMAX in Q4 2010 and Q1 2011 will be how quickly IMAX can put in place the Joint Venture and Sale/Lease Back deals that were signed and not completed during 2010. Each 100 screens deployed can deliver approximately $28 million incremental annual EBITDA as long as they are in place and operating early in the year. Based on their guidance two months ago, IMAX will have ~450 new screens by the end of 2011, representing approximately a 20% increase for the year end 2011 vs. 2010.
The next box office catalyst in the works right now appears to be Disney's (NYSE:DIS) Pirates of the Caribbean: On Stranger Tides which is due out May 20th. IMAX Box Office has performed twice as well when debuting live action films vs. family animation films since the release of Avatar.
International markets are a key footprint and box office growth driver for IMAX. At the end of the third quarter of 2010, there were about 100 screens installed or backlogged in China and 19 screens operating in Russia by the end of 2010. With low penetration in regions such as Latin America and in major international cities such as Rome, Paris, Hong Kong, and Tokyo, IMAX is still in the early stages of international expansion.
There are currently 16 commercial films scheduled for IMAX in 2011, including Tron: Legacy (released Jan 1), The Green Hornet (released Jan 14), Sanctum (Feb. 4), I Am Number 4 from Disney/DreamWorks (Feb. 18), Mars Needs Moms (March 11), Sucker Punch from Warner Bros. (March 25), Fast Five from Universal (April 29), Pirates of the Caribbean (May 20), Super 8 from Paramount (June 10), Cars 2 (June 24), Transformers 3 (July 1), the final Harry Potter (July 15), Real Steel (Oct.7), Happy Feet 2 (Nov. 18), Mission Impossible 4 (Dec. 16), and the Adventures of Tin Tin from Paramount/Sony (NYSE:SNE) (Dec. 28).
IMAX has also announced that the company intends to move their stock from the Nasdaq exchange (NASDAQ:NDAQ) to the NYSE exchange (NYSE:NYX).
Wedge Partners does not publish ratings or price targets on covered companies.
Disclosure: None