A couple of weeks ago, a gentleman that I hold in high regard, informed me of an oil and gas exploration and production company. He stated that the company not only has good reserves but is increasing production significantly. This is how I came to know Gulfport Energy Corporation (NASDAQ:GPOR).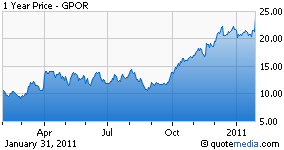 Gulfport has a market cap of 1.03 billion. The company has net proved reserves of 20.8 MMBOE. Net probable reserves are 34.6 MMBOE. Net best case recoverable resource is 513 MMBO. These plus their net unbooked reserve potential in Permian of 18.8 MMBOE shows a total 587.2 MMBOE net exploitable oil-rich resource. The number kind of jumps out at you. It has what I figure to be the single most important aspect of a company. They have the facilities for growth.

The company is well diversified as it has five locations of net acres from which to draw resource potential. The first is the oil sands in Canada. GPOR currently has 131,901 net acres here. The second is the Niobrara shale and its 24,468 net acres. Permian assets total 13,923 net acres. The Southern Louisiana position has 13,998 net acres. Last but not least is the company holdings in Thailand of 4,000,000 gross acres. The sum of this portfolio in 2009 was 1.68 MMBOE and was composed of 95% oils and liquids. Gulfport estimates this year's production to be 2.2 to 2.4 MMBOE.

As with most companies that have heavy exposure to oily positions, Gulfport had a very good year in 2010 through the first nine months. As cash margins improved from 2009, Gulfport was able increase production. 2010 production of 1.439 MMBOE was an increase of 17% sequential growth over the previous period. $62.6 million of EBITDA was a 61% sequential increase. $60.9 million of operating cash flow was a 63% sequential increase. $33 million of net income was a 128% sequential increase. Lease operating expense was kept to $7.71 of BOE in the third quarter of 2010. The company has a borrowing base set at $65 million. 32% of forecasted production is hedged at 86.96 per barrel for 2011. This year Gulfport will spend between $110 and $120 million in capital expenditures, and the entire amount will be paid for with cash flow.

Gulfport's diversification has created an asset base throughout North America and into Thailand. West Cote Blanche Bay has net reserves of 5.29 MMBOE. Net probable reserves are 6.15 MMBOE. Average rate of production is 3528 BOEPD. West Cote Blanche Bay is $35 to $38 million of 2011 capital expenditures. This is 62% of Gulfport's total net production and is 93% oil weighted. Internal rate of return on a $1.5 million investment is:

55% at $65 oil/$4 gas
78% at $75 oil/$5 gas
100% at $85 oil/$6 gas

Gulfport's Hackberry location has proved reserves of 2.97 MMBOE. They are currently doing a 3-D seismic survey of this 42 mile area. The 8330 net acres are 100% owned by Gulfport. This area has net production of 1385 BOEPD. Hackberry currently produces 24% of Gulfport's total production. It has a 96% oil weighted production mix. This area is $24 to $26 million of company's 2011 capital expenditures.

The Permian holdings of Gulfport have net proved reserves of 11.58 MMBOE. Net probable reserves are 3.96 MMBOE. There is an average net production of 704 BOEPD. The Permian is 12% of Gulfport's total net production. 83% of this production is oil or liquids weighted. Capital expenditures in this play will approximate $26 to $28 million. Although this is a newer play, that was recently expanded, it has significant value as other oil companies (Berry Petroleum Linn Energy and Energen) have drilled the area with a low cost per barrel of oil.

Gulfport's Niobrara holdings have proved reserves of .9 MMBOE. The 24,468 net acres is Gulfport operated. Capital cost of approximately $1.4 million per well. Gross EUR of approximately 120 MBOE per well. It has been assessed that costs associated per barrel of oil will be low (in the $9 to $10 range). Gulfport is currently doing a 60 square mile seismic survey. Three to five vertical wells will be drilled in the fourth quarter of this year. There is potential for horizontal drilling, but more will be known when seismic survey is completed.

Gulfport also owns 24.9999% of Grizzly Oil Sands, ULC. Grizzly is currently working an oil sands project in Alberta. Grizzly has two different sections in Alberta, one has been assigned contingent resource and the other has not. The first has 182,691 acres. At this location proved and probable reserves are 98 MMbbls. The best estimate contingent resource is 1850 MMbbls and best estimate prospective resource is 202 MMbbls. The contingent resource is 35% of Grizzly's acreage. The second lease has 340,175 acres and was not assigned a contingent resource at this time. It is possible that some of the 340,175 acres will have some resource potential, because some of the evaluation was deferred until results from the drilling season can be obtained. This includes Thickwood Hills (7% of Grizzly acreage) and Firebag River (9% of Grizzly acreage).

In 2005, Gulfport acquired a four million acre section in Thailand. Gulfport's net exposure to this natural gas play is 2.7 Bcf total proved reserves. Gulfport has exposure to this field through its investment in APICO. Gross production in the Phu Horm gas field (Gulfport owns .7%) averaged 86.4 MMcf of natural gas and 445 Bbls of condensate per day during first quarter of 2010. There is another one million acre block that is currently being explored that Gulfport owns 18%. There could be tremendous upside here due to higher natural gas prices in Thailand, which have been locked in with the Thai government.

In summary, Gulfport has several locations producing that are oil weighted (95%). The Permian Basin has shown to be an oil location with a high success rate. The Niobrara could have large upside as they develop more production. Grizzly provides access to a half billion barrels of oil resource in the oil sands that is only 35% of their acreage. It is possible that Grizzly could have a vast amount of oil in the area untested. Gulfport has a large inventory of projects coming on line in the future. The oil sands projects could come on line by late 2012. Gulfport will grow for years as their diversified asset base is produced and done through cash flow.



Disclosure: I am long GPOR.