American Lorain (NYSEMKT:ALN) listed on the AMEX is the largest manufacturer of processed chestnut products in China. The company launched its chestnut business in 1995 and currently produces about more than 50 high value-added processed chestnut products. Chestnuts are popular snack foods throughout Asia and the market for them is estimated at a $1B in Asia. They are sold in convenience stores, supermarket chains, kiosks and large mass-market retailers.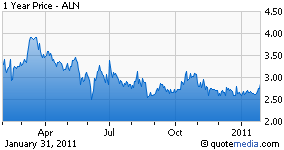 The company produces and sells 234 varieties of food products in three main product lines. The company's products include chestnut products, convenience food products including ready-to-eat and ready to cook meals and a selection of frozen foods for wholesale. The company is headquarted in Shandong and has five factories. Currently it sells to 26 provinces and administrative regions in China as well as to 42 foreign countries.
Chestnut products are the company's highest margin products, but its sales are seasonal. In an effort to reduce the impact of seasonality on its operations, the company has steadily increased production of frozen, canned and bulk foods, as well as convenience foods such as Ready-to-Cook (RTC) foods, Ready-to- Eat (RTE) foods and Meals ready-to-eat (MREs).
In 2009 revenues from Chestnut products were 60%, Convenience foods 24% and Frozen foods 16%. In the first nine months of 2010 Chestnut products revenues were 48,2%, Convenience foods 35,3% and Frozen foods 16,6%.
Non-chestnut foods are expected to contribute an increasing portion of ALN's total sales as Chinese consumers shift consumption toward branded, modern food products.
American Lorain has enhanced its cooperation with supermarkets and restaurant chains to help boost domestic market share. ALN products nowadays are sold at Wal Mart (NYSE:WMT), Metro, Carrefour (CRERY.PK), etc. but also at KFC & Pizza Hut franchise stores.

On January 25, 2011 the company announced that it has signed french-fry distribution agreements and contracts with two premier European potato product companies, Pinguin Lutosa Foods of Belgium ("Lutosa") and Farm Frites International BV of my country The Netherlands ("Farm Frites").
Financials
FY per Dec. 31

2006

2007

2008

2009

2010

Revenues

$ 49.6M

$ 82.1M

$ 132.4M

$ 145.8M

$ 182-190M

Guidance

Y/Y growth

64.2%

65.5%

61.3%

10.9%

Gross Profit

$ 12M

$ 20.2M

$ 31.1M

$ 32.7M

$ 23.2M

first 9 months

Gross Profit

Margin

24.2%

24.6%

23.5%

22.3%

22.8%

first 9 months

Operating

Income

$ 8.7M

$14.7M

$ 20.9M

$ 22.8M

S 15M

first 9 monts

Net Income

$ 5.9M

$ 9.7M

$ 14.7M

$ 14.4M

$ 17.8-19M

Guidance

Net Margin

12%

11.9%

11.1%

9.8%

9.8%-10%

Guidance
Total Stockholders Equity: $ 118.4M Book value $ 3.44

I expect that revenues and net income are going to increase by at least 20% in 2011. So 2011 revenues could be around $230 million with a net income around $23 million. In 2012 revenues could hit $300 million an increase of 30%.

EPS Projections:
EPS FY 2010 $0.55
EPS FY 2011 $0.64
EPS FY 2012 $0.74

Financing is good and the company had (As of September 30, 2010) short-term bank loans outstanding of $46.8 million. The company believes that its currently available working capital, after receiving the aggregate proceeds of the credit facilities should be adequate to sustain operations at current levels through at least the next twelve months. Also the fact that a German bank (DEG, member of KfW Bank ) is financing this company makes it even more credible. On January 28th, 2011, DEG disbursed the second tranche of its loan to American Lorain in the amount of $10 million. American Lorain signed the loan agreement with DEG on May 31, 2010. The total amount of the loan with DEG is $15 million, the first tranche of $5 million was disbursed on December 13, 2010. The loan has a term of 5 years and commencing from the full disbursement, the interest rate will be fixed at 5.51% per annum.
Ownership
Management owns some 47%. Other owners are institutional investors (around 13%) like: Guerrilla Capital Management (Peter Siris), Wellington Management and Whitebox Advisors.
Investment Case
China's retail food sector has matured rapidly, as consumers have increased their demand for convenience and quality in food products.
In the country's 12th Five Year Plan China plans to boost domestic consumption. According to the guidelines of The 12th Five-Year Plan, policy makers stressed the strategic importance of structural transformation from an investment-led economy to a balanced growth model leveraging domestic consumption, investment and export. Authorities will step up the progress of sustained industrialization and urbanization and commit to boosting personal income over the next five years (2011-15). The guideline aims at keeping personal income growth in tandem with GDP growth.
Sustained income growth will support growing food expenditure.
The company has the coming year five key mandates:
Consolidation of Product Portfolio: focus on key product lines and strengthen brand equity and awareness;
Streamline Distribution Channels: enhance third party distribution percentage and improve cashflow management;
Optimize Capital Expenditures: expand production capacity through leasing and contracting and reducing CapEx requirements while meeting incremental capacity needs;
Focus on domestic sales;
Develop in Human Resources.
The stock is trading under book value ($3.44) and has a P/E ratio of around 5. Peers in China and Hong Kong have P/Es between 20 and 30.
Three import contracts with Lutosa were signed which represent a total of 1,882 tons of french-fries. Two additional import contracts with Farm-Frites were signed for its premium "Bravi" french-fries which represented 1,800 tons of products. American Lorain will serve their imported products to its network of distributors, stores and QSR accounts. Upon successful fulfillment of the first contract, Farm Frites has agreed to appointed American Lorain as the exclusive distributor for its "Bravi" french-fries in China.
Mr. Si Chen, Chairman and CEO of American Lorain commented
Lutosa and Farm Frites are both premier European companies specialized in potato products and their exports to China accounts for over 20% of the total french-fry market in the country. We believe our agreements represent a step towards growing our market share in China, leveraging our extensive distribution channels such as stores including Tesco, Wal-Mart and Carrefour, our network of sub-distributors, and our branch office covering most major cities in China.
Disclosure: Long ALN