Thomas and Betts (TNB) is a well managed, conservative, smallish mid-cap industrial company that flies under the radar of most investors. 94% owned by institutions, TNB has a few street analysts, but not much following. TNB, however, is performing quite well as the general economic activity picks up. 2010 earnings and 2011 guidance were announced, and their strength has added investor interest, sending share prices to 52-week highs.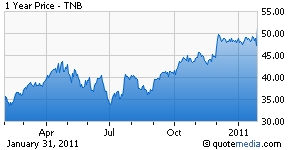 Founded in 1917, Thomas and Betts is a leading manufacturer of electrical components used in industrial, commercial, residential and utility markets. TNB also manufactures heating and air conditioning equipment (HVAC), along with high-voltage electrical transmission steel structures. Electrical components accounts for 84% of revenues. TNB supplies most all of the vital components necessary to move electricity from the power plant generators to the outlet for your computer. More background from a previous article here.
2010 ended with strong top line performance from HVAC and expanding margins for Steel Structures, even though commercial construction probably won't find a bottom until the last half of this year. Combined with previous cost-cutting measures and a lower tax rate, earnings handily beat consensus.
Reported quarterly earnings per share for the 4th quarter were $.77, a 15% y-o-y growth rate based on 10% increase in revenues (see earnings results here). Estimates had been calling for $0.60 for the quarter. Earnings for the year were $2.75 on revenues of $2.0 billion. Management has provided 2011 EPS guidance in the $3.15 to $3.35 range on revenues of $2.15 billion.
This year, a turn-around in commercial construction and strengthening in the utility markets will be the primary drivers if earnings are to exceed guidance.
Thomas and Betts continues to expand through smaller add-on acquisitions, with last year's revenues increasing by 5% from acquisitions. As the economic background improves, the price of acquisitions increases, and if acquisition prices are too high, management has stated they would increase their share-buyback program.
TNB has generated a 5-year average return on invested capital of 10.5% and is anticipated to grow earnings by 12% to 15% a year. There are 55.2 million shares out and TNB carries long-term debt of $575 million. TNB does not pay a dividend.
With a return of better construction markets and improved upgrades to the electrical grid and distribution network, TNB could earn around $3.50 to $3.80 in 2012. Share prices could trade at a 17 P/E multiple due to its conservative management, strong balance sheet, and steady growth footprint. At a P/E of 17, $3.80 earnings would generate share prices in the low $60s, for a 20% capital gain.
A possible downside could be higher input costs that crimp margins. Current margins equates to about $0.20 EPS improvement for every $50 million in increased electrical component revenues. Even though a 5% to 7% electrical component price increase was instituted in January, higher metals costs that cannot be passed on may reduce margins.
For long-term investors, starting a small position here and adding on dips, especially with any overall market weakness, should prove to be a satisfactory strategy.
As always, investors should conduct their own due diligence, should develop their own understanding of these potential opportunities, and should determine how it may fit their current financial situation.
Disclosure: I am long TNB, and have been a shareholder since 2006.