Despite pessimistic remarks from the Fed regarding unemployment, the S&P 500 index reached its 29 month highs last Wednesday and eclipsed the 1300 mark, led by gains in tech and commodity stocks. Given the recent strong performance, we are taking a closer look at 25 best-performing companies and 25 worst-performing companies in the last 29 months. Within the list of companies with the best returns, we will provide a rating for each company to provide an outlook of which of the best performers from this rally still have some room to run and which have run out of steam.
From the list of companies with the worst returns, we have identified some potential "fallen angels", or great businesses that have fallen in price due to some temporary setback, but should return to profitability in the near future. Just as important, we have listed some companies that contain characteristics of a potential "Falling Knife", or stocks whose price has dropped considerably and is likely to continue to fall.
All of the ratings given to the stocks on these two lists are developed and backed by The Applied Finance Group (AFG), and are constantly used to develop focus lists of companies that exhibit the following characteristics that determine whether we consider a company as an attractive investment opportunity or an unattractive investment opportunity.
• Intrinsic Value - Identifying the most undervalued companies
• Economic Profitability - What is the company earning above or below its true economic cost of capital
• Management Quality - Management Teams executing wealth creating strategies
Companies which rank highly according to the previously mentioned criteria have proven through back-tests to deliver superior returns over companies with poor ratings in those categories as seen in our Buy/Sell performance which takes into account these 3 main variables as well as other key criteria developed by AFG. This Buy/Sell list is used as a starting point for investors looking to add or trim positions from a portfolio, as there is a significant spread achieved between companies that we label as buys and those that we label as sells.
click to enlarge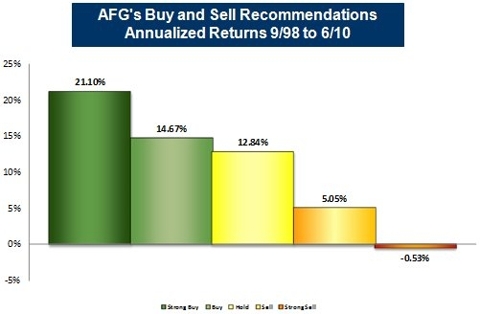 Click to enlarge
The companies listed below experienced the best/worst returns in the S&P 500 since September 2nd 2008, the last time the S&P 500 was above the 1300 threshold.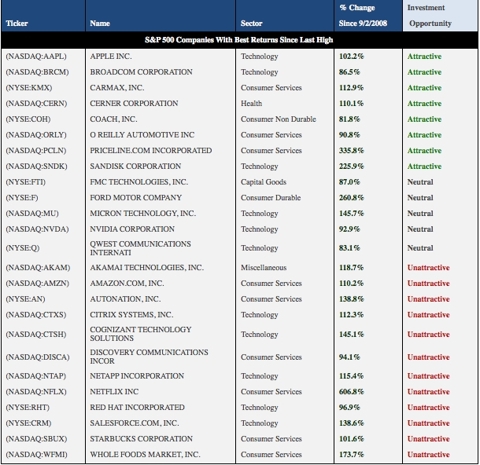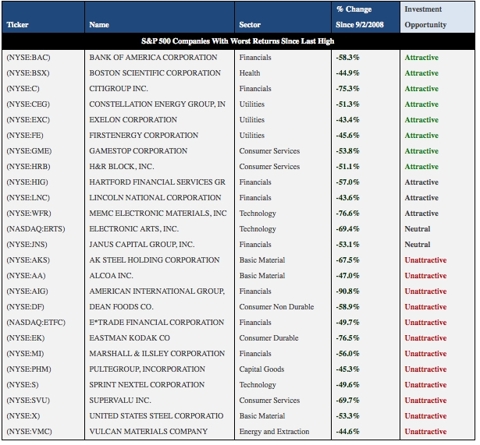 Disclosure: None