Texas Instruments (NYSE:TXN) is a leading provider of analog, embedded, and wireless solutions, along with their calculator segment that makes them more well-known to the general public than many other chip makers.
The company, based on the current valuation, seems to provide investors with a combination of a value play and substantial potential upside.
When it comes to returning value to shareholders, Texas Instruments authorized a $7.5 billion share repurchase plan in September 2010, and has been repurchasing $600 million worth of shares, or 1.5% of the current $40 billion market cap, per quarter. Not only does this bolster EPS numbers, but it eases the company's ability to continue increasing its per-share dividend, which currently yields only around 1.5%.
A likely reason for the recent share repurchase authorization is that Texas Instruments is currently winding down their baseband segment to streamline their business towards analog, embedded, and other wireless segments. Analog in particular has fairly low capital requirements and long product life cycles, which results in high profit margins. During the transition, Texas Instruments is likely to see stifled growth as a result of the shift, and buybacks represent a mid-term solution to keep per-share numbers up.
But, longer-term, Texas Instruments is well-positioned to take advantage of the rising tablet market and should continue to have success in the smartphone market. According to the company, their OMAP applications processors are already used in more than 200 models of mobile phones.
Ron Slaymaker, VP Investor Relations, in the recent Q4 2010 conference call, stated that Texas Instruments is collaborating with many customers within the tablet market with their products such as OMAP applications processors and power management components.
In addition, Slaymaker described the quantitative potential that Texas Instruments sees in the tablet. Taking analog and wireless components into account, the company sees $30 available to Texas Instruments in a tablet. ($10 coming from analog components, $15 from OMAP applications processors, and $5 from connectivity products). Even though the company can't realistically secure all of that in a single tablet, they can secure important places in a variety of tablets.
And the rise in tablets is more than just a PC replacement for the company. The components inside tablets fall much more in the realm of what Texas Instruments can provide than the components inside a PC, meaning that the trend toward smaller computing machines favors their firm considerably.
For the full year 2010, Texas Instruments reported revenue of just shy of $13.966 billion, operating profit of $4.514 billion (operating margin of 32%), and net income of $3.228 billion.
The Analog Segment contributed $5,979 billion to revenue and $1,876 billion to operating profit, leading to a segment operating margin of 31%. The Embedded Segment contributed $2,073 billion to revenue and $491 million to operating profit, leading to a segment operating margin of 24%. The Wireless Segment contributed $2,978 billion to revenue and $683 million to operating profit, leading to a segment operating margin of 23%. Their "Other" Segment, which includes calculators, applications specific circuits, and royalties, contributed $2,936 billion to revenue and $1,464 billion to operating profit, leading to a segment operating margin of 50%.
Besides the "Other" Segment, the Analog Segment is by far the most profitable segment in terms of margins, and according to a 2010 investor presentation, CEO Rich Templeton sees the Analog Segment eventually consisting of upwards of 60% of Texas Instruments, up from only 40% today. If this is the case, it should boost overall company margins over time.
Texas Instruments has the depth to compete with aggressive competitors, but also the breadth to secure several components within tablets. This, combined with their strength and scale in other markets, their growing dividend, extremely strong balance sheet, and substantial buybacks, results in a stock choice that presents only moderate risk, but substantial potential upside.
click to enlarge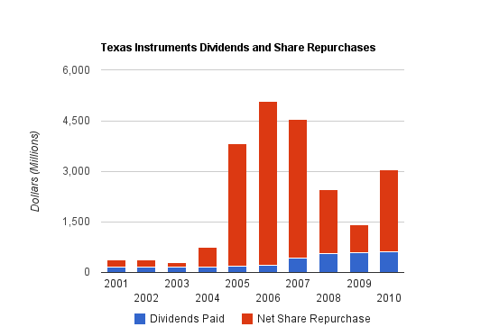 Disclosure: I am long TXN.