By David Russell
Safeway (NYSE:SWY) is drifting before its earnings report later this month, but one investor apparently thinks that it will hold its ground.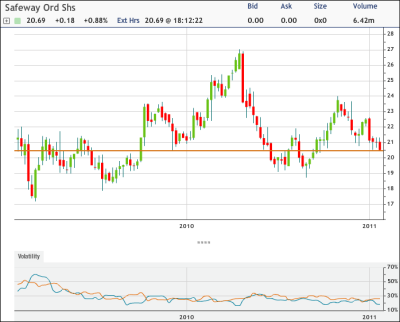 optionMONSTER's tracking systems detected the sale of more than 18,000 February 20 puts for $0.20 against open interest of 1,595 contracts. Total option volume in the supermarket chain was 10 times greater than average.

Selling puts obligates the investor to buy the stock for $20 if it falls below that level. The trader will get to keep the option premium if SWY holds its ground. (See our Education section)

SWY rose 0.88 percent to $20.69 yesterday. The stock is down 8 percent since the beginning of the year but seems to be basing out at $20.50, a level that appears to have provided support and resistance at various times for the last 15 months (dark orange line on chart).

Traders may believe that all the bad news is already priced into the stock, which has struggled as intense competition squeezes the industry's profit margins. They may also be heartened that SWY held support at $20.50 on Friday despite the broader market falling sharply.

The next earnings report is scheduled for Feb. 24, four sessions after the puts sold yesterday expire. Overall option volume in the stock was 10 times greater than average in the session.