By Chris McKhann
Volatility in homebuilder Hovnanian (NYSE:HOV) has doubled in the last three months, and one trader selling puts to capture profits with earnings results a month away.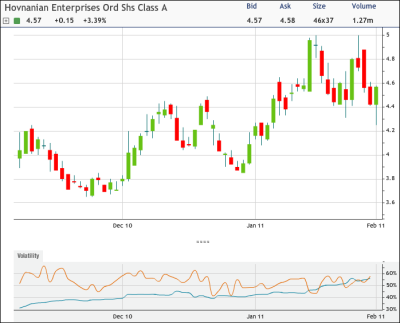 HOV is up 3.39 percent this morning, trading at $4.57. It dipped as low as $4.25 at the open, continuing the selloff that started on Thursday with shares at $5--resistance going back to June.

The average daily option volume has just been 1,400 contracts, but more than 24,000 have already traded just an hour into the session. Most of this was in the January 2012 2.50 puts.
optionMONSTER's systems show 20,000 of those puts trading against open interest of 7,398. Those puts went at the bid price of $0.25, indicating that they were sold.

We don't see any corresponding trades in the underlying shares, so it appears that this is a straight put sale betting that shares will remain above $2.50 through expiration. They would have to be below $2.25 at that time for this trade to produce a loss.
This is also a bet that the implied volatility of those puts is overpriced. The implied volatility of those puts is 72 percent while the 30-day historical volatility is 56 percent, having doubled from Nov. 1 low.