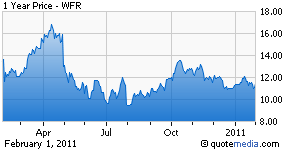 MEMC Electronic Materials (WFR) is expected to report Q4 earnings after the market close on Tuesday, February 1, with a conference call scheduled for 5:30 pm ET.
Guidance
The consensus estimate is 34c for EPS and $900.96M for revenue, according to First Call. On the company's last earnings call management suspended its 2010 EPS guidance due to the complexity and uncertainty surrounding the timing of GAAP profit recognition related to the Rovigo sale and other SunEdison direct sale project transactions. Management did say that for Q4 they expect strong revenue performance, the successful completion of Rovigo funding and positive free cash flow.
Analyst Views
Citgroup says that while consensus numbers are still transitioning from GAAP to non-GAAP, they think the Street is under-modeling both revenue and EPS. Citigroup sees non-GAAP EPS of 41c on $1.07B in revenue. Of this Citigroup sees semiconductor revenue $255M, solar revenue $236M on 295MW of wafer sales, and SunEdison revenue $580M on 120MW of wafer sales. Citigroup believes their forecast to be in-line with guidance. Looking to Q1, Citigroup sees non-GAAP EPS 24c on $770M in revenue, above consensus of 16c on $595.97M. Of this, Citigroup sees semi revenue $240M, down slightly but conservative, solar $260M on 330MW of wafer sales, and $270M SunEdison revenue on 70MW of total project volume. While it's very hard to predict timing on SunEdison revenue, Citgroup estimates base EPS excluding SunEdison of about 10c. Key issues for the conference call: More details on the SunEdison model regarding seasonality, 2011 volumes, and geographic exposure to high-risk regions like Italy. Also, any potential changes to disclosure resulting from the appointment of a new CFO, and details on the pace of captive wafering build-out in Kuching which should ultimately cut wafering costs from $0.50/W to potentially as low as $0.20/W.