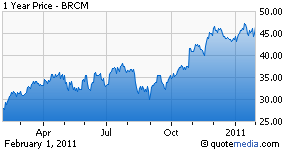 Broadcom Corp. (BRCM) is expected to report Q4 earnings after the market close on Tuesday, February 1, with a conference call scheduled for 4:45pm ET. The consensus estimate is 74c for EPS and $1.90B for revenue, according to First Call.
Guidance
At the company's December 14 analyst day meeting, management raised their Q4 revenue view to $1.9B, the high end of guidance provided on its last earnings call. That guidance reflected stronger than expected demand for products in Broadcom's mobile and wireless markets versus their initial expectations entering the quarter. Management said Q4 product margin will be down sightly sequentially, citing warranty and excess and obsolete charges. Stifel believes this strength is due to strong Q4 tablet shipments as Apple (NASDAQ:AAPL) reported iPad units of 7.3M versus consensus of ~6.9M. The firm also expects some strength in the enterprise infrastructure segment.
Analyst Views
Looking ahead, Stifel says it appears Broadcom will be growing OpEx more in line with top line as the company has reached its target operating model and isn't looking to squeeze more margin now. For Q1, Stifel expects a 5% q/q revenue decline to $1.8B, similar to current Street expectations. Seasonal weakness in wireless and mobile platforms group as well as the broadband communications should drive the sequential decline. For GAAP GM Stifel estimates 48%, down 120 bps q/q due to weaker top line. They have OpEx remaining flat q/q at $617M even though revenue is expected to decline, as seasonal increases will impact Q1 SG&A. Stifel's GAAP EPS estimate is 54c, 4c above the Street as the firm is increasing their stock-based compensation estimate and including $3M in adjustments.
On its Q3 earnings call, Broadcom management said it will consider raising the dividend and stock buybacks if its cash position rises. Investors will be listening for their commentary.