One month of 2011 is in the books, and below we highlight how the ten S&P 500 sectors have performed year to date. The S&P 500 as a whole is currently up 3.95% year to date, and four of ten sectors are outperforming the index. The Energy sector has gotten off to a blazing start with a gain of 9.34% already. Technology ranks a distant second with a 2011 gain of 6.10%. Industrials and Financials are the other two sectors that are outperforming the S&P 500.
Two sectors are down year to date -- Telecom and Consumer Staples. (We highlighted the weakness in Staples yesterday.) Consumer Discretionary, Utilities, Health Care, and Materials are all up year to date, but up less than the S&P 500.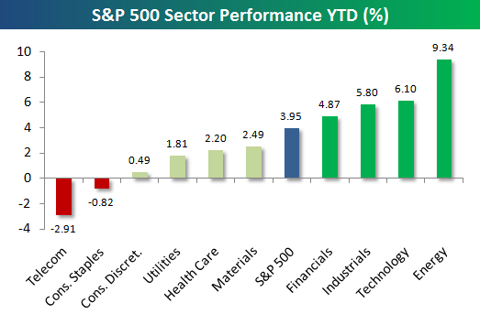 (Click charts to enlarge)
The average stock in the Russell 3,000 is up just over 2% so far in 2011, and below we highlight the 40 best and 40 worst performing Russell 3,000 stocks year to date. No stocks are up more than 100% year to date, but Clinical Data (NASDAQ:CLDA) is close with a gain of 89.44%. Brookfield Homes (BHS) ranks 2nd with a gain of 67.45%, followed by FX Energy (NASDAQ:FXEN), NVIDIA (NASDAQ:NVDA), Callon Petroleum (NYSE:CPE), and Sunrise Senior Living (SRZ). Rite-Aid (NYSE:RAD), Micron (NASDAQ:MU), Intuitive Surgical (NASDAQ:ISRG), and Level 3 Communications (NASDAQ:LVLT) are other notable stocks on the 2011 winners list.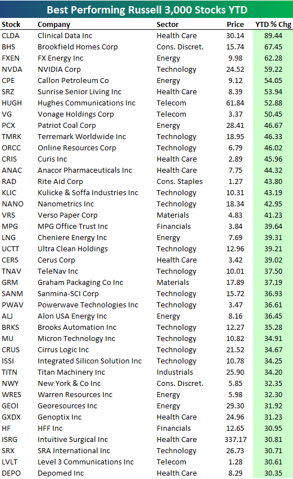 Three Health Care stocks top the list of 2011 losers -- (NASDAQ:OREX), (NASDAQ:ISPH), and (NASDAQ:MNKD). Orexigen (OREX) is down the most at 68.32%. After gaining nearly 10% yesterday, the stock is down 73% today after the FDA failed to approve its Contrave diet drug. Ouch.