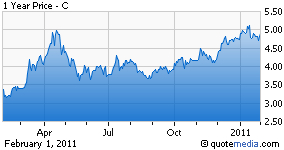 Citigroup Inc. (C) has had and continues to have mediocre management that continues to create problems for its customers and the economy. It is clearly not a very stable and consistent organization. Some may think that trading in a similar manner with the indices (Dow, S&P, etc.) is wise. I disagree, with several caveats. Over the past 10 years or so (particularly the last five years) it has not been a profitable place to have invested your money. This company continues not to qualify as a "quality" firm. Keep in mind that there are other, often smaller, banking firms that have produced a far better investor ROI over recent years.
Earning estimates on balance are not positive for the near-term, but should be improving. How the Street will reward or punish C or any other company in the future is always questionable. It appears, according to comparative analytics, that the upside is quite limited and that the downside currently has more appeal.
My analytics, to a large degree, have to do with comparative analytics. Comparing C with its peers and other top capitalization/revenue producing companies in general, provides a clear and only modestly positive story of both the company and the banking industry group.
Timely news includes the fact that lower projected earnings growth in the near-term remains a problem. Citigroup, like others, is submerged in the foreclosure arena and serious concerns loom. CEO Vikram Pandit said 2012 is the company's year to return capital – that tells me everything. Don't invest now. These guys are super smart but very dumb at the same time! Dumb seems to be prevailing at this time.
As a sector, the financials and its component companies have always been difficult for investors to profit from. This is likely due to the revenue-dynamics that evaluations are often tough to figure. Financial firms are clearly in focus within a negative economy and are perhaps best left for traders and not investors. Typically, at the bottom of an economic cycle, they can appear to have relatively high P/E ratios. However, when the economy improves and appears to be topping, the P/E multiple tends to shrink. In C's case, they will have to get a string of positive earnings going before the P/E can begin "shrinking" and the company once again is a viable organization. The financials have been under severe government and investor scrutiny and are likely to remain in that position for some time.
My analytic focus (to invest or not to invest) on any company is most heavily weighted on fundamentals. Citigroup appears to have the prospect of improving earnings in the longer-term. For me, this is just a warning (something to consider) prior to buying. For prudent investing, those earnings will have to remain strong over a quarter or two (or more) before I would consider it be a "wise investment." C doesn't compare well to its major peers. I need to see very good to excellent valuations before recommending an investment. There are many other financial companies that meet my criteria.
Fundamental Valuation Analytics Table (weighting 40%):
Citigroup, Inc.
Stock and Symbol

Approx. Current Price

My Target Price % Above (+) / Below (-) Current Price – Valuation is "Tweaked."

One Year Projections from the next - - Bullish Inflection Point.

PEG

P/E

Forward P/E

Valuation Divergence (%)

(One - Year Projected to a Mean) from the next - - Bullish Inflection Point.

Citigroup, Inc. (C)

4.9

+ 20 to + 40+%

0.71

14.1

9.1

135%

Comments: Obviously this is not a bad Valuation and Target Price Projection. It matches Apple very well, so what is wrong? Not much with the Fundamentals but a lot with the Technical and Consensus Analysis. This is why it is wise to compare. This work / analytics is for you possibly taking positions at a future date and definitely not at this time.

Compare: Citigroup, Inc. with Apple, Inc.

Apple, Inc. (AAPL)

339

+ 20 to + 40+%

0.72

18.9

13.0

131%

Comments: Obviously Apple has a very positive Valuation and Target Price Projection. This work / analytics is for you possibly taking positions at a future date and definitely not at this time.
Additional Related Comments:
I always compare Apple with my other "bellwether" companies as well as those I am considering for investment. For me, Apple is numero uno, I then do a quantitative rating for my weighted fundamental, technical and consensus analysis.
C: Rating: Fundamental: Very Good, Technical: Good, Consensus: Poor.
AAPL: Rating: Fundamental: Excellent, Technical: Very Good, Consensus: Excellent.
Notes for the above table and for your information:
a) Fundamental valuation - Data in today's marketplace requires me to look carefully at the numbers as being either realistic or creative. That's because more recently, financial analysts are using new/funny math and have changed the criterion on basic valuation. This is producing many valuation data inconsistencies, so I have adopted an additional procedure that I call "tweaking the results." This procedure is sometimes needed to get me back to "realistic" valuations. It requires having an eye on the short and intermediate-term company price movement, but is definitely not a part of my technical analysis. My valuations also consider the two-year - forward P/E data, but is not weighted heavily. Using this procedure produces very accurate analytics for decisions at bullish and bearish inflection points.
b) Most financial analysts determine the price target range by estimating a future earnings per share and then applying a price-to-earnings multiple, also known as the Price Earnings Ratio. I prefer to calculate price targets (high/low) for both the current and next fiscal year by applying the stock's present multiple to the average analysts' estimates and follow with some foxy "tweaking" of the results.
c) Further, I believe that there should be just two aspects of fundamental valuation. They are: the now and the later, which translates to 1-2 years and more than three years but not 10 years. Obviously, the further out we try to project earnings and cash flow, the more inaccurate the data becomes. That is why I do my valuations rather frequently, especially around times of anticipating inflection points.
d) PEGs: You will note that some of these companies are carrying high or sometimes negative PEG ratios. I consider the PEGs very important when deciding to take positions in a given security.
Since coming out of retirement in October 2007, I have witnessed a vast change in the valuation practices being offered by many financial analysts. The shenanigans and other accounting practice games were active before, but have now reached a new height of deception. The general public is often lazy about learning and is perhaps naive. The financial analysts know that these characteristics exist and now are taking advantage. It's simple: the average Investor is asking to be told that all is "OK."
The graphic below tells the earnings story very well and should be studied with a discerning mindset.
Morningstar Earnings Chart:
Click to enlarge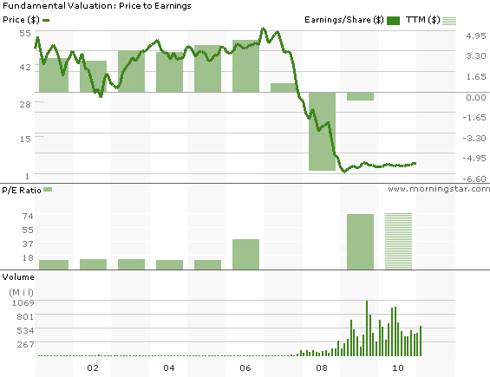 As for the financial statements, all look ("look" can be a deceiving word) very good. However, nothing appears positive or compelling. In summary, the operating income, net income and balance sheet all increased/improved, and appear to be on track.
Technical Thoughts/Analytics (weighting 35%): The price activity for Citigroup continued to improve since the February 2009 lows but peaked in late 2009. The small bounce most recently has not been all that positive on a relative strength basis. These numbers (prices) are an important consideration before making an investment decision to buy or short any security.
Citigroup price targets are definitely not compelling.

For a current (up to the minute) chart of C, click here and scroll down.
Consensus Thoughts/Analytics (weighting 25%): Consensus analysis for me is very important. Please note the high percentage weighting I use. There is an old saying: If the Street does not like the company, don't buy it! My rankings for C is "Poor" at best.
So for this old bearish fox, I'm not displeased with the fundamental statistics/indicators, do not like my technical charts or my consensus work on C.
Economic Note: Economically speaking there is always a concern or question as to what the Federal Reserve Board may or may not do regarding the management of the economy. We do know that an election is coming soon, and history confirms that little is done proactively ahead of an election. We also know that rallies have come when the Fed injects capital or a fiscal stimulus into the economic system, but that is becoming an "old news" factor. How this plays out over the post election period with the drugs does not seem to have much effect on its future growth.
We also know that Citigroup is a very big player in today's global economic picture, something that is very important to take that into account before investing. My account with Banamex is a Citigroup company!
My Wrap: My focus is "investing wisely", e.g. taking advantage of the bull/bear cycles as they occur within the overall marketplace. Integrating modern fundamental analytics within these technical cycles means maintaining a process of the thorough and on going analysis of many companies and industry groups in my universe. This is a must discipline of "investing wisely."
While I believe the general market is in for a meaningful pullback, the prevailing question from most investors is: When? How big and how long will it be? Do I hold my current positions or do I sell? Is there a profitable alternative? The answer will be obviously quite clear when the pullback is over but an old axiom for profitable investing tells us to be prudent in times like this. You might want to remember that cash is always an excellent safe harbor. However, if you are a proactive investor, taking bearish positions may also be wise.
My focus is "investing wisely," e.g. taking advantage of the bull/bear cycles as they occur within the overall marketplace. These cycles are both economic and stock market in nature and must be carefully and frequently analyzed. Within the stock market, you can integrate modern analytics within these "cycles." This also means maintaining a comprehensive process of the thorough economic, fundamental, technical and consensus analysis of many companies, 15 sectors and more than 200 industry groups in my universe. I believe that this discipline provides the necessary clarity regarding the rotation that the economy and most all sectors, industry groups and companies go through – from favorable times to unfavorable times and perhaps back again. Few investors seem to understand that it the same for the economy. The world continues to produce an economic "cycle" effect that continues as a process, like - life itself.
My economic work is just another one of many "bellwether" forms of research/analytics to help identify prudent securities for buying and for short selling as the marketplace cycles from bull to bear and back again - over, and over and over again.
The good news about the marketplace is that we are presented frequent and conservative/low risk opportunities to invest long, invest short or to simply to hold cash. For me, this is called "investing wisely."