The stampeding stock bull has hushed the naysayers. Pullbacks have been short-lived. And popular benchmarks like the S&P 500, the Dow as well as the NASDAQ have nearly gone vertical.
Equally intriguing, some advisors appear to be abandoning their asset allocation. Consider the case of the $5.3 billion dollar SPDR S&P Dividend Fund (NYSEARCA:SDY). On Tuesday, February 1, anxious institutional investors dumped more than $316,000 worth of shares in block trading on 8x the normal trading volume.
Granted, the shares being sold represented a very small amount of the assets under management. What's more, it's not uncommon for investors to sell into market strength.
With that said, you might have expected similar block trades in the Dow 30 Trust (NYSEARCA:DIA) or Powershares Nasdaq 100 (QQQQ). Alas… the only noteable money outflow move came at the expense of the primary tracker for the High Yield Dividend Aristocrat Index (SDY).
From a valuation standpoint, it's hard to argue that the SPDR S&P Dividend Fund (SDY) ought to be sold. The yield of 3.40% is nearly double that of the S&P 500 SPDR Trust's (NYSEARCA:SPY) 1.75%. Both funds are trading at roughly 16x current earnings.
So what might explain the sudden shift? Dividend funds aren't quite keeping pace with hallmark ETFs like SPY or DIA. And that may be pressuring advisors to shift gears for increasingly bullish clients.
click to enlarge images
Giving Up On Steady Eddie Dividend Funds?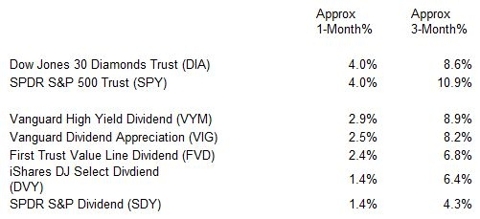 Click to enlarge
There's at least one more factor that may account for the impatience; the infamous "high beta risk trade" may be back in vogue. The two highest beta sectors – materials and financials — led the first-of-Feb charge. Moreover, the greenback dropped nearly 1% on the day, encouraging everything from carry traders borrowing the dollar to commodity investors hedging against dollar devaluation.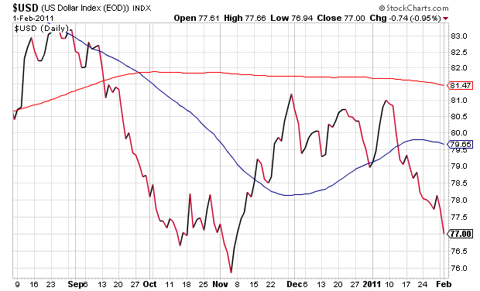 Click to enlarge
You can listen to the ETF Expert Radio Show "LIVE", via podcast or on your iPod. You can review more ETF Expert features here.
Disclosure: Gary Gordon, MS, CFP is the president of Pacific Park Financial, Inc., a Registered Investment Adviser with the SEC. Gary Gordon, Pacific Park Financial, Inc, and/or its clients may hold positions in the ETFs, mutual funds, and/or any investment asset mentioned above. The commentary does not constitute individualized investment advice. The opinions offered herein are not personalized recommendations to buy, sell or hold securities. At times, issuers of exchange-traded products compensate Pacific Park Financial, Inc. or its subsidiaries for advertising at the ETF Expert web site. ETF Expert content is created independently of any advertising relationships.