People generally point to previous research when trying to determine which group of stocks, value or growth, is more profitable as a general rule.
Fama and French in 1996 analyzed the markets between 1975 - 95 and found that value stocks with deep intrinsic value outperform growth stocks on average by 7.6% per year. Value outperformed growth in 12 out of 13 markets.
In 2000, Joseph Piotroski released a paper testing stocks from 1976 – 96 using his specific factors to analyze strong and increasing fundamentals. His average return was over 23% total, or 7.5% better than the average stock return for the period.
Another study looked at 1963 – 2001 and confirmed that value stocks outperformed growth.
Are high-growth stocks washed up then? Should we abandon them for the higher average return of value investing? Hardly. It all depends on the market cycle as to which is a better buy.
The Cyclical Nature of Value and Growth
An interesting study began in 2003 and is still in progress. The goal was to compare the cyclical nature of growth and value stocks. Some preliminary findings are that while value stocks outperform overall, growth stocks have their time to shine also.
Recessions are better for growth stocks
Immediately after recessions growth stocks usually outperform
You can read the working paper here, but the most interesting facts I found are as follows:
When both the CBOE Put/Call Ratio and VIX are high (compared to 6 month average), small cap growth will out-perform value a mean annualized 18.35%.
When the CBOE Put/Call Ratio is low and the VIX is high, value stocks will outperform by up to 26%.
Keep in mind that the researchers hold for 3 or 6 months only and the results are annualized as to what you would get if these gains were made throughout the year. This is no small finding.
Look at the Put/Call ratio and VIX to see what the market conditions are.
If both are high, consider getting into small cap growth.
If the relationship is low, high – then stick to value stocks.
The Market Right Now
The CBOE Put/Call ratio is just heading down to cross below 6 month averages. The VIX is also well below 6 month averages.
If the Put/Call ratio climbs up – small cap value seems to have the edge.
If Put/Call ratios continue to decline, small cap growth will outperform large cap value, but small cap value will still slightly have the edge.
click to enlarge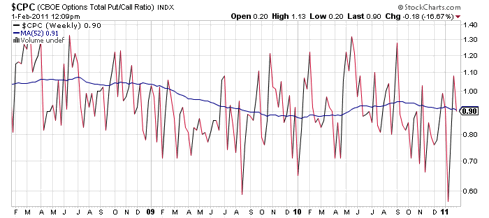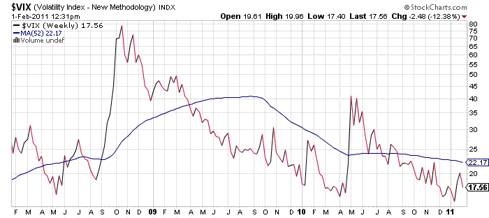 It might be a great time to start looking over some small cap stocks such as described in this one article on 19 High Growth Micro-Cap Stocks Under $10, or these 12 fundamentally strong small caps.
Some screened small cap value stocks with price to book ratios under 2, EPS growth 15% over past 5 years and expected over next 5 years, and a P/E under 15 are HOGS, CISG, JASO, TSL, BRKS, PTI-OLD, BZ, TNDM, EDMC, AOSL.
Some screened small cap high growth stocks you may want to research are LMNX, LNN, PEGS, ININ, HMSY, ADVS, QDEL, NTCT, TYL, ELS, VIT, TLEO, OYOG. They have P/B ratios over 3, P/E more than 30, with previous and current EPS growth this year over 25%.
Do your due diligence as the listed stocks are not recommendations, but some ideas to start analyzing to see if they are good fits for a coming cyclical change.
Disclosure: I have no positions in any stocks mentioned, and no plans to initiate any positions within the next 72 hours.