The Products:
If you haven't heard, MetroPCS (PCS) is going to release the Samsung Forte February 23rd for the price of $399. This seems high at first glance, but on closer inspection one finds that this is in fact the best value for any smartphone available in the US. With the introduction of a true high speed internet phone, metropcs can now be compared on a roughly apples to apples basis with the other major phone companies.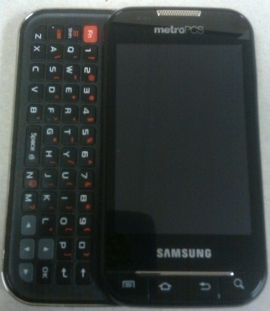 Because PCS offers unlimited 4G LTE service for as little as $50 per month, subscribers save dramatic amounts of money over time compared to users of other companies. For example, if one were to pay $399 for the Forte next month, then sign a basic LTE plan for $50 per month and then keep the plan for 24 months, just as other company plans require, the total equals only $1600 for two years, or $67 per month.
TMobile, a subsidiary of Deutshe Telekom AG (OTCQX:DTEGY) offers the similar Samsung Vibrant for $99. This phone is roughly the same as the Forte, but slightly more outdated. Service at Tmobile costs $99 per month. The total for two years of service comes to $2475 including the phone, or $103 per month.
Similarly, Sprint (NYSE:S) offers the Samsung Epic 4G for $199 with service that costs $99 per month. The Samsung is probably slightly better than the Forte though. Total cost is $2575 or $107 per month.
Verizon (NYSE:VZ) offers the Samsung Fascinate, an almost identical phone, for $199 and then unlimited service costs about $110 per month, and that doesn't even include totally, totally unlimited texting. Instead, Verizon caps it at 500 texts per month. Total cost over 24 months is $2840, or $118 per month, as long as you don't text too much.
AT&T (NYSE:T) sells a slightly lower model phone than either the metropcs or the verizon called the samsung captivate for $149 and several other similar phones in the same price range. The service costs $130 per month for unlimited use, or $105 with a cap on data usage. So for just $5 more per month one can get Verizon service with unlimited data usage. Including the phone, ATT costs the most of any major service at $3270 for two years, or $136 per month.
The verdict: It is best to test the coverage of any cell phone provider in your area before you buy. Clearly, if you do so, and you find no problems with MetroPCS in your area, the Forte offers the best value of any smartphone on the market. Through personal experience I have found that T-mobile and MetroPCS have nearly identical coverage, so even with spotty coverage, Metro comes out on top between Metro and Tmobile. Additionally, because the LTE network is so new, nobody is really sure yet, but coverage and talking may have been significantly improved over the new network to cover some of those spotty areas.
If you have more money to spend and want to have the best possible coverage then your best buy would probably be either the Sprint or the Verizon. AT&T seems to be the most overpriced of any carrier, and it is probably due to the monopoly it had with the iphone. I wouldn't be surprised if AT&T is forced to cut its service cost soon.
Of course this analysis fails to consider some of the advantages offered from family plans, but every provider offers an discount.
I applaud MetroPCS in its efforts to bring more competitive prices to the mobile phone arena, and I will continue to be a customer.
The Equity Performance:
Below shows the two year performance of these companies. Clearly, PCS has underperformed the sector even though through the recession it specialized in lower end products. This means there are many utilized CAPM models which show PCS having alpha at this time. Now that the recession has begun to end, it has made a move into higher end products as well.
click to enlarge images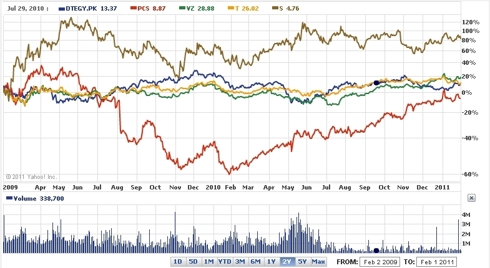 Click to enlarge
Now to compare the valuation metrics:
Stock
P/Sales
P/CF
P/Book
2011 Growth Estimate
AVG metric
VEG
MetroPCS
1.16
5.98
1.83
13.30
2.99
0.2
Verizon
0.94
2.88
2.61
3.30
2.14
0.6
AT&T
1.31
6.68
1.45
1.30
3.15
2.4
S

print

0.42
5.25
0.86
0.90
2.18
2.4
Deutsch Telecom (T-mobile)
0.67
2.63
1.11
-2.30
1.47
-0.6
To get a quick and dirty comparison I have formulated something called the VEG ratio in the far right column above. The VEG is essentially an average of the three valuation ratios in the table divided by the one year estimated growth rate for each company's sales.
We can see that the ratio is similar to a PEG ratio except that it uses a lot more of the valuation picture to reach the result. We can also see that PCS is far and away the deepest value in the sector because it has the lowest valuation compared to its expected growth rate. Part of this is probably due to a lack of a dividend, but with the economy picking up steam wouldn't it be better to own a company which is reinvesting its retained earnings rather than buring them? As another quick comparison, if you look at Sprint, it has lost a ton of money and still is, and its growth rate is expected to be dramatically slower than that of PCS, yet Sprint stock has outperformed PCS stock.
I think that based on the previous analysis it is fair to say that PCS offers a compelling value both in its product line and in its stock price. MetroPCS offers consumers the absolute cheapest choice for phones and is now starting to offer high end products which offer great value as well.
Disclosure: I am long PCS.