On Monday, EDGAR Online, Inc. (NASDAQ:EDGR) announced that the U.S. Patent and Trademark Office had awarded Patent No. 7877678 to the company based on their application filed August 29, 2005. Stefan Chopin, the lead inventor, is currently Chief Technology Officer of EDGAR Online. The company noted that "The patent covers a method for populating spreadsheets with financial data by leveraging XBRL metadata" and "is central to I-Metrix(R) Professional, a suite of interactive data via Microsoft Excel(R)."
Here is a schematic drawing of their method: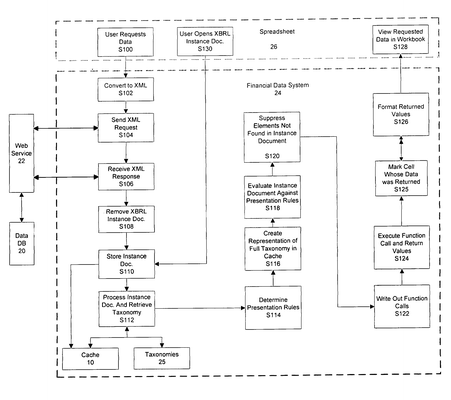 Abstract: System and Method for Rendering of Financial Data
"A method of populating a spreadsheet with financial data, includes, in response to a user's request for financial data, sending a request to a web service for the financial data, receiving a response to the request from the web service, processing the response, retrieving a taxonomy associated with the response and populating the spreadsheet in accordance with the response and the retrieved taxonomy." [Source: U.S. Patent #7877678]
The data rendering patent is not yet indexed by Google Patents but may be accessed via the USPTO.gov's Official Gazette for Patents by searching under the letter "C" for Patentee's inventor name, "Chopin". The company was granted 34 claims related to its invention.
Company Operations
XBRL crosses just about all EDGAR Online's product lines and is the basis for their unique XBRL database. It was indeed an extraordinary corporate achievement that the company built its XBRL database before the SEC had even mandated XBRL. And, I should add, the cost of building their XBRL database is the primary reason why they've accumulated about $35 million in NOLs---(about the same as the stock's current market cap).
Now, after their decade-long commitment to XBRL, they are a leading provider of:
I-Metrix(R) Professional, the company's leading investment analytic tool, is distributed by Thomson Reuters via that company's Checkpoint product suite.
Patents and Patent Applications
The new data rendering patent will add to EDGAR Online's already deep bench of XBRL-related patent resources and enhance the company's proprietary product base. It is important to note that the company's UBmatrix subsidiary holds, among others, patent number 6947947, entitled simply "Method of adding metadata to data." This seminal XBRL patent has 214 claims, was filed on March 4, 2002 and issued on September 20, 2005.
The company's data rendering patent comes at a watershed in how financial data is reported to the SEC, accessed by software application programs, and used by investors. In 2009 the SEC mandated XBRL be used for reporting companies' financial statements such as Forms 10-Q and 10-K.
By formatting the SEC data in XBRL, users can now digitally access company data by visiting an issuer's website (cf. Microsoft (NASDAQ:MSFT) example) or by using the SEC's viewer. XBRL is the programming language that allows companies to digitize data so that reports can be machine-read, accessed, and used by not only the SEC but by the public, thereby adding transparency to corporate financial reporting standards.
Prior to XBRL, data from SEC-filed reports had to be copied and pasted into electronic spreadsheets or other documents. By requiring the use of standards-based taxonomies, company reports are now comparable and required to be presented on company IR websites. To review developments in XBRL internationally, see XBRL.org and for the U.S. see XBRL.US.
In reviewing the data rendering patent, one of the referenced patents seems especially relevant. It is the Microsoft (MSFT) patent application filed in February, 2003 and entitled "Importing and exporting markup language data in a spreadsheet application document." It appears that EDGAR Online's new patent involves a method that renders XBRL data in a form that allows, for example, Microsoft's Excel(R) to import data to support that spreadsheet's functionalities. EDGAR Online's I-Metrix financial analytic tool is an add-in to Excel(R).
A Method for Searching Data
When EDGAR Online announced their acquisition of UBmatrix on June 24, 2010, they mentioned the advanced XBRL sofware solutions and the strategic partners of UBmatrix. They even referred to UBmatrix's owning the key U.S. Patent #6947947. However, EDGAR Online has never publicly reported, to my knowledge, that UBmatrix has filed a patent application for a basic method to search data---i.e., by searching web XBRL instance documents. I came across this filing when reviewing the "References" noted in EDGAR Online's new data rendering patent. There have been many recent developments in the semantic web, but note here that this application was filed in 2005.
No doubt, users of Oracle (NASDAQ:ORCL) or SAP (NYSE:SAP) enterprise solutions (that contain the UBmatrix XBRL Engine) might have noticed that XBRL-DB(tm) is provided in the product suite. However, that knowledge would not directly suggest to the user that UBmatrix has filed for a patent on the basic XBRL search method.
Here is a 2008 white paper on the XBRL-DB(tm) and entitled, "Developing and Deploying XBRL-Based Applications in an Enterprise-Class Environment - Understanding the Challenges, Opportunities, and Benefits of XBRL Storage." In this report UBmatrix discusses their method of accessing stored XBRL data. This article was published in 2008 and before the SEC mandate.
It is, of course, conservative and appropriate that UBmatrix and EDGAR Online would not have reported or commented on patent applications that have not yet been granted.
From those references in EDGAR Online's new patent, I discovered that on September 27, 2005 a new patent was filed naming UBmatrix as assignee. This new patent claims to be an exemplary method for searching data and entitled, "Method For Searching Data Elements on the Web Using a Conceptual Metadata and Contexual Metadata Search Engine" It has seven claims that appear to be fundamental to the concept of creating an XBRL Search Engine. [Note: For those interested in the future of the semantic web, these claims and description of the invention might be especially fascinating.] Here is information on the UBmatrix patent application:
UBmatrix Patent Application Publication for "Method of Searching Data Elements on the Web..." dated June 19, 2008 with Schematic:
Link to the UBmatrix Patent Application dated Sept. 27, 2005 for "Method for Searching Data Elements on the Web..."
In the "Description" section of the patent application, they describe how it is often hard to pin down the search results in finance using a Google (NASDAQ:GOOG) search:
"The search feature on web search engines is based on text and the presence of text elements in HTML/XML pages. In an example web search performed using the Google search engine and the text elements "Assets", "Microsoft", and "2002" provided a result of 655,000 HTML/XML pages that included those text elements...."
Key to unlocking the potential of an XBRL Search Engine is the fact that in 2012 substantially all SEC-filing companies will have filed their XBRL-formatted data---making a virtually complete database available and potentially searchable via the UBmatrix method. The potential of that XBRL Search Engine could be very broad with investors, students, analysts, and regulators conducting advanced financial research.
After reading their application, I think UBmatrix has identified a "slice" of the semantic search market that, thanks to the XBRL taxonomy, allows a logical semantic search of company business information and financial data. That is because the problem of "word sense disambiguation" is handled by XBRL's precisely defined taxonomy of financial concepts and tags. And, the underlying company data is filed "as reported" by the filing company---no re-keying or copying and pasting. Above all, the XBRL taxonomies are standards-based and continuously reviewed by organizations like the CFA Institute.
There is now high and growing interest in advanced search methodologies and in the semantic web. Also, companies like IBM have been expanding in business analytics and intelligence areas. One would think that the XBRL search method for SEC-reporting companies would be a key business intelligence resource.
It does seem that UBmatrix was extremely prescient to have filed early patent claims regarding their basic XBRL search method. Curiously, UBmatrix's search method patent application was filed just seven days after they had been issued their core "Method of adding metadata to data" patent.
EDGAR Online: A Pure Play on XBRL
Given EDGAR Online's business focus and product lines, it's really the only pure play on XBRL. EDGR has a market cap of only $36 million and sales in the $20-25 million range. But, the company's business revenue should accelerate in the second half of this year---when all companies and mutual funds will be required to file in XBRL. Also, there is a chance that XBRL will be used in new areas of reporting such as for asset-based securities, derivatives, corporate actions, proxy data, and government agency data. Worldwide, there are new and important areas where XBRL is being used.
UBmatrix's XBRL Search Method
It is speculative to assign much value to un-granted patent applications. After all, the patents might not be approved and/or they may prove to be of little or no commercial value. In the case of UBmatrix, however, it's already a leading provider of advanced XBRL software solutions to companies like Oracle and SAP and does have important strategic partners. In addition, UBmatrix provides XBRL software systems and solutions to regulatory agencies such as the SEC, FDIC, and others around the world.
A patent award for their XBRL search engine method would simply recognize their work and support their product offerings. How valuable UBmatrix's XBRL search method may become in the context of the semantic web is hard to say. But, it does seem reasonable to expect, if world companies all file in the same XBRL standards-based taxonomy and format, that users will search, extract, and use that stored data in research, investments, and business intelligence.
I am long EDGR. Also, I have no legal background in patents---or their value---and certainly have no understanding of today's advanced software solutions that may bring about precise search results via the semantic web.
Disclosure: I am long EDGR.