Although headwinds still exist (which should be resolved somewhat with the approval of the FY-2011 budget and release of the FY-2012 next week) the aerospace and defense sector has been showing significant strength over recent months.
The Powershares Aerospace & Defense ETF (NYSEARCA:PPA), the fund that tracks the benchmark SPADE Defense Index, gained 6.15% in January; nearly 400 basis points better than the S&P500; and remains significantly above the 20-, 50-, and 200-day moving averages and near its 52-week high.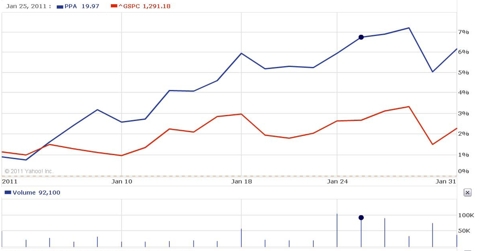 (Click to enlarge)
January saw quarterly reports from Lockheed (NYSE:LMT), Raytheon (NYSE:RTN), and United Technologies (NYSE:UTX) with sales and profits above forecasts. General Dynamics (NYSE:GD) reported an increase in earnings and flat revenues. Boeing (NYSE:BA), due to delays in several new aircraft programs, reported lower revenues and earnings, an action that was a neagtive to the stock price but an issue that will likely be rectified later this year. Meanwhile, many firms with exposure to the commercial aircraft sector, like Moog (NYSE:MOG.A) are increasing their outlook for 2011.
Though the sector has gained nicely over the past several months, coverage of the sector has been relatively quiet until recently. The turmoil in Tunisia and Egypt has put the focus back on the concept of a destabilized world. Fears that what is happening in Egypt could spread to nations such as Jordan, and which would put Israel and the entire Middle East into play are starting to gain attention. Additionally, there are reports that Wall Street was briefed last week concerning increasing chatter about an Al Qaeda attack on the financial district (nothing specific, just increasing chatter). Still, this puts defense and security more front and center in the minds of investment professionals.

Although the trend upward in aerospace and defense stocks has gone largely unnoticed, recent days have seen an increase in volume on the buy side from investors into the Powershares ETF, PPA. With defense budget specifics still a wildcard and changes that will impact individual companies more than the sector as a whole, and the ETF becomes an attractive, more diversified option to play the sector than individual stocks.
Disclosure: I have no positions in any stocks mentioned, and no plans to initiate any positions within the next 72 hours.

Additional disclosure: I manage the SPADE Defense Index (DXS) but do not hold positions in any of the stocks mentioned.