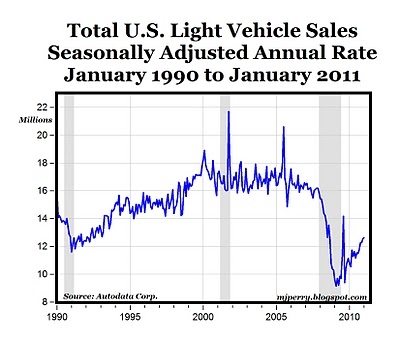 1. On a "seasonally-adjusted annual rate" basis, total U.S. light vehicle sales increased to 12.62 million units in January, which was 0.56% higher than December, and 17.4% higher than January last year (see chart above).
2. Except for the artificial sales stimulus of "cash-for-clunkers" (CFC) in August 2009 when sales topped 14 million (at an annual rate), January vehicle sales reached the highest monthly level since August 2008, almost two and-a-half years ago.
3. Both GM and Chrysler had sales increases of 22.7% in January compared to the same month last year, and almost all of the major automakers had double-digit increases, e.g. Ford (NYSE:F) (+13.2%), Toyota (NYSE:TM) (+17.3%), Honda (NYSE:HMC) (+13%), and Nissan (OTCPK:NSANY) (+14.8%).