We're only one trading day into February and January already feels like ancient history! Tuesday's market performance resonated with an attitude of "Egypt who?!" and the market chose to focus on the ongoing parade of solid corporate earnings. I'm sure that all the bulls in the market hope this continues indefinitely, which of course, would make life quite easy….all we'd have to do is get long and stay long. But assuming that's not the course charted for us, it is worthwhile to consider some lessons from January that might help navigate February should it turn out to be somewhat more challenging than Tuesday's euphoric market activity.

So what did we learn in January?

Well, if you live in the northeast region of the US, you learned what 'historic amounts of snow' looks like! Now, just in case you consider that frivolous commentary and unrelated to actionable investment ideas, pause for a moment and remember how the Retail sector felt about the Christmas snow storm that swept much of the US. Sales were materially impacted, and if not for strong 'online sales', the biggest selling season for many of these firms would have been cratered. Similarly, in the same month, Florida was hit with unusual extreme frost, which nearly devastated its citrus crop, which in turn impacted related food prices.

Or consider for a moment the erratic Jobless Claims numbers that we've had….just last week climbing by a large amount…..and explained away by the fact that snowstorms in previous weeks had prevented first time filers from processing their claims. Go on to think about airlines that have been forced to cancel innumerable flights over the course of the past month, not only upsetting travelers, but crimping revenues at a time in which fuel costs are soaring. During the Christmas week storm, many of the cancelled flights were meant to be filled with travelers returning from vacation. That mitigated the revenue slip since travelers had to return home, but in recent weeks, cancellations are likely to meet with fewer re-bookings.

And while weather is always an issue in some way, in recent years, it's taken center stage in various forms, most notably in the (in)famous discussion surrounding so-called 'global warming'. Earlier this year in an article on Nalco (NLC), an industrial water purification and treatment company, I noted that Australia, over the years, suffers from chronic pure water shortages, yet currently they're facing horrific devastation from massive floods!

Similarly, we may snicker now that many of us are sitting in heavy snow and ice, but it wasn't too long ago that we were concerned that Russia's drought, its subsequent effect on their wheat crops and in turn, the country's ban on wheat exports would drive agricultural commodity prices sky-high. For some time, investors have been focused on the impact that higher commodity input prices, especially agricultural commodities, might have on food company margins. I noted this in an article on Consumer Staple stocks several months ago and it is likely to continue to be a factor for such names as Campbell Soup (CPB), General Mills (GIS) and Sysco (SYY).

(Click charts to enlarge)

So the first lesson of January is clearly that "weather matters"! January provided ample fodder to the legitimacy of a term I discovered in Thomas L Friedman's book,

"Hot, Flat, and Crowded" called "Global Weirding", a term indicating more and more "unusual" weather events as opposed to just "warming" events. These events need to be considered in terms of their impact on industries, sectors and specific companies. January's lessons on this issue already need to be put to work as at the time of this writing, a major ice storm is sweeping across vast sections of the US from the Midwest to the Northeast with airports responding by canceling flights and/or closing altogether, schools and businesses announcing closings, etc, all of which almost certain to dent February economic data.

Second, "democracy matters"! Just ask the people of Tunisia and Egypt….and don't forget Sudan and Nigeria. The events unfolding in northern Africa and in the Middle East are historic by any measure, and well-informed investors should be more surprised by the timing and ferocity of the events more so than the events themselves.

For starters, former President Bush's presidency was marked by a policy that essentially believed that democracy could take hold in countries that were heretofore run by dictators, especially in the Middle East. In this past weekend's Washington Post, former Deputy National Security Advisor for President Bush, and now senior fellow at the Council on Foreign Relations, Elliott Abrams wrote a piece entitled, "Egypt protests show that George W. Bush was right about freedom in the Arab World". Whether one agrees with the political assertions made in that article or not, one still has to accept the fact that some form of 'freedom agenda' is taking hold in places where even the mention of those words would have formerly been punishable by repressive regimes. (I'd suggest a read of Abrams' article, in addition to a Q&A session that he held online on Tuesday in which various sides of the political issues were discussed in depth). Again, the timing would have been tough to pinpoint, but the notion of the risks favoring some kind of popular uprising have been telegraphed for some time. (The uprising in June '09 on the heels of the Iranian election is a fresh reminder of how some of these have ended up in the past).

Furthermore, much has been written in this space about the energy sector and about the risks for some sort of oil supply disruptions, whether because of Sudan's referendum on independence for the South, or this April's upcoming Nigerian Presidential election, or activity in Tunisia well before the final overthrow of Ben-Ali. See my articles as far back as November 19, 2010's "Energized for Energy Sector", or "What's Fueling Energy Stocks", Dec. 29, 2010, or "Sudan: Sunday's Referendum and its Implications for Oil", Jan. 9, 2011, or finally, my blog of Jan. 10, 2011, "Tunisian Protests and Broader Implications". My intention in listing these pieces transcends the obvious interest in pointing out areas of relevant focus on this site, but more importantly aims to highlight yet another lesson learned from January that might help in the future, which is the need to focus on global, geopolitical events and to consider where the needle on the 'risk-ometer' is swinging.

The question then becomes, once establishing the more heavily weighted risk and possible outcomes, how best to position one's portfolio in order to capture the financial markets opportunity. In the case of oil, the final days of January taught a very interesting lesson.

Last Friday, when events in Egypt appeared to be intensifying aggressively, oil shot up over 4%. For many investors, the alternatives available in order to take positions in oil include ETFs such as (USO) or (XLE), the former meant to be a more direct play on oil, and the latter filled with oil related companies such as Chevron (CVX) and Exxon (XOM). There's also OIH, the oil drillers/servicer ETF, though many of those companies are in XLE too. Or, investors might just own the respective individual companies embedded in these ETFs.

Regardless, the price action last Friday, on a day that volatility soared and the broad equity markets fell significantly, was quite telling. USO did in fact move up close to 4%, just like oil futures. XLE, on the other hand, which did outperform most other sectors of the equity markets, nonetheless was lower on the day.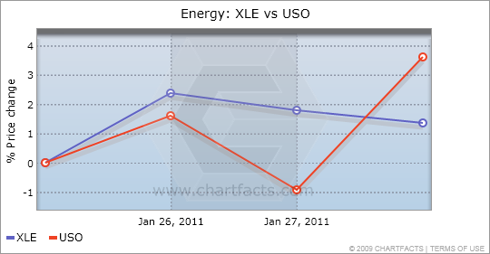 (Source: ChartFacts.com)
Why?
In the answer, lies the lesson learned. XLE's constituent companies were encumbered by earnings announcements and by fears of production disruptions in some of their Egyptian facilities. Chevron, too, in its earnings announcement noted that its 'proven reserves' only covered 24% of 2010 production, a relatively low number which basically means that the company was selling more oil than it was finding or 'reserving' in the ground. In layman's terms, that essentially means that unless they find new oil sources, then over the long term, they're running out of product!
So based on what we've said so far, one might conclude that USO is the way to 'play' oil. But not so fast! Let's not throw XLE and OIH (and their constituent companies) under the bus just yet. Another lesson learned, and again, often cited here, is that oil drillers are likely to see healthy demand for their services for some time to come…both to meet growing demand for energy around the world and to replace older proven reserves and wells that might be 'drying up'. This has added to the general 'higher oil' view that is embedded in XLE and OIH names and has led to XLE and OIH actually outperforming USO in January.
Finally, January provided some lessons on global markets where Emerging Markets countries continue to emerge on the world stage in meaningful and new ways. Take the situation in the Eurozone where market participants are chronically living in fear of the next shoe to drop, the next country to face liquidity challenges, the next bond auction that runs the risk of meeting inadequate demand. Countries like Japan and China appear to be parachuting in to 'save the day' by declaring interest in buying European bonds and in promoting more business between their countries and Europe. This helped support the Euro through the month.
But Europe's problems are far from over. The UK faces higher inflation and almost certainly slower growth in the face of severe austerity measures taken by the Government. On the Continent, a similar situation is occurring, but for those countries in the Euro, they lack the independent currency adjustment that could help support the economy as they too face august austerity measures.

So January's relative calm in the Eurozone might mask the underlying structural fiscal issues that still exist. While I'm not ringing the alarm bells at this time, I am cautioning to keep Europe very much in focus.
Furthermore, Emerging Markets were the punching bag of many in the financial press who argued that the so-called bull run of Emerging Markets is over. Just a couple of weeks ago, I wrote an article on this very issue and I noted:
So are emerging markets deserving of a bad rap? Is the so-called "bull-run" (at least of the past 2 years) over? Are the fates of these countries glued to what happens to oil, copper, soybeans, coffee and the like? Or are they positioning themselves, or dare I say, "emerging" into less vulnerable, more diversified economic entities?

One right answer is certainly, "time will tell"….but the more appropriate answer, at least for some of these countries, is that for every day that the commodity 'windfall' continues, they are one day further away from being 'one horse wonders' and one day closer to more fully emerging. In that sense, you might say, time is on their side. This dynamic argues for ongoing close scrutiny of these equity markets, and a view as to when the price is right for buying (or adding).

For now, the inflation fight is likely to keep upside somewhat limited for most of these markets. But after assessing the historical perspective cited above along with the individual country dynamics towards diversified growth, investors are likely to find some investment opportunities, nonetheless, especially in locally driven businesses. You might say that what is currently getting a 'bad rap' might actually turn out to unwrap some pretty good things down the road.
In sum, January certainly got the year off to an interesting start, offering up lessons that should stay with us in coming months. I'm not a big fan of spending too much time in the rearview mirror, but to ignore meaningful historical events would be to exclude key elements in one's investment assessments. And whether you 'warm' to the ideas noted herein or not, at least consider normalizing 'weird' events into their likely impact on investment choices. That might just keep your portfolio 'hot', and not 'flat and crowded'!
(Please note: This article is solely meant to be thought provoking and is not in any way meant to be personal investment advice. Each investor is obligated to opine and decide for themselves the appropriateness of anything said in this article to their unique financial profile, risk tolerances and portfolio goals).
Disclaimer: Please read and consider important information related to all communication made by Soos Global on this site by clicking here.
Additional disclosure: Long many stocks within SPX, OIH, XLP and VWO. Positions may change at any time without notice.