One month ago I wrote an article entitled "Brazil, No 'One Horse Wonder' on Emerging Markets Stage".
The point of that article was to highlight the breadth and depth of Brazil as a multi-product exporter, and as a country that is truly in the midst of 'emerging ', using its export revenue gains and direct foreign investments to develop its infrastructure and various industries .
The article has considerable amounts of long shelf life content - important facts and sources of information that help to truly understand Brazil as a potential investment asset in one's portfolio. While it's not the place of these articles to offer investment advice, and each reader is obligated to opine and decide for themselves as to the relevance of anything written here to their unique financial profile, portfolio objectives and risk tolerances, the discussions about the overall country, as well as of two ETFs that represent quite different investment themes, would seem worth considering for when and if one decides to invest in Brazil .
Since writing that piece (December 31, 2010), EM assets have generally continued to underperform the S&P. Recent geopolitical events in Tunisia and Egypt, and early stages of the same in Jordan, Yemen and Sudan (northern), have sent investor 'risk-ometers' swinging wildly to the high side, and have pressured EM assets across the globe . Below is a chart that shows the S&P's outperformance in January 2011 vs BKF (BRIC), ILF (LatinAm 40), FXI (China), GMF (Asia ex-Japan).
click to enlarge images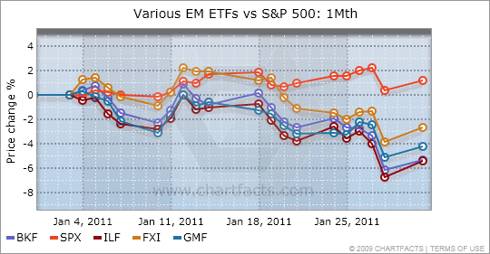 (Source: ChartFacts.com)
Even before those events hit the headlines, EM assets were struggling due to the ongoing inflation fighting measures that many countries have been taking which, in turn, have raised concerns among market participants about the potential for a slowing economic impact . The two ETFs mentioned above with regard to Brazil, BRXX (Brazilian infrastructure companies) and EWZ (Brazilian multinationals), make the case, as can be seen in the chart below: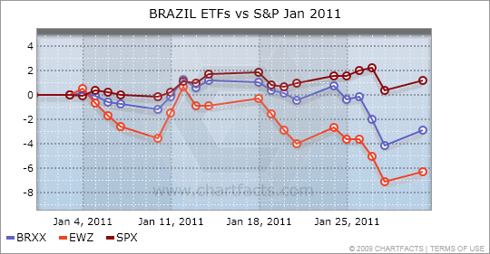 With the month of February starting out on a much more positive tone (at the time of this writing, Tuesday, 2/1/2011, the Dow is up 130 points (1.1 %) and the ETF representing global EM (VWO) is up 2.2 %), investors might find it useful to consider the broader, more thorough story of Brazil, a country with considerable potential despite meaningful challenges. This is not, in any way, a suggestion as to timing of investing or even appropriateness of Brazil for any particular reader / investor. But it is a useful resource for better understanding the country as "no one horse wonder on the EM stage"!
Disclaimer: Please read and consider important information related to all communication made by Soos Global on this site by clicking here.
Note: This article is solely meant to be thought provoking and is not in any way meant to be personal investment advice .
Disclosure: I am long BRXX, EWZ, FXI, GMF, EEM, VWO, PBR and am long many stocks within SPX and QQQQ. Positions may change at any time without notice.