TravelCenters of America (NYSEMKT:TA) is a publicly traded special situation. The company is one of the largest operators of truck stops along the US interstate highway system and formerly owned most of the sites it operated. TA and a smaller truck stop chain (Petro Stopping Centers) were purchased by Hospitality Properties Trust (NYSE:HPT) in early 2007. Simultaneously, HPT entered into a sale/leaseback whereby it retained the real estate, and entered into a long-term lease agreement with TA, which it spun-off to HPT shareholders. HPT had basically negotiated the lease rate on the truck stops with itself before spinning off the TA entity encumbered with unrealistically high rent.
On Tuesday, HPT and TA filed an 8-K before the opening bell announcing that they had reached a new agreement on the lease rates, and the stock more than doubled in very heavy trading. In view of that run up, the remainder of this post will try to address the question of what is "fair value" given the restructured leases and that we don't yet have updated financial information (and the next 10-Q will still reflect the old lease rates that were in place up through 12/31/10).
My earlier posts on TA and its relationship with HPT are below and provide a full background on my thesis regarding TA's financials:
Why TravelCenters of America's Relationship With Hospitality Properties Trust Is Key
Why TravelCenters of America's Relationship With Hospitality Properties Trust Is Key, Part 2
Based on the 8-K filing describing the re-negotiated lease with HPT, the new rent economics should be roughly as follows: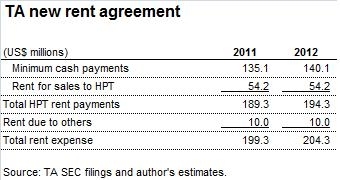 Applying this new rent figure to the historical income statement lets us estimate pro forma EBITDA under the new contract: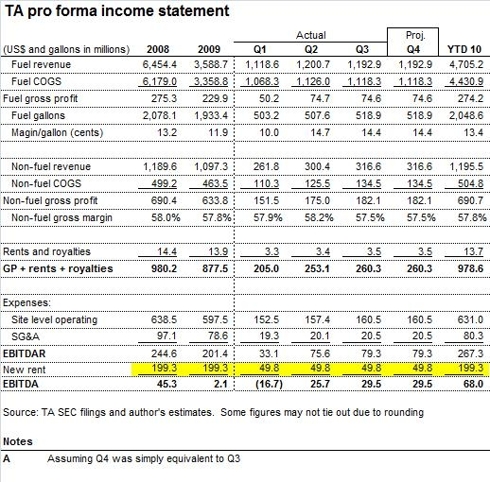 Note that while projected full year pro forma 2010 EBITDA is approximately $68 million (assuming that Q4 comes in level with Q3), looking at the last two quarters of actual results in the improving economy (Q2 and Q3) would imply a pro forma EBITDA run rate of approximately $100 million to $120 million.
Beyond that, an EBITDA multiple valuation here is a fairly simple exercise. In my analysis, I'm conservatively giving no credit for the net cash on the balance sheet in excess of the new 0% interest debt to HPT. TA has 17.3 million shares outstanding. The following table gives a sensitivity of the implied TA share price across a range of annual EBITDA levels and valuation multiples:

While the stock more than doubled following the news of the new lease agreements, I believe it remains materially undervalued at the current level of approximately $9/share based on the new leases. As shown above, I believe that substantial upside remains to bring the stock up to even a conservative valuation range of 5x-6x EBITDA based on the improved financials, which stand to benefit further from the ongoing economic recovery.
Disclosure: I am long TA.