The US January PMI (60.8) is surprisingly good, not only stronger than December 2010, but also better than the market expectation. New Orders (67.8) are significantly higher than December 2010, reflecting the strong growth in demand from consumption and business investment in the US. Employment (61.7) also improved from the previous month. Other developed economies, such as Germany and UK, showed significant gains in their PMI readings in January as well.
Conversely, China's official PMI showed a slight decrease in January, 52.9, the lowest in six months. Both export order and employment indices saw large drops in January partially due to the upcoming long holidays.
It is widely known that developed economies and developing economies will face drastically different environments in 2011. Developing economies are struggling with inflation and overheating, while developed countries are pursuing growth. While the PBOC is expected to raise interest rates again in February, the Fed is supposed to keep the QE2 running and keep the low interest rate in place.
The loose monetary policies across the world generally lead to higher commodity prices and stronger commodity country currencies. In 2009 and 2010, the strong emerging economies were the biggest contributor to world economic growth. Commodity country currencies which are closely related to emerging markets benefited more than others. AUDCAD was one such example (click to enlarge).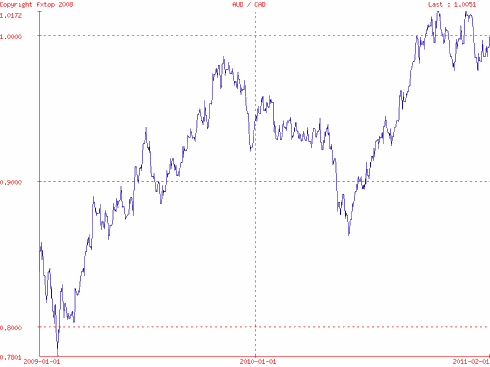 AUD has risen against CAD steadily in the past two years, mainly due to the close correlation between Australian exports and Asian economies. In 2011, with China facing problems of high inflation and property bubbles, this will--in all likelihood--need more than one or two rate raises to solve.
The expected slowdown in China and other Asian exporters will no doubt dampen the demand for commodities from Australia. On the other hand, the economic growth in the US is gathering speed. Economies closely linked to US economic growth, such as Canada and Mexico, will see their currencies attracting more interest in 2011.
In the past few weeks, AUDCAD has dropped from its peak at 1.0172 partially due to the floods in Australia. That natural disaster will only have a temporary effect on the Australian economy. The relative slowdown in emerging markets will have a more lasting impact on the external demand for Australia's exports. Thus the AUD's strength against CAD should steadily weaken throughout the year.

Disclosure: I have no positions in any stocks mentioned, and no plans to initiate any positions within the next 72 hours.