Sprint's (NYSE:S) Q4 results could signal a re-rating for the stock if customer growth continues and, if it happens, the re-rating could be significant. On the other hand, Sprint's downside appears fairly limited.
Sprint currently trades at 1.2x book (MRQ) and 6.2x FCF (my projections) P/E is negative due to significant depreciation. It is clear the stock is cheap, it trades on multiples, implying stagnation at best and long-term decline at worst.
In fact, with a market cap of $13 billion and $4.5 billion of cash on the balance sheet last quarter, the valuation implies Sprint's discounted cashflow is worth less than $8.5 billion, suggesting (roughly) a -15% decline in free cashflow each year. That's more negative than the past few years of historic free cashflow would suggest.
However, recent attractive handset options from Sprint such as the HTC EVO and a focus on churn reduction may have reversed Sprint's trends of customer losses - see below for total Sprint customers by quarter.
Sprint Subscribers May Finally Be Increasing
(Total Subs - Recent Quarters)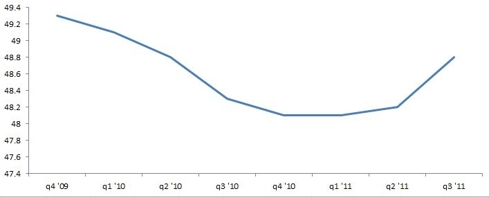 As a result, if (big if) Sprint can sustain net customer growth, then the multiple should expand substantially, because on current FCF of $2bn, the stock should be worth at least $20bn, or 53% above its current price. That doesn't factor in substantial operational leverage if subscriber growth does materialize.
It's also possible that Sprint decides to write-down fixed assets at a full year, and though this would have no impact on valuation, it may be optically positive because it would make Sprint's cheapness apparent through its P/E, in addition to its P/FCF.
It's also clear that Sprint would be disproportionately rewarded for any market share growth given large fixed costs and operational leverage.

Disclosure: I am long S.