A century old debate is still raging in the markets (more so today, with the introduction of commodity ETF's) and it has to deal with whether it is better to invest in a commodity or in the companies that produce the commodity?
What I will attempt to do over the coming days, months, years etc. is produce articles showing that my methodology, Mycroft Research (MR) can help the long suffering commodity investor make clear cut decisions based on capital appreciation through capital preservation. I do this by introducing history into the equation and thus allow investors to take a longer term approach to investing in the commodity markets.
The first part of Mycroft Research (MR) is called Statistical Indicator Analysis (SIA);
For those new to SIA here is an introductory article explaining how it works.
And since we will be discussing commodities in this article, here is a further introduction using SIA to analyze the Fuel Oil Commodities.

Therefore with the introductions out of the way let us present our SIA charts for Copper (I would like to thank my friend Peter in the U.K, for providing us with the raw price data):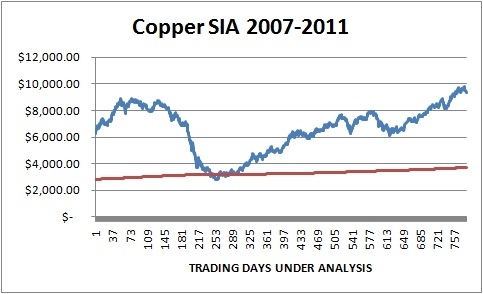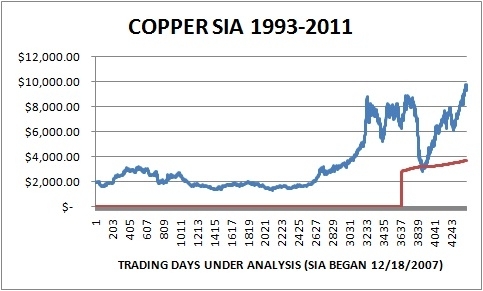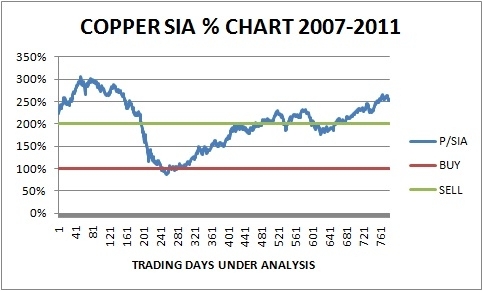 Since the commodity "copper" does not produce earnings, has no income statement, balance sheet or cash flow statement, we are forced to analyze it just from the viewpoint of the price that it trades at and what investor sentiment is in relation to the various macro-economic forces that are associated with it, which affect its supply and demand.

In analyzing the SIA charts above, one will notice that Copper is currently trading at about 2.64 times its SIA line (RED LINE), which is currently $3728.48. I have only been able to get data going back to 1993, so our first day of SIA analysis (#1) starts on December 18, 2007 ,the day the 3651st trading day was reached, (not calendar days). On that day the SIA for Copper was $2,828.64 and its market price was $6272.50. Therefore on December 18, 2007, we had a price to SIA (P/SIA) of 2.21, so at 2.64, we are currently trading at a higher percent SIA then we started with some 761 trading days ago.
Mycroft Research (MR) states that the farther you go away from the SIA the greater your risk. At the same time the closer you get to par with or trade at a discount to SIA, the lower your risk. I am a conservative investor and like to sell at 2.0 times SIA and am constantly on the prowl for any investments that are selling at a discount to or at par with their SIA. You would have had such an opportunity to purchase copper at a discount to its SIA for exactly three days only, (from 1/29/2009-2/2/2009) before its price shot back up and never looked back. Getting these unique short windows of opportunity is nothing new in my research, as I have had similar such scenarios spring up on multiple occasions.
Nevertheless, what we are here for is not to locate bargains, but to see which is the better investment (if we must invest in one or the other) Copper or Southern Copper?
Analysis of Southern Copper (NYSE:SCCO)
Copper is a commodity that is used in many industries and its global reserves are in short supply compared to other metals. Therefore there is a constant upward pressure on the price of the metal due to limited supply and high demand. Thus companies that produce it should do very well in the future.
Southern Copper in my opinion is the best managed copper producer and if you look back at their historical Owners Earning's and CapFlow numbers you will see what I mean.

Here is a table with SCCO's OE, COE and CapFlow numbers: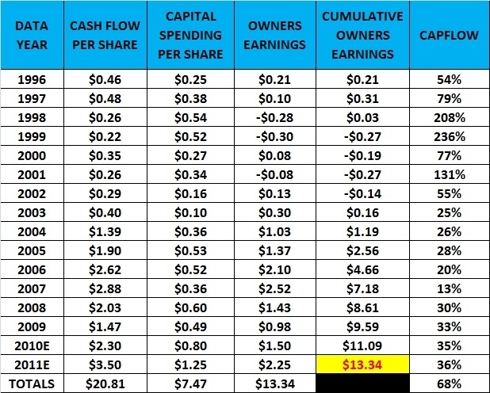 For a mining company, SCCO has some amazing CapFlow numbers. For those new to CapFlow here is an introductory article on how it works.
To have a mining company achieve a CapFlow of less than 50% is quite an achievement in any given year, but to consistently have such results, year over year, is something very rare indeed. In 2011 SCCO is expected to have a CapFlow of 36%.
In reference to COE, the company (as with most commodity producers) is sorely lacking in this area, due to high production costs (capital expenditures to get the commodity out of the ground) but as to its Price to Owners Earnings (P/OE), using Tuesday's closing market price of $46.73 and its estimated 2011 OE per share number of $2.25, we get a price to OE (P/OE) of 22. I like to sell at 30 times OE per share, so we are in hold territory on SCCO as a result.
With the fundamentals out of the way, let's now examine Southern Copper's SIA chart and compare its SIA to the SIA of the actual commodity. Here is SCCO's SIA chart: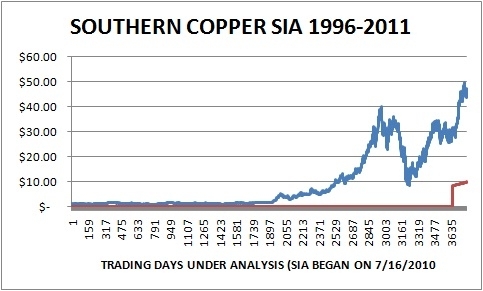 Southern Copper as can be seen from the chart above is trading at a very high multiple to their SIA (RED LINE). SCCO's current SIA is $9.82 and the stock is trading for $47.32, so we have a Price to SIA (P/SIA) of 4.81. Therefore it is quite clear that the commodity Copper is a much safer investment than SCCO is, as it is only trading at 2.64 times its SIA. The 4.81 result for SCCO is very high and I will prove that by showing you a chart of what happened to crude oil when it hit a (P/SIA) of 4.10: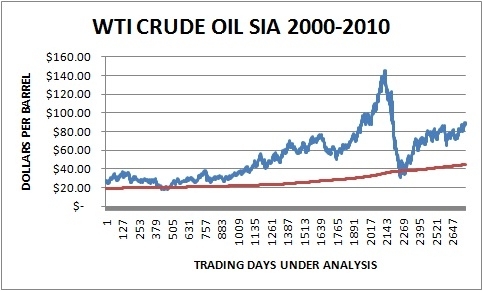 So if you must invest in Copper, my research shows that one should invest in the commodity via ETFs or ETNs and not the stock. Here is a link to a very informative article for those interested in investing in the actual commodity. In the article the author suggests four potential ways to invest in copper:
1. iPath DJ-AIG Copper Total Return Sub-Index ETN (NYSEARCA:JJC)
2. iPath DJ-AIG Industrial Metals Total Return Sub-Index ETN (NYSEARCA:JJM)
3. PowerShares DB Base Metals ETF (NYSEARCA:DBB)
4. ELEMENTS Rogers International Commodity Metal ETN (NYSEARCA:RJZ)
I have no opinion on them, as I cannot analyze them using my SIA methodology, as they have not achieved the 3651 trading days yet. Someday I will be able to analyze all ETF's with SIA, but for now the industry is still in its infancy.
Disclaimer: Always remember that these are the results of our research based on the methodology that I have outlined above and in other articles previously published. This research is provided as an educational tool and should not be considered investment advice, but just the results of our research. There are many ways to analyze a stock and you should never blindly follow anyone's work without doing your own due diligence or by seeking the help of an investment advisor, if you so need one. As Registered Investment Advisors, we see it as our responsibility to advise the following: We take our research seriously, we do our best to get it right, and we "eat our own cooking," but we could be wrong. Please note investments involve risk and unless otherwise stated, are not guaranteed. Past performance cannot be used as an indicator to determine future results. Strategies mentioned may not be suitable for everyone. We do not know your personal financial situation, so the information contained in this communiqué represents the opinions of Peter "Mycroft" Psaras, and should not be construed as personalized investment advice. Information expressed does not take into account your specific situation or objectives, and is not intended as recommendations appropriate for you. Before acting on any information mentioned, it is recommended to seek advice from a qualified tax or investment adviser to determine whether it is suitable for your specific situation.

Disclosure: I have no positions in any stocks mentioned, and no plans to initiate any positions within the next 72 hours.