Detour Gold (OTCPK:DRGDF), sole owner of the Detour Lake project, announced on January 31st an increase in its proven and probable reserves. Over 3.5 million ounces were added bringing the new Proven and Probable figure to 14.9 million ounces from 11.4 million. This has also led to an increase in the project life of the mine to 21 years from 16 years. The stock reacted with an opening jump up to $29.40 and closed at $28, this is from a $26.13 close the day before. This increase in reserves will make Detour the largest project in Canada and the fourth largest in North America.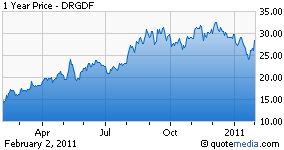 The implications in the long term for the company are somewhat complicated. Growing the reserves base for a gold miner is always a positive occurrence however this further burdens Detour with additional exploration pressure. This is somewhat similar to the problem that seasoned large gold producers such as Agnico (NYSE:AEM) and Barrick (NYSE:ABX) encounter. To not have production numbers fall year after year as mines begin to run out, these companies have to invest heavily into exploration in an attempt to add new resources to make up for declining annual production. The larger the original reserves and the higher the production number the more difficult it is to find new marginal discoveries to make up for high production figures. This is likely a key reason why investors did not bid the share up even further on announcement of a substantial 30% growth in proven and probable reserves.
Detour plans to continue exploration in the Detour Lake region. However, any further discoveries are unlikely to trigger abnormal gains in the stock price until the project is de-risked and extraction begins.

Disclosure: I have no positions in any stocks mentioned, and no plans to initiate any positions within the next 72 hours.