The amount of due diligence performed on China MediaExpress (OTCPK:CCME) goes above and beyond in showing what a quality, high-growth company it is. Here is an article that goes more in-depth about the reasons to believe in China MediaExpress. Here is some prior due diligence that has been done.
Below, I am going to to present information that proves China MediaExpress is a very valuable company that will continue to grow. I am going to list video evidence from an investor that is currently in China. Plus, I will present more research and rebuttals to some of the recent allegations. It is all worth a look as it will help give better insight into the company and reasons to be positive about the company as well.
NEW RESEARCH AND INFORMATION
Global Hunter Securities continued due diligence - February 1, 2011 (.pdf)
- Maintains buy rating
- Interviews with advertisers and bus operators
- Bus rides
- Checked Government documents
- Reviewed contracts and other channel checks
Northland's Darren Aftahi Reiterates that CCME is their top pick for 2011 - February 1, 2011
Response from Geoinvesting - A tier-one name worth the risk
Forbes article dissecting short-sellers' claims
It takes a deeper look at Mike Koza's rebuttals in regards to the recent negative allegations. For those who are unaware, Mike Koza is one of the best investors in the world and CCME is the largest position in his portfolio.
VIDEOS
Comment on the site:
I did one more check afterward, I went on the bus company website... I found their bus schedule page. They have a total of 13 lines of buses to and from the airport. If each line ferries 80 round-trips per day, then we have about 1,040 bus trips per day. Multiply that with 30 passengers, then this bus company ferries 31,200 airport passengers each day. In a year, that's 11 million CCME Airport Express passengers in Guangzhou airport out of the over 30 million passengers that fly out of Guangzhou each year.
Comment of what the conversation consisted of:
I asked the agent how many buses depart from that particular bus station at Dong Fang Hotel. She said about 60. Later I did a count based on the bus schedule and it was actually 67 to and 66 back for a total of 133 trips. The other agent standing next to her told me that the buses are pretty much always full.
Research - China Advertising Association
CCME, aka Fujian Fenzhong Media, is listed on the China Advertising Association website. CCME is publicly ranked amongst its peers.
The China Advertising Association is the official government agency that all advertising platforms in China must register with. You can find CAA's description in Baidu's version of Wikipedia, it's in Chinese (you can use Google translate) and very comprehensive.
In 2007, CAA ranked CCME number 15th by revenue. In 2009, CCME was ranked number 6. This latest ranking was released in August 2nd, 2010. The web links are here and here.
click to enlarge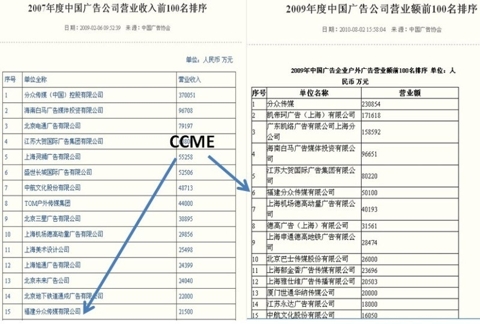 Research Investor's comments:
The revenue numbers cited here are somewhat uncertain. The unit is reported in 10k RMB. So add 4 zeros to the revenue numbers above.

Focus Media's, for example, has their 2009 revenue as RMB2,308,450,000. If I use a 7.80 rmb to 1 USD conversion rate, I get 296M USD of revenue. But in all of 2009, FMCN made $505M USD revenue. So the revenue number cited here is under-reported for FMCN. Same thing for CCME, 2009 revenue of RMB501,000,000 rmb or $64M USD. CCME reported $96M USD for 2009.But this data above disputes the Citron Report which claims that "No one in China has heard of them (CCME)." It's more like Citron chose to ignore the obvious. In 2009, CCME is number 6 on the list of the 100 top outdoor advertisers in China.

More importantly, as the videos taken over this past weekend demonstrate, plenty of advertisers in China have heard of, uses, and pays CCME.
Research Blog (Continual updates)
Information continues to be positive for China MediaExpress as Global Hunter Securities has now done even more than their initial 3 months of groundwork to come to the conclusion that CCME is still a buy. Northland came out the same day to defend their strong buy rating with a price target of $32, again. The videos by the investor in China show how real China MediaExpress truly is and it shows how China MediaExpress continues to have high success.
As new information continues to come out in support of China MediaExpress, investors still have some doubts about the claims that came about due to the recent negative report, but much of the information stated can be disproven. Being able to interact with many investors in the company, I was able to obtain several bits of proof to show how the negative report is incorrect.
Articles and Newspaper clippings mentioning China MediaExpress:
TTAVC (Transportation Television Audio Visual Center) ARTICLES
November 6, 2007 - Statement from the Ministry of Transportation of the stated contract with TTAVC


The CCME bus AV system implementation will be under the responsibility of the TTAVC, which is under the authority of the Ministry of Transportation.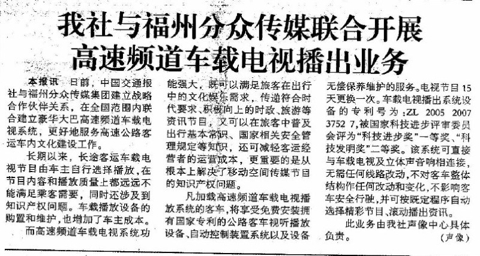 2008 article - It states that the TTAVC worked with China MediaExpress to install systems in about 1,600 intercity buses.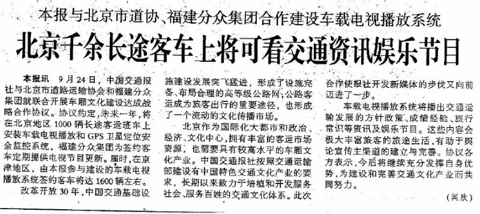 A post showing many different articles pulled from Google/Baidu searches citing China MediaExpress. When translated, China MediaExpress can also be referred to as Fujian Fenzhong Media Co., Ltd., Fuzhou Fenzhong Co., Ltd., or Focus Media Fujian.
China MediaExpress CEO Interview.
Rate Card
China MediaExpress rate card (.pdf).
Informative CCME powerpoint describing their business. A listing of CCME's rates can be found on pages 26-28. This was found on www.allchina.cn.
Shanghai Apollo Allegations: They are part of a government entity - they are very misrepresented by the Citron article.
Details of Holding Company Apollo.
Apollo's Website.
China MediaExpress earns 3.5 times revenue per screen:
How many ads per hour does each company display on their system?
VISN displays an average of 6-7 minutes of advertisement per hour
CCME displays an average of 20 minutes of ads per hour
What is 20 divided by 6? Take a guess. It is about 3.3, thus the reason China MediaExpress earns about 3.5 times revenue.
That is the simple answer, but also, since the individuals that ride on the China MediaExpress bus generally have a longer trip, the screens are viewed longer with less crowding and noise compared to subways and intra-city buses where people are standing. This also helps contribute to receiving more in revenue, as it has more of an effect on the "captive audience."
MARGINS - This table is from the recent Goldman Sachs research on FMCN:
Growth & margins (%) ----12/09 -- 12/10E -- 12/11E -- 12/12E
LCD display ------------ 63.8% --- 77.3% --- 80.6% --- 83.0%
In-store network ------- 20.4% --- 38.6% --- 47.5% --- 53.4%
Poster frame network ----3.6% --- 29.8% --- 40.6% --- 47.3%
Overall gross margin ----32.9% --- 57.1% --- 61.8% --- 65.1%

FMCN's LCD display business is similar to CCME's, displaying ads on TV screens. In 2010, the GM is 77.3% and Goldman estimates FMCN's GM will be 80.6% and 83% in 2011 and 2012.
China MediaExpress has margins closer to 70%.
So, we have re-iterations by several firms and the best investor in the world. It is obviously very easy to find information on China MediaExpress by searching Baidu. It is also easy to see how many different times China MediaExpress is mentioned on China websites and newspapers. Their margins are less than Focus Media's. They have a forward P/E of about 5 based on 2011 earnings. They have over $170 million in cash.
Advertising in China is expected to grow to #2 behind the United States, in the coming years. We have video footage of exactly how the ads are being shown on the buses, how many passengers, and basically, how it is easy to see their success. We have information pertaining to their government alliance. A ranking by the China Advertising Association. What else could you ask for? Not only are they very undervalued, but they have a strong backing, and evidence shows how legitimate they are and how false some of the negative claims are.
Although the recent allegations are not true, the attack was done very strategically. It is currently the Chinese New Year and it is a long celebration and many businesses close down, which also makes it difficult to respond due to everything that is going on. I believe that management is not going to stand for these fraudulent statements and allegations and they should put it to rest shortly.
Also, CCME is on Regsho, which is a naked short list and by the end of this week those shorts will be forced to cover and this attack gives them a perfect opportunity to get out. Looking at the new list, they did just that. While Citron has stated that another follow up was coming, it is difficult to take what they say seriously when it is obvious that they were paid to put out this piece that was so poorly written and Andrew Left (Stocklemon) does not have a very good history - details here. Just do a little more research and you may find other reasons that his "work" may not be so trustworthy.
So, are you going to believe a firm that did 4 months of research and has over $40 million invested, another firm that did many months of due diligence and continues to do more, videos showing the legitimacy of the company, disproving the negative allegations, Northland confirming them as the top pick of 2011, and Forbes, or are you going to believe a firm that has an individual in charge, Andrew Left, that has a very shaky history, including the fact that these allegations are easily proven false?
CCME will continue to show why they are a high-quality, high-growing company.
Disclosure: I am long OTCPK:CCME.