By Karen Schwartz
Despite continuing concerns over investment banking returns, most analysts expect Goldman Sachs's (NYSE:GS) stock price to climb in the next 12 months.
The firm gets praise for holding its own despite a number of setbacks for the firm and the industry. It reported earnings of $8.35 billion, 37 percent below 2009 numbers.

The median price target based on 20 analysts tracked by Alacra Pulse is $190, unchanged from our November Prognosis. The mean target is $203.55, more than 23% higher than Monday's closing price of $165.33.
Current 12-month price targets of selected sell-side and independent analysts. Click image to enlarge.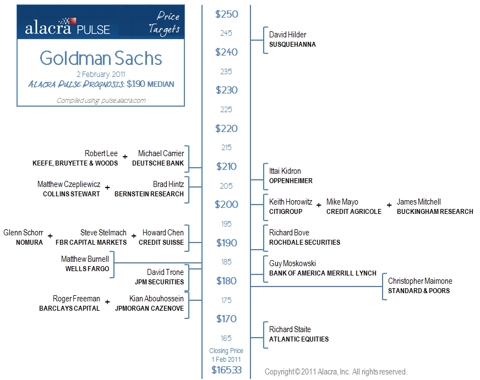 Click to enlarge
Sixteen of the 20 analysts are positive and four are neutral. Most analysts are clustered between $175 and $200, with Susquehanna's David Hilder an outlier on the high side with a price target of $243. He expects Goldman to benefit from strong capital markets volumes in 2011 as the economic recovery continues. Richard Staite at Atlantic Equities has the lowest target at $165.
Collins Stewart analysts initiated coverage on shares of Goldman Sachs on Thursday, January 13, with a "buy" rating and a $205 price target on the stock.
FBR Capital lifted its price target to $190 from $180 on the firm. "We are maintaining our rating on GS and revising our 2011 EPS."
Ticonderoga downgraded the firm to Neutral from Buy earlier this month and dropped its price target, citing concerns about normalized Return on Equity potential.
Said Ticonderoga analyst Douglas Sipkin, "GS had a tough year in 2010. While we generally believe in the potential of the company in better environments, we are growing more concerned about normalized ROE …" He also noted that "GS is becoming a 'prove me' story with respect to returns … Competition in banking and trading are real factors."
JPMorgan also downgraded the firm to Neutral from Overweight but maintaine its $175 price target earlier in the month.
Trefis pointed out that "its earnings came in lighter than expected in part due to a difficult trading environment." Trefis has a $167 price estimate for the company.
Meanwhile, Goldman and other banks continue to tread lightly when it comes to risk; raw materials, for example. "It will take a few years for these banks to adjust," said Richard Bove, bank analyst for Rochdale Securities. He lowered his target to $188 from $214 earlier this month.
Barclays Capital's Roger Freeman surmises that Goldman is facing a "crisis in its trading business," highlighted by its "third straight decline in quarterly profits."
Freeman suggested that Goldman had more to figure out in terms of the relationship between its business and regulatory changes. "They can't budget their business right now." He reiterated a Neutral rating and $175 target.
Institutional Risk Analytics' Christopher Whalen noted that "Goldman's all about trading and investment banking," and that it was seeing setbacks in areas it had previously excelled in.
Sources: Alacra Pulse, American Banking News, CNN Money, The Australian, StreetInsider, Trefis, Barron's, NY Post, WashingtonPost.