Delcath Systems (NASDAQ:DCTH) is a small biotech headquartered in New York, N.Y. that produces targeted delivery systems for chemotherapuetics. Its Delcath PHP (percutaneous hepatic perfusion) system isolates the liver from the rest of the circulatory system and delivers high dose melphalan hydrochloride. From The International Symposium on Endovascular Therapy, Jan 15th, 2011 press release:
"Patients with melanoma that had spread to the liver who underwent PHP survived four times longer before the disease progressed, compared to patients who did not receive the treatment, according to results of the multicenter randomized study. The study included 93 patients: 44 received PHP and 49 received standard treatment (typically systemic chemotherapy). In the latter group, 27 began receiving PHP when their disease progressed. Patients in the PHP group averaged 186 days before the disease progressed compared to 46 days for patients who did not receive PHP. Those in the PHP group benefitted from an average of 245 days without progression of cancer in the liver compared to 49 days for those in the standard treatment group, a five-fold increase for the PHP group.

"The minimally invasive method isolates the drug so it is contained within the liver, where tumors receive up to 100 times the dose they would get through systemic chemotherapy," said investigator Charles Nutting, DO, FSIR, an interventional radiologist at Swedish Medical Center, Denver, Co. "There are very limited therapeutic options for these patients. This minimally invasive therapy technology could eventually be used to treat other liver cancers when options are limited."
On December 22nd, Delcath completed its New Drug Application (NDA) for FDA consideration of Delcath PHP for liver cancer. Per the press release:
"Our team has achieved a significant milestone with the filing of our NDA," said Eamonn P. Hobbs, CEO & President of Delcath Systems. "We believe that our application is comprehensive and complete, and we are optimistic that it will be accepted for review by the FDA. Considering the limitations of current treatment options, we believe the chemosaturation system can offer hope to patients with metastatic melanoma in the liver. We have requested priority review of our NDA by the FDA, which if granted could result in a 6-month review of the application. Priority review is granted by the FDA to those products that address significant unmet medical needs or have the potential to provide significant improvement compared to marketed products. With the strength of our Phase III data, we believe that our application meets the FDA's criteria for priority review."

The FDA normally requires 60 days to perform a cursory review and assess whether the NDA is sufficiently complete to warrant a substantive review and issue a Prescription Drug User Fee Act (PDUFA) action date. Delcath intends to make further announcements as the review proceeds, including the FDA's response to the application and potential determination of a PDUFA action date."
Just yesterday, February 2nd, we have reports that the company leased an 8,000 sq ft manufacturing facility in addition to the 10,000 sq ft the company already has under lease. The report also quotes CEO Eamonn Hobbs as stating the market opportunity for Delcath PHP as being $15 billion. Whether that high a figure is on target is hard to know, but with a current market cap of $423 million, if even a half of that figure is correct, this company is easily worth many times its current trading value.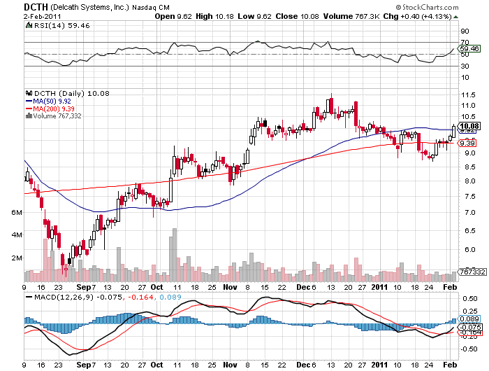 (Click to enlarge)

In the past several days Delcath has ramped substantially on decent volume and blown through both its 200 day and 50 day moving averages. We have also seen an increase in call volume. I believe this is an indication that investors are of a mind that we will see positive news from the FDA on the NDA. Additionally, there have been rumors as recently as October, from Jon Najarian of Optionmonster/Fastmoney, that Bristol-Myers (NYSE:BMY) may be considering a purchase of Delcath Systems. Whether or not there is any truth to rumors of a takeover or there is just excitement on the heels of the NDA coming back, there is clearly excitement and positive momentum in this stock.

So how should you play Delcath? I purchased the March 10 Call options for 0.90. These calls are just a touch in the money at this point and have a month and a half till expiration. I wanted to define my risk with the purchase of calls. Given the low trading volume, momentum could easily build upon itself in this stock. I believe we could easily see several dollars more appreciation before we even see any FDA NDA response and several more if we get a positive response and a PDUFA date set.

Disclosure: I am long DCTH.

Additional disclosure: Long DCTH March 10 Calls