Here are our key take-aways from Western Union's (NYSE:WU) February 01, 2011 Q4 2010 Earnings Conference Call. Read the full transcript here.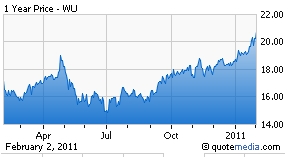 1. Areas of strategic focus are clear
WU continues to focus its resources on growing retail channels, expanding electronic channels, developing its product portfolio, and improving process and productivity.
Long-term demographic trends - migrant flows and remittance - are driving retail growth.

WU plans to increase retail networks by another 30,000 to 40,000 agent locations from the current 445,000. (see Jim van Meerten's recent analysis.)
Despite emerging competitors, WU is confident they can dominate and expand electronic channels.

They're betting on the combination of the agent network, brand, compliance capabilities and scale. Adding to this, both westernunion.com and their emerging applications for mobile money transfer broaden their appeal to existing customers and new users.

Developing the product portfolio is also a priority, specifically prepaid cards and the new Western Union Business Solutions. The company entered into the small and medium-sized enterprises, serving those businesses' cross-border payment needs.

And the mantra of "faster, better" is also being chanted, which in WU's case translates into a faster-moving, more efficient organization that can generate long-term margin expansion.
2. Americas on the rebound
While WU's Asia Pacific operations led the way with 14% revenue growth, the biggest change came from the Americas, with 7% revenue growth for the quarter and 2% for the year. This, after three straight years of declines. US domestic money transfer revenue increased a strong 7%.
Despite still-generally high unemployment and challenging economic conditions in some countries, they see the environment stabilizing and anticipate modest improvement in the remittance market in 2011.
3. New products driving growth
WU's investments in new products are bearing fruit, primarily from electronic channels, prepaid and business-to-business payments. They've made considerable strides in developing their prepaid card product towards a goal of doubling the number of cards-in-force from 890,000 and 9,600 active locations. Prepaid revenues are expected to be approximately 1% of the total company revenue this year.
Mobile is one of WU's long-term, emerging opportunities. They now have 80,000 locations activated globally to send money from 48 countries, and have agreements with 14 mobile operators. I think we are in a very good position here also. Management sees their competitive advantage in one brand-one global network, which connects the dots and gives them the cash availability to pay in/pay out at 450,000 locations.
4. Strong cash flows enable stock buy-backs and dividends
Look for WU to continue in 2011 with strong cash flow generation and meaningful return to capital to shareholders. Management expects to generate $1.2 billion to $1.3 billion of cash flow from operating activities this year, nearly 2x the $750 million returned to shareholders through buyback and dividends in 2010.
5. Consumer-to-consumer business is still at the heart of the business
The C2C business is about 85% of WU's revenue. Transaction growth in the C2C segment for the quarter was 9%. Trends in the international C2C business improved from the third quarter, as revenue grew 3% or 5% on a constant currency basis on transaction growth of 8%. The company's C2C cross-border principal increased 6% in the quarter, or 7% on a constant currency basis. The C2C principal per transaction decreased 3% year-over-year, or declined 1% on a constant currency basis.
C2C business in the Europe, Middle East, Africa and South Asia region grew transactions of 6%, up from the 5% growth in the third quarter. Revenue declined 1% and was again negatively impacted by currency translation. On a constant currency basis, EMEASA revenue increased in the quarter. Large markets such as the U.K., Germany and Russia continue to deliver solid constant currency revenue growth, but the real change came from some improvements in areas that were challenged the last few quarters such as the Gulf States. After a couple of quarters of declines, the Gulf States returned to transaction and revenue growth in the fourth quarter. India also contributed to the quarterly improvement with transaction growth of 6% and a revenue increase of 8%.
Disclosure: I have no positions in any stocks mentioned, and no plans to initiate any positions within the next 72 hours.