We bought Ur-Energy Incorporated (NYSEMKT:URG) on April 23, 2007 at $4.75, and bought it again on August 24, 2007, when we acquired more stock at $3.03, giving us an average price of $3.89. Yesterday it closed at $3.20, having gained around 300% in the last six months and thus restoring a little more faith both in this stock and the uranium sector itself.
[Click to enlarge]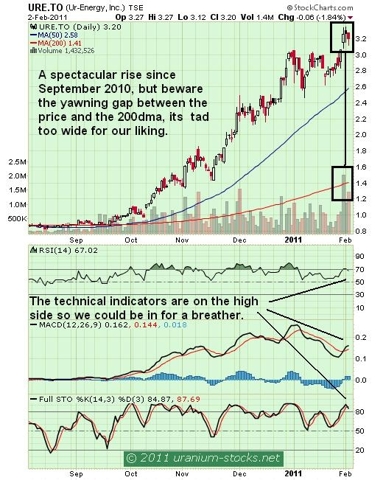 This stock also happens to be one of the favorites of Alka Singh, senior metals and mining analyst at Rodman & Fenshaw (NYSEARCA:RODM), who appeared on BNN yesterday and had some encouraging words for investors. She kicked off talking about the increase in demand from China, India, North Korea and Russia. Alka reckons that China currently has 13 nuclear power plants in operation, five in construction and another 30 in the planning stage, leading into a demand for 50 million pounds of uranium per annum.
Taking a quick look at the World Nuclear Association, we found that it reports similar figures:
Mainland China has 13 nuclear power reactors in operation, more than 25 under construction, and more about to start construction soon.

Additional reactors are planned, including some of the world's most advanced, to give more than a ten-fold increase in nuclear capacity to at least 80 GWe by 2020, 200 GWe by 2030, and 400 GWe by 2050.
China is rapidly becoming self-sufficient in reactor design and construction, as well as other aspects of the fuel cycle.

India has a similar demand with 20 nuclear plants in operation, five in construction and 25 in the planning stage. In total 441 nuclear reactors are in operation worldwide.
Turning to the supply side, Alka mentions a few difficulties, including the shut down of the Ranger Mine in Australia, which will be closed for 12 weeks due to the possibilities of flooding in that region. Then there is the announcement by Areva (OTCPK:ARVCF) that one of its operations in Namibia will be delayed some 12 months and not come online until 2013. And so the supply side is experiencing a bit of a squeeze at the moment.
The good news out of Ur-Energy is that it now has its NRC permit and is hopeful of gaining the remaining permitry by mid 2011. This would then enable it to start production in early 2012, which is not too far away.
Ur-Energy is a dynamic junior mining company focusing on exploration and development of uranium properties in the United States and in Canada. Ur-Energy trades on the Toronto Stock Exchange under the symbol URE and on the NYSE: Amex under the symbol URG. Ur-Energy is completing permitting activities to bring its Lost Creek Wyoming uranium deposit into production and to build a two-million-pounds-per-year processing facility. With adequate funds and technical depth unmatched among North American juniors, Ur-Energy is well positioned to be the next uranium producer in Wyoming. In addition, Ur-Energy's project pipeline is supported by an extensive, valuable exploration database and intensive analysis programs, providing for great exploration and development potential.
Ur-Energy Incorporated has a market capitalization of $317.31 and a 52 week low of $0.76 and high of $3.35 with 99.16 million shares outstanding. The future for this company looks good in our humble opinion so you may want to add it to your watch list and observe how they go from here.
As the chart below shows, the spot price for uranium stands at $70/lb and appears to be progressing fairly well at this stage. However, as we understand it, the spot price has since increased by another $3.00/lb, so think in terms of $73.00/lb and allow the chart time to catch up.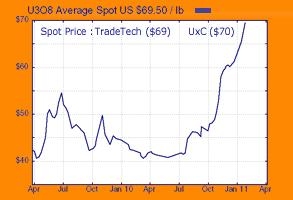 Disclosure: I am long URG.