By David Russell
Eastman Kodak (EK) got slammed on bad news last month, and one investor apparently thinks that it's dead in the water.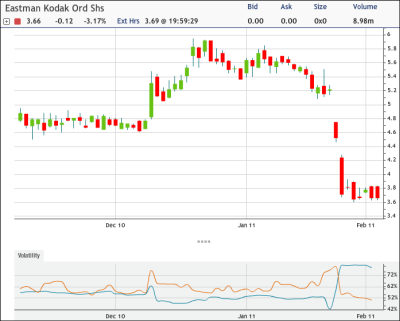 optionMONSTER's tracking systems detected the sale of 6,500 January 3.50 puts for $0.68 and 6,500 January 3.50 calls for $0.92, resulting in a total credit of $1.60. Volume was more than 30 times open interest in both strikes.

The trade, known as a short straddle, is a bet that the photography company will remain trapped in a range over the next 11 months. He or she will get to keep the entire premium if EK is at $3.50 on expiration, but it will make money if the stock closes anywhere between $1.90 and $5.10. (See our Education section)

EK fell 3.17 percent to $3.66 yesterday and has lost 32 percent of its value so far this year. The first big drop occurred on Jan. 25 after the company lost an initial decision in a patent lawsuit. It plunged further the next day after fourth-quarter revenue cratered by 25 percent and earnings were negative while analysts had expected a positive number.

The news was especially bad because it happened during in the key holiday-shopping period. That cast doubt on the future of the company, a former stalwart of the economy that spent most of the 20th century in the Dow Jones Industrial Average.