The U.S. Dollar is expected to reach a multi-year cycle low in the near future. From the cyclical low, I expect the U.S. Dollar to regain a strong footing and work higher against the crowd. This is not to say that the U.S. Dollar will not eventually decline, but financial markets do not work that easily. Shorting the U.S. Dollar is a crowded trade and Mr. Market punishes crowded trades quite often by pushing prices the opposite of what the heard is expecting. Should the U.S. Dollar find a strong underlying bid, precious metals and domestic equities would feel the brunt force of such a move. While it remains to be seen if the U.S. Dollar rallies, if it does it will catch many traders and economists by surprise and the unwinding of the short dollar trade could unleash a wave of buying that we have not seen for quite some time and I think that is about to happen.
Let's take a look inside the market…
Major Index Price Action Over The Past 12 Trading Sessions – Bearish
Below is a table showing the main indexes used for tracking the market. The interesting thing about this data is that the indexes, which typically lead the market, have been deteriorating for the past 12 days and no one has noticed.
In short, the Nasdaq, Russell and Dow Transport indexes typically lead the market. My thinking is that it's a bit of both and that a correction is just around the corner.
(Click charts to expand)
Gold Miner Stocks Underperform Gold – Not a good sign
Gold stocks Wednesday underperformed the price of gold and are also forming a bearish chart pattern. If this plays out then we can expect another sizable pullback in both gold stocks and the price of gold because this index typically leads the gold.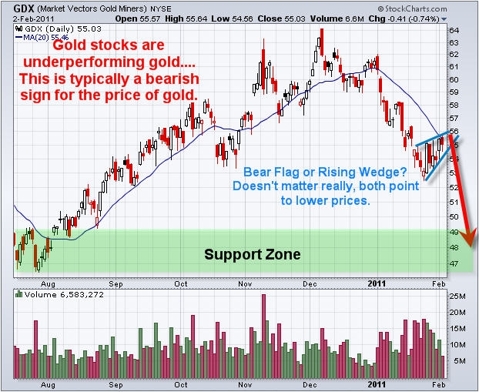 US Dollar Multi Year Support Trendline
The US Dollar is trading down at a key support level and if we get a bounce and possibly even a rally then we could see a sizable correction in stocks and commodities across the board. As we all know everyone is shorting the dollar, buying gold and buying food commodities. So it makes sense that all these crowded plays are about to see a major shift. Now this is just my contrarian point of view and those of you who follow my work know I'm not biased in my trading. I just take the market one day or week at a time and play the setups. But you must step back and look at the larger picture and at least give it some thought…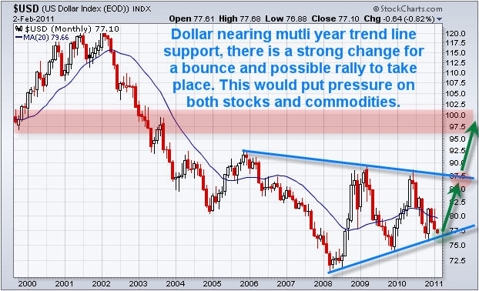 Concluding Thoughts:
In short, the major indexes are moving higher on light volume, which is not a strong sign, and other key indexes are pointing to lower prices. The question everyone wants to know is how low will this correction be? The answer to that is that you must play the trend as you never know if a trend will last 2 days or a year. I take the market one day at a time continually analyzing the price action and can provide you with my work and trades if you would like.
Disclosure: I am short SDS
.