MEMC Electronic Materials (WFR) posted Q4 GAAP sales of $850.1 million, up 69% from the prior period. Although WFR missed earnings expectations, the stock was up huge. What gives?
Investors seemed excited about the results from the SunEdison unit and management was quick to point this out with non-GAAP and GAAP comparisons. Although many companies prefer to measure performance with non-GAAP numbers, they are often materially different from required GAAP reporting rules.
Yet that doesn't preclude a company CFO from employing legal but creative interpretations of these standards as a way to gloss the earnings statement. This is especially true with companies that have unique business combinations or affiliated equity partner / arrangements with other entities.
However, even GAAP reporting is prone to subjective input variables which allow managers to "shift" assets and liabilities as a means to produce the optimal outcome.
Our assessment of WFR in no way implies or suggests that management is pulling levers with its books. Rather, it attempts to highlight areas of a fast-growing company's financial statements that investors should be watching.
Balance sheet: Accounts receivable in Q4 declined 30% as compared to a 44% spike in Q3. This resulted in an abnormal reduction of days-sales-outstanding from 79 days in Q3 to only 31.7 days in the latest period. Given the 69% rise in reported Q4 sales, this divergence between receivables and sales warrants closer attention.
Receivables are generally considered to be one "step" from cash, and the low Q4 DSO figure would suggest an improvement in collections and cash conversion cycles. However, also listed in the "current assets" section, directly below inventories, is the line-item "solar energy systems held for sale."
Revenues from WFR's Solar Energy unit (Sun Edison) garnered the highest share of Q4 revenues (36.2%). The accounting for power system sales can be tricky as it involves operational guarantees, breach of contract provisions, warranties and in this case a partner-financed sale-leaseback transaction. In other words, there are lots of messy details stuffed into the fine print.
Yet it is listed as a current asset and presumably stated at fair-value. It's not really a receivable and technically not inventory. However, for purposes of this analysis, we will treat it as a "finished" product and a first-cousin to inventory in the balance sheet hierarchy.
One of the struggles analysts and investors have with WFR is placing a value on the SunEdison unit. In the Q4 footnotes, management states that SunEdison power energy systems are integral to the real estate on which they were built and subject to GAAP real estate accounting rules. The company also says that it holds valid legal notes receivables for the full sales price SunEdison expects to collect on completion of the projects. While this indicates some deferred aspects of the assets "held for sale," it is a financed transaction and likely subject to assumptions regarding its future value.
Yet, despite the shifting of income producing assets, Q4's bottom line was largely supported by the balance sheet rather than "true" operating cash-flow (as determined by our model). In fact, Q4 2010 marks the seventh consecutive quarterly decline in OCF and the biggest period-to-period drop in our seven-period study sample.
[Click all to enlarge]

We do note a moderation in balance-sheet generated cash flow during Q4, but the spreads between operating cash-flow and engineered cash-flow continue to narrow.
Revenue Metrics and Capital Productivity: Q4 saw improvements in revenue metrics and capital productivity. WFR posted Q4 GAAP sales of $850.1 million, up 69% from the prior period.
Accruals: During the past seven quarters, WFR's accrual ratio has fluctuated between-4.05 and +5. The Q4 reading is neutral at -0.91.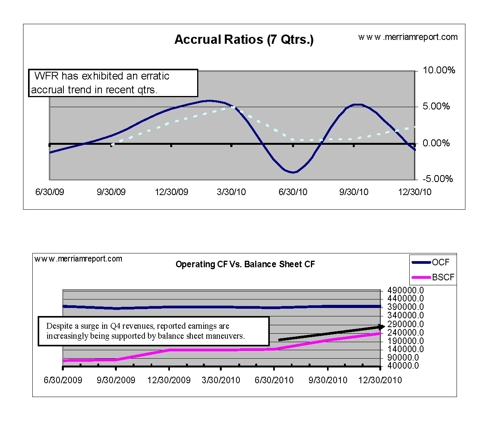 Merriam Report Score for WFR is -8.1 and earns an Earnings Quality grade of B+. Estimated fair-value on the stock is $12.71 (based on the seven periods through Dec. 31, 2010). At 13 and change, investors may have priced in the good news ... and then some.
Who knows, high oil prices and momentum could keep shares rising, but it can't hurt to keep tight protective stops and protect the 17% gift received on Feb. 2.
Solar power definitely has a bright future, and high oil prices are providing a tailwind to the sector. However, the energy business is extremely capital intensive and WFR carries a lot of debt for a newcomer to the game.
You can view our full report on WFR
here
(pdf).
Disclosure: I have no positions in any stocks mentioned, and no plans to initiate any positions within the next 72 hours.