U.S. large-cap stocks came charging out of the gate in January, with the DJIA up 2.7% and the S&P 500 up 2.3%. In contrast, the Russell 2000 Index of small cap stocks fell 0.4%.
The large caps lagged the small caps last year, but at archerETF, we expect large caps to outperform in 2011.
The U.S. economy is firmly in recovery mode. The latest GDP numbers are strong. Employment is growing. The latest corporate earnings reports are bullish.
Other factors augur especially well for large caps. Their price to earnings ratio is about 13x trailing earnings versus about 17x for the small caps. Large Cap dividend yields, at about 1.86%, are nearly double small cap yields. Also, with their significant overseas revenue, large caps will benefit from the weak U.S. dollar. U.S. exports have recovered to pre-recession levels, with strong growth in consumer goods exports.
The U.S. large cap ETF we use as a core portfolio holding is OEF. With 100 mega-cap names, it is more focussed than the S&P 500 ETF (NYSEARCA:IVV) but more diversified than the DJIA ETF (NYSEARCA:DIA). We recently increased our allocation to OEF within our clients' portfolios.
OEF has had a strong six months, as the chart below shows. We would expect some pullback in the near term, which would be a good opportunity to buy. Other OEF details are in the table below the chart.
[Click to enlarge]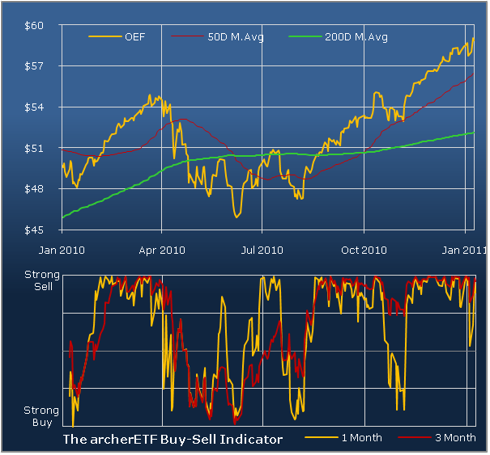 Click to enlarge
OEF
Category: U.S. Equity
Benchmark: S&P 100
Total Holdings: 100
52-Week High: $59.03
Recent Price :$58.89
52-Week Low: $45.89
Avg Daily Volume: 0.94 Million Shrs
Avg Daily Volume ($): $55.64 Million
Total Market Cap: $2.70 Billion
ETF Annual Fee: 0.20%
ETF Trading Currency: USD
ETF FX Exposure: USD
Annual Volatility: 23.8%
Correlation to S&P 500: 0.98
Return to Risk Ratio: 0.41
Use of Leverage: No
Use of Futures: No
6-month Return: 17.70%
1-Year Return: 18.34%
2-Year Return: 56.74%
3-Year Return: -3.46%
Dividend Yield (TTM): 1.86%
Disclosure: I am long OEF.