By Brad Zigler

Well, you can't say agribusiness stocks haven't had a good run. The 46 issues making up the index tracked by the Market Vectors Agribusiness ETF (NYSE Arca: MOO) collectively piled on a 22.3 percent gain last year atop the 57.2 percent earned in 2009. This year, ags got off to a good start with a 6.1 percent climb.
The MOO portfolio is working on the last leg of a retracement of its 2008 swoon. The fund's shares, now at the $56 level, are climbing toward their old high at $66.20.
Market Vectors Agribusiness ETF (NYSEARCA:MOO)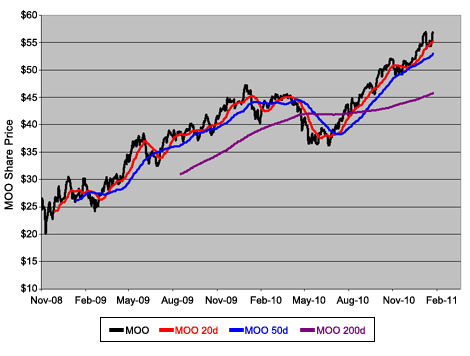 Agriculture's been the driving force in the recent commodity uptrend, mostly in the softs sector, as the prices for cotton, sugar, coffee and now cocoa have raced higher. Corn and wheat prices haven't been slouches either.
Higher commodity prices have been good to agribusiness companies' bottom lines, most especially Archer Daniel Midlands (NYSE: ADM) and Potash Corp. of Saskatchewan (NYSE: POT), but there's some wobbling in MOO's momentum that investors should note.
For one thing, the strength of MOO's uptrend has weakened relative to that of the commodities in which the fund's constituents deal.
MOO Relative Strength Vs. Ag Futures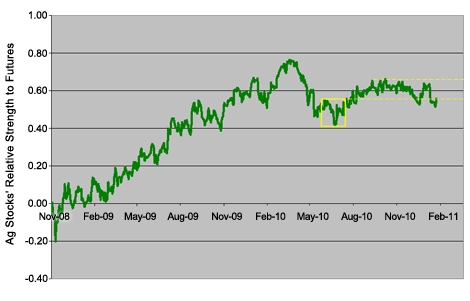 There's also been an increase in the cost of protective puts on MOO as the fund's price has become rich compared with its 200-day moving average.
Now, I'm not saying there's not more room for MOO to move to the upside. After all, the relative strength figures only indicate that there's greater upward momentum in futures, not that there's no momentum in equities.
The fact that there's a bid for puts, though, tells me some investors are looking to hedge their gains.