It's common knowledge the house holds the best hand in Vegas, but shorts are looking to take out some profits from Las Vegas Sands (NYSE:LVS) on Friday.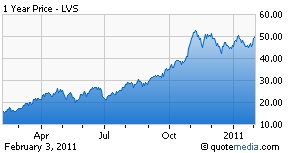 LVS slumped about 6.5% to 47.03 in Thursday's after-hours session despite topping Q4 earnings estimates and meeting revenue expectations.
The negative trade in after-hours action bodes well for shorts Friday as off-hours traders established a hard ceiling that could reap continued downside momentum.
LVS tumbled to an early after-hours low of 46.20 before firming to a still downside range of 47.97 to 46.85 through the bulk of its evening trade.
A pre-market open Friday may have potential surrounding the 47 mark.
LVS has recorded an earnings-driven after-hours decline in 6 of the last 11 quarters tracked in our MT Pro database. 83.3% of the time (5 out of 6 times) the stock followed-through in the same direction by the close of the next day's regular session compared to the Extended Hours "effective close". When it followed-through, the price closed further in the same direction on average by 9.5% (in 5 events) from the "effective close".
The hard ceiling we followed Thursday night came in at 48 to 47. That top and a consistent tendency to add to earnings-driven after-hours declines would have us looking at potential short plays in LVS on Friday.
Shorts may want to target potential entry points between 47.50 and 47.15, an area that stood as a top through the late first-half and second-half of evening trade.
Disclosure: I have no positions in any stocks mentioned, and no plans to initiate any positions within the next 72 hours.