JDS Uniphase (JDSU) makes equipment for the telecom industry, and business is good. Real good. JDSU shares soared nearly 18% to 21.15 in Thursday's after-hours trade on the back of better-than-expected results and guidance (see earnings results here and earnings call transcript here).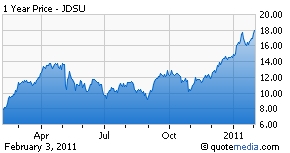 Buyers were heavy in the shares Thursday night, and historical data that points to a consistent tendency to add to after-hours gains in next-day trade suggests longs should go long and strong in the shares.
JDSU bolted to the 20.50 mark in the immediate wake of the company's quarterly results Thursday night. It backed off to about 19.78 before setting off on a first-half upside run from 20 to a session high of 21.46. The stock firmed between 21 and 21.30 through the rest of the evening.
A pre-market open Friday may have potential near 21.10 to 21.30.
JDSU has seen more aggressive next-day action following 22 of its last 28 after-hours earnings events, or about 79% of the time. The near-term performance favors widening, as the issue has expanded its after-hours move in next-day regular session trade in four of the last five quarters.
The long- and short-term widening patterns in place in JDSU would have us looking at a long play on the shares Friday morning. Early buyers may want to target potential entry points between 20.85 and 21.15, an area where buy liquidity was aggressive last night and where there may be room to catch upside swings back toward Thursday night's highs in the mid-21s.
Disclosure: I have no positions in any stocks mentioned, and no plans to initiate any positions within the next 72 hours.