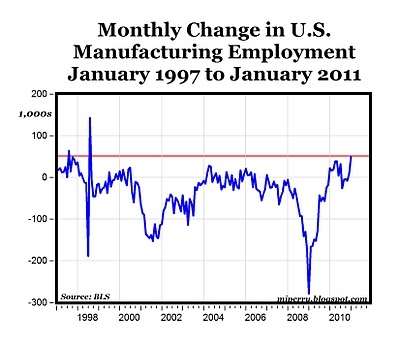 From today's BLS report:
Manufacturing added 49,000 jobs in January. Over the month, job gains occurred in durable goods, including motor vehicles and parts (+20,000), fabricated metal products (+13,000), machinery (+10,000), and computer and electronic products (+5,000).
That's the largest monthly increase in manufacturing employment since August of 1997 ( except for the +142,000 spike in August 1998 after the UAW strike ended following a -188,000 decline in July).

The Monster Employment Index for January offers some additional encouraging news for the U.S. labor market, showing positive annual gains in online job demand in all 28 metro markets, with especially strong growth in IT, business and healthcare occupations, along with an "unprecedented decline in public administration sector."