In the first installment of "Best in Breed Dividend Stocks," we discussed what constitutes a best in breed dividend stock. Without regurgitating the entire article, the key investment metrics I focus on are: Consistent Long Term Dividend Payments, Dividend Growth Rate, a low Dividend Payout Ratio, above average Return on Equity, above average Sustainable Growth, and a Durable Competitive Advantage. In this installment we will be covering three more sectors: Technology, Industrial, and Consumer Discretionary.
Other than Consumer Discretionary, finding reliable dividend stocks in these sectors is somewhat challenging. Technology companies are not known for their lofty dividend payouts, as they often use capital for research and development and acquisitions. As the technology sector has matured, a few companies have created enough of a competitive moat to begin returning capital to share holders. Industrial companies tend to be cyclical in nature, making future earnings difficult to predict. Thus, dividends are often inconsistent or nonexistent.
Technology:
Intel Corporation (NASDAQ:INTC)
Current Yield: 3.40%
Intel Corporation designs, manufactures, and sells integrated circuits for computing and communications industries worldwide. It offers microprocessor products used in notebooks, netbooks, desktops, servers, workstations, storage products, embedded applications, communications products, consumer electronics devices, and handhelds.
Intel has increased its dividend payments for eight consecutive years. Its compound dividend growth rate over the last seven years is an astonishing 34.3%. Its Dividend Payout Ratio over the same time span is 36.9%, leaving plenty room for growth.
The fundamentals of Intel are strong but not overwhelming: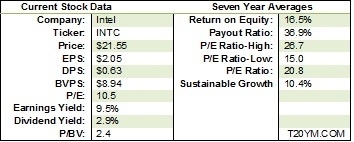 Intel's seven-year average Return on Equity is 16.5%, comfortably above the 12% threshold I use when evaluating stocks. Its sustainable growth rate is 10.4%, hovering just above my minimum 10% mark. Its current Price to Earnings ratio is 10.5, substantially lower than its 20.8 seven-year average. Its forward PEG ratio is 0.87, making it considerably undervalued.
Modeling Intel's future earnings using these metrics offers investors an attractive and safe return on their investment:
[Click all to enlarge]


Intel is obviously facing some considerable challenges in the coming years, and the market is modeling this into their multiple. Slowing PC demand, coupled with a lack of "mobile device" strategy, has investors worried about Intel's future sustainability. I believe that the death of the PC Is greatly exaggerated. There is a large enterprise moat that surrounds Intel's products.
Furthermore, I have full confidence that Intel will continue to create new, innovative technology that will allow it to compete in the mobile environment. Intel's chips are simply the best of the best. I believe the stock will regain some of its former luster and trade back towards the 15 multiple in the coming years. The Technology sector does not offer many stocks with attractive yields; Intel is clearly the "Best of Breed" in this space. At current price levels, I would purchase half a position now and wait for a pull back to add more shares.
Consumer Staples
PepsiCo Inc. (NYSE:PEP)
Current Yield: 3%
PepsiCo, Inc. manufactures, markets, and sells various foods, snacks, and carbonated and non-carbonated beverages worldwide. Popular products include Pepsi, Mountain Dew, Gatorade, Tropicana, Quaker Foods, Lay's Potato Chips, Doritos Tortilla Chips, Cheetos, Rold Gold Pretzels, and SunChips. It is an iconic brand operating virtually worldwide.
PepsiCo, Inc. is a member of the elite Dividend Champion list, increasing its dividend for 38 straight years. Its average dividend growth rate in the last seven years is 17.3% with a payout ratio of under 40%. This is one of the safest and most sustainable dividends in the market.
The fundamentals of PepsiCo, Inc. are downright exciting: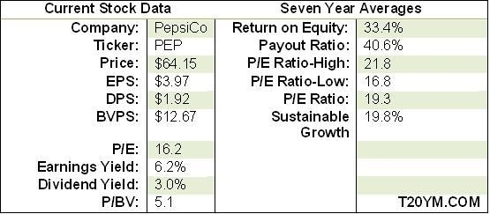 ROE in the last seven years is 33.4%, nearly three times the average. Likewise, the sustainable growth rate is 19.8%, nearly double the 10% SGR I look for in investments. PepsiCo, Inc. is currently trading at a P/E of 16.2, which is three points below its seven-year average.
When we model PepsiCo, Inc.'s future EPS using these metrics, the results are compelling:

First things first: I'm a Coke (NYSE:KO) man; I get annoyed when they offer me Pepsi at a restaurant. KO is undeniably the more recognizable brand. However, that just leaves PEP more room to grow. Furthermore, PepsiCo, Inc. is more than just a soft drink company. Its snack food products account for nearly 25% of its total revenues. Its recent acquisition of Russia's Wimm-Bill-Dan Foods (NYSE:WBD) shows that the company is still in aggressive growth mode. PepsiCo, Inc. has the strongest and most compelling fundamentals of any of the dividend stocks I have analyzed, making it the easy choice for Best in Breed in the Consumer Goods sector.
Industrials
Norfolk Southern Co. (NYSE:NSC)
Current Yield: 2.60%
Norfolk Southern Corporation, through its subsidiaries, engages in the rail transportation of raw materials, intermediate products, and finished goods. The company's intermodal traffic includes shipments moving in trailers, domestic and international containers, and road rail equipment. The company also transports overseas freight through various Atlantic and Gulf Coast ports, as well as provides a range of logistics services. In addition, it operates and leases regularly scheduled passenger trains and commuter trains. As of December 31, 2009, it operates approximately 21,000 miles in 22 states and the District of Columbia.
Norfolk Southern Co. has raised its dividend payments for nine consecutive years. Its average dividend growth rate over that time frame is 27%. These dividends are safe and secure, with a current payout ratio of just under 40%. The yield currently stands at 2.6%, which is obviously on the low end of my metrics. However, I believe there is plenty of room for growth.
For a cyclical company such as Norfolk Southern Co., its fundamentals are consistent and sound: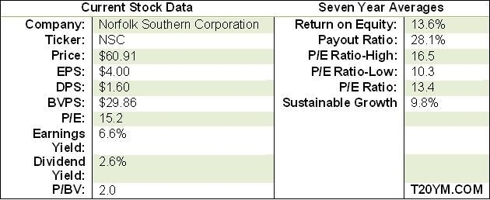 ROE over the last seven years is 13.6%. This is not a jaw-dropping number by any means, but is still above average for an American company over the same time frame. The sustainable growth rate of 9.8% is fine, and should be over the 10% threshold after FY11. Being cyclical in nature, some of these ratios are skewed as Norfolk Southern Co. took a beating in 2009.
With all that said, modeling Norfolk Southern Co. future EPS using its average SGR, we still arrive at an acceptable return:

I will concede that Norfolk Southern Co. is an odd pick for the Industrial Sector. The obvious choice is Caterpillar (NYSE:CAT), which was one of the stocks I analyzed. However, I feel Norfolk Southern Co. is a portrait of consistency in a cyclical sector. Additionally, NSC's competitive moat is nearly impenetrable. With rising fuel costs, freight shipments will become a logical cost-effective solution for shipments. Additionally, I expect EPS to grow at an accelerated pace as the housing and construction market bottom and bounce back. With a dividend of 2.7% and an impressive DGR, Norfolk Southern Co. is my choice for Best in Breed Dividend Stock in the Industrial Sector.
My next article will look at the Financials, Master Limited Partnerships and Telecom. As always, I welcome your comments. Please let me know if you agree or disagree with my picks. Some of these sectors are packed with great stocks picking individual names is difficult.
Disclosure: I am long PEP, INTC.