ESCO Technologies Inc. (NYSE:ESE) Thursday reported fiscal first quarter diluted earnings per share of 40 cents, crushing Zacks Consensus Estimate of 20 cents. The result was also up considerably from last year's 2 cents per share.
Quarterly Performance
Net sales of $159.9 million were way ahead of the Zacks Consensus Estimate of $141.0 million and compared favorably with last year's $112.7 million.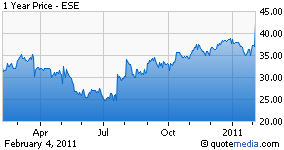 On a segment basis, revenues from the Utilities Solution Group (USG) increased 50.7% from last year to $92.2 million, driven by Aclara's strong COOP deliveries and higher international sales. Revenues from Test and Filtration increased 18.5% and 45.7% from last year to $32.0 million and $35.7 million, respectively.
Gross profit increased 37.7% to $62.4 million. However, gross margin decreased 1.2 percentage points to 39.0%.
During the quarter, the company entered orders worth $186.0 million, an increase of 35.0%. As of December 31, 2010, firm order backlog was $387.0 million. The increase in backlog was primarily driven by the considerable orders received in Test and USG, both domestically and internationally.
During the quarter, net cash provided by operating activities increased to $19 million, compared to $5 million in the year ago quarter.
Dividend
The company announced a quarterly cash dividend of 8 cents per share, which will be paid on April 20, 2011, to stockholders of record on April 6, 2011.
Guidance
Management expects sales and earnings per share for fiscal year 2011 to increase between 10% and 15%. For the fiscal year 2011, management expects the effective tax rate to be approximately 36.0%. The company expects Aclara to sign a definitive agreement for the SoCalGas AMI project during fiscal 2011.
Conclusion
Analyst estimates have remained unchanged in the run up to the earnings release. We note that ESCO Technologies has consistently exceeded estimates over the past year or so. The average surprise in the preceding 4 quarters is a positive 11.63%, and another positive surprise was therefore expected.
The company faces stiff competition from CLARCOR Inc. (NYSE:CLC) and Pall Corporation (NYSE:PLL).
We currently have Zacks #3 Rank for ESCO Technologies, which translates into a Hold rating on short-term basis. We have a Neutral recommendation on long-term basis.