At the time this article was submitted to Seeking Alpha for publication, the secondary offering and mandatory convertible preferred stock offering announced by Molycorp via S-1 filing last week on Monday had not been priced.
We received a lot of questions about our prior article on Molycorp (MCP), the general tone of which was that we were insane for suggesting Molycorp could earn $7.50/share once production reached 40,000 tons per annum at Mountain Pass.
Being a very talked about stock, we will skip the general background on Molycorp and get straight to the numbers. In November, when JP Morgan downgraded Molycorp to neutral with a price target of $36, they gave the following earnings per share estimates based on 20,000 tons per annum production in 2013.
EPS Estimate By Year:
2011: ($0.47)
2012: $3.16
2013: $5.28 (note that this is the first year of 20,000 tons per annum production)
Here is where we got our baseline number from which we derived our $7.50/share earnings power number as a consequence of the doubling of production capacity decision.
Now off this $5/share number (note we shaved 5% off the original estimate, so already we are conservative), we doubled production, which simple arithmetic factoring suggests doubled net income.
Now at this point we have chosen to be conservative and assume dramatic dilution due to the Sumitomo equity and the mandatory convertible preferred; we assumed it would reduce the effect on earnings per share to only a 50% increase.
From this calculation, we come to $7.50/share in 2014 Earnings per Share potential for Molycorp.
JP Morgan and Morgan Stanley have not updated their research after the announcement of the Molycorp news on last Monday. The reason for this is because JP Morgan and Morgan Stanley are the book runners on the Molycorp secondary stock offering and the mandatory convertible preferred. Their research groups cannot legally update their research until that deal is closed.
But based on some simple work on the current JP Morgan model, we think we will see them move Molycorp back to overweight with an earnings per share power of $7.50/share or higher. With earnings potential such as that, Molycorp has plenty of room to the upside.
We are looking for Molycorp to move toward new highs in 2011, and think investors should initiate at least a partial position at these levels if they do not currently hold a position. In the near term, we are looking for a round of upgrades and increased price targets from the analysts covering Molycorp once the secondary stock offering and mandatory convertible preferred offering are both completed and any quiet period is completed.
We know some people think we are lunatics for suggesting such a higher earnings per share for Molycorp, but we would point out that the research on Wall Street suggests that the potential is there. While that may make us look like lemmings for listening to the sell side, we are believers in the rare earth growth story. Lynas forecasts the rare earth market in 2014 will be $11 billion, and the 2014 market size is the major factor in the rare earth story - not the current or 2010 market size.
Click to enlarge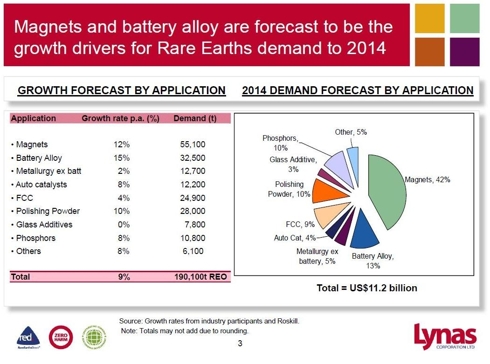 Click to enlarge
We also think that the extremely negative view of Molycorp by the retail investing community suggests this is a good time to start or add to positions in Molycorp. When we wrote our first rare earth article on Seeking Alpha in early January, the tone of the comments was overwhelmingly positive. Our articles of the past week have been viewed with great disdain, and we think this rapid change in psychology suggests the January correction has mostly run its course.
A sample of comments we received on Seeking Alpha for our January 3rd article "Two Stand out Companies Amongst Junior Rare Earth Miners":
"Very good, informative article. Your approach is measured and rational." -bukdow

"Thanks for the interesting and informative contribution." - guychan

"Outstanding article and analysis! Thank you." - AAJetMan

"You did a bang up job with your analysis of the ree space." - optionsgirl

"Jon has done a great analysis of these rare earth companies!" - John Overton
A sample of the comments we received on Seeking Alpha for our two rare earth articles last week on Molycorp (Molycorp Lookout a Net Positive) (Molycorp Doubles Production: Major Blow for Junior Rare Earth Stocks) and the impact of the common stock and mandatory convertible preferred offering:
"Who writes this garbage? I didn't see Jon at the Strategic Metals Conf in Vancouver on the weekend." - Goldmember1

"What a damn joke that Seeking Alpha promotes this rubbish" - Silvatungdevil

"So glad there are bullish articles out there - this means it is still safe to short the heck out of MCP" - RRobertSmith
And our personal favorite:
"This is the second worst piece of analysis I've ever read on Seeking Alpha. Second only to your previous joke article on how MCP "doubling" production was bad for junior miners ... It would suck for you to graduate college and not get a job in finance because your interviewer Google your name and reads your crap." - CharlesAmadon
It is our opinion that when the retail investment base is so overwhelmingly negative, there are not a lot of weak hands remaining on the long side (despite our ego, we have no illusions that we are writing for John Paulson or George Soros here).
We also note the primary catalysts for the January sell off were the Molycorp lock up expiring and the Toyota (NYSE:TM) claims regarding a rare earth free motor. As As we have previously discussed, the Molycorp lock up expiration is a positive catalyst for the company. With respect to the Toyota claims, we recall quite vividly that their chief engineer says they are having difficulty controlling the rare earth free motor.
"We currently have such a motor, but controlling the motor is rather difficult," he said.
We do not think Toyota wants a replay of their first quarter 2010 scandal when their CEO had to fly over and apologize to Congress for some Prius hybrids accelerating out of control. We also note that Japan is looking to secure a rare earth supply from Vietnam and we doubt they would be doing that if they fully believed that their automakers could get a rare earth free motor for hybrid and electric vehicles. Also, we note that a non-rare earth motor will in all likelihood result in much heavier vehicles as it is the magnetic properties of rare earth elements that make them so valuable to automobiles, and a basic knowledge of physics says that it takes more power to move a heavier object. So with regard to Toyota's rare earth free motor, we will believe it when we see it driving on the road.
Between the negative psychology and the positive fundamentals, we think investors should consider taking a look at Molycorp through an unemotional lens. And for those that make the "Molycorp is valued at more than entire rare earth market" and the "Molycorp produces nothing" arguments. We offer two simple refutations, Lynas predicts the rare earth market will be worth over $11 billion in 2014 (source: Lynas corporate presentation above) and at 40,000 tons per annum versus total world supply of 190,000 tons per annum Molycorp has the potential to capture somewhere between 10-20% of that market (approximately $1-2 billion, and we have been conservative due to the light rare earth composition of Mountain Pass), and the rare earth story is a story about 2012-2015, not a story about 2011.
As we have previously explained on Seeking Alpha, Molycorp will have the cash on hand to fully pay for its Mountain Pass modernization and expansion, post-mandatory convertible preferred offering, so the financing risk is greatly reduced and we feel comfortable looking at Molycorp based on its producer potential.
Granted, there are always risks such as a construction delay or an accident, but but that is why Molycorp is not trading currently at 10x 2014E earnings per share. At the same time, we are not factoring in the potential creation of new uses for rare earths or the adoption of Molycorp's XSORBX cerium water filter on an industrial scale which would be a positive demand side catalyst. So we think we are being balanced in our analysis.
With regard to questions such as environmental concerns (we have not been able to find much on this mystical dead turtle near the planned natural gas pipeline beyond on message boards and one internet news site), here is the excerpt on the proposed power plant at Mountain Pass from the S-1 filing.
Power shortages at the Mountain Pass facility may temporarily delay mining and processing operations and increase costs, which may materially adversely impact our business.

Due to its position on the regional electric grid, the Mountain Pass facility faces occasional power shortages during peak periods. Instability in electrical supply in past years has caused sporadic outages and brownouts and higher costs. Such outages and brownouts have had a negative impact on production. We plan to install a natural gas powered co-generation power plant as part of our modernization and expansion of the Mountain Pass facility to reduce energy costs at the Mountain Pass facility as well as minimize or eliminate our reliance on the regional electric power grid. If the co-generation power plant is not installed, or is significantly delayed, we will remain subject to the effects of occasional power outages and brownouts and could experience temporary interruptions of mining and processing operations. We then may be unable to fill customer orders in a timely manner and may be subject to higher power costs at the Mountain Pass facility. As a result, our revenue could be adversely impacted and our relationships with our customers could suffer, adversely impacting our ability to generate future revenue. In addition, if power to the Mountain Pass facility is disrupted during certain phases of our REO extraction process, we may incur significant expenses that may adversely affect our business.
The primary takeaway in our opinion is that while the gas pipeline could be an issue, it is not a life or death issue for Molycorp. As such, we view this turtle being discussed on Internet message boards as a minor issue. With regard to the issues that shut down Mountain Pass before, the S-1 states that Chevron retains the liability on those issues and Molycorp is not liable, so it's a non-issue in our opinion for the development of Mountain Pass on time.
With respect to the Lynas Corporation first mover advantage, we refer readers to our previous article where we included the Lynas forecast for 2014 supply and demand in the rare earth market. The market can easily accommodate both Molycorp and Lynas supply.
Now we must consider the quantitative analysis of Molycorp: As we said in our January 3rd article, "Molycorp has become very frothy this past week and our entry points would be in the areas of the Fibonacci retracement levels $41.26 and $37.97, which represent the 50% and 61.8% retracements of the move in Molycorp so far this month or in the event a new 52-week high. But despite last Tuesday being the one of the lowest market volume days of the year, Molycorp had its biggest volume day ever and had an intra-day reversal of over 15%. A similar day market the end to the last major move up in Molycorp, so we would anticipate additional weakness in Molycorp going into January."
Click to enlarge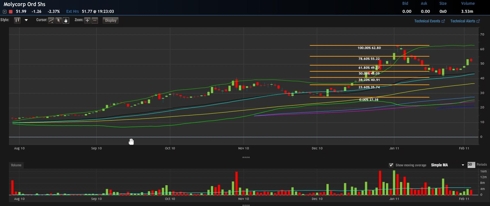 Click to enlarge
On a technical risk/reward basis, we think Molycorp sets up very well as it has behaved on the pullback on a Fibonacci basis and we see moving average support. Obviously a dip below $40 would be technically bearish and would force us to re-evaluate our market timing. A break of the 100 day moving average would force us to re-evaluate our belief that the correction in Molycorp is over. When we originally submitted this article to Seeking Alpha, Molycorp was trading below $50/share. Due to some issues with our graphics we had to revise and in the time since Molycorp has broken above $50. We would add incrementally to positions at these levels or at a new rally high if you do not have a full position or an overweight position already in Molycorp.
One last thing we want to address is the idea that oversupply shows up in the market as every junior miner rushes into production to capitalize on the positive rare earth economics in the 2015-2016 time frame. According to the JP Morgan initiation report, Molycorp will have a lower cost of production for rare earth oxides than even the rare earth mines in China. In the event of the a price war, Molycorp will emerge the winner as a result of its low cost producer status, in our opinion.
Bottom line: We have based our conservative $7.50/share earnings power estimate off the JP Morgan model and we expect to see upgrades on Molycorp from the sell side analysts once the current offerings are completed and the analysts are allowed to publish updated research. The fundamental, psychological, and technical set up all look promising currently on Molycorp. We reiterate our belief that Molycorp evolves into the major rare earth company just as Freeport McMoran (NYSE:FCX) is the major copper company.
Disclosure: I am long MCP, LYSCF.PK.
Additional disclosure: The facts in this newsletter are believed by the Strategist to be accurate, but the Strategist cannot guarantee that they are. Nothing in this newsletter should be taken as a solicitation to purchase or sell securities. These are Mr. Evensen's opinions and he may be wrong. Principals, Editors, Writers, and Associates of The Strategist may have positions in securities mentioned in this newsletter. You should take this into consideration before acting on any advice given in this newsletter.