With January in the books, let's take a look at the best and worst performing stocks in the S&P 500 through one month of 2011.
Of the twenty best stocks through the first month, 4 (NVDA, MU, ISRG and DF) were in the bottom twenty for 2010 and 2 (NFLX and JDSU) were in the top twenty last year. Of the bottom twenty, 4 (SNDK, ANF, FFIV and AIG) were top performers last year, with 1 (NYSE:SVU) remaining in the bottom twenty in 2011 after finishing 2010 there.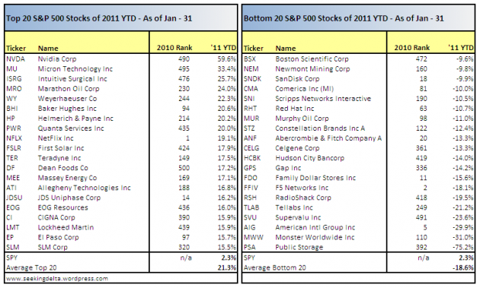 click to enlarge
As a value investor, I have my eye on a couple of the stocks mentioned above: DF and SVU.
Dean Food (NYSE:DF) – The Dairy product manufacture was hurt in 2010 by a margin compression. With the stock up 17% YTD, there may still be value here. The P/E is 11.7, P/B of 1.25 and an OCF per share of 2.99. The stock has also received support from hedge fund manager David Tepper.
SuperValue (SVU) – The shares are down 24% this year after losing 23% last year. The nation's fourth largest grocer has been hurt by negative analyst views based on poor same-store sales numbers and negative EPS last year. The company does have a new CEO and a P/B ratio of 1.23, a dividend yield of 4.8% that is supported by OCF per share of $6.26.
Disclosure: I have no positions in any stocks mentioned, but may initiate a long position in SVU, DF over the next 72 hours.