With a huge caveat that I am way out of my domain of expertise when I start talking about international stocks, I want to share my thinking as to why I believe now is a great time to increase equity exposure to emerging markets. I haven't ever shared this sentiment before publicly, though I have conveyed my bullishness very recently to my clients (investment advisors). I haven't yet done anything about it in my Top 20 Model Portfolio, but I am considering it (through ETFs). Why?

I am not one to get caught up in hype, but I believe that the bullish story conveyed about BRIC and other emerging economies over the past several years is indeed true. Now is a chance to buy strong economic growth at a great price in my view. I have gone on the record numerous times since sharing my bullish forecast for U.S. stocks in early October when I suggested the S&P 500, then at 1146, would attain 1500 by the end of 2011. Most recently, I confirmed my thesis by using a dividend-based argument last month. As bullish as I am domestically, the same types of arguments suggest even higher returns in emerging markets (simply, earnings growth and moderate multiple expansion). I have a minimum expectation that emerging markets will return 30% in 2011, though I know that historically these markets can overshoot expectations.

While the traits of growth, better government financial condition and good valuation are all present, it's important to understand why the opportunity exists. As exciting as the future appears, these are the sad facts. So far in 2011, BRIC has hit a wall of bricks (data from MSCI, in USD):
Brazil: -6%
Russia: +9%
India: -14%
China: +1%
Looking at emerging markets more broadly, almost all of the Asian markets are down, though less than India. Latin America is universally weak, while Eastern Europe is faring reasonably well and tracking the S&P 500. Africa has been hurt by Egypt overall, but key economy South Africa, a huge winner in 2010, is down marginally. MSCI reports the YTD return of the sector as down 1.9%, with the BRIC down 2.8%. On a local currency basis, the numbers are slightly better.

While many may point to the recent MidEast/African political upheavals as a catalyst, the real culprit is rising rates. These hot economies are in the process of decelerating, as their central banks apply brakes through higher rates as well as certain capital controls. I tend to think that ultimately they won't kill these economies (the real risk), but they are making it a bit harder for foreigners to invest. This all comes at a time when suddenly investing in U.S. Equities is in vogue again. Not surprisingly, then, we have seen massive outflows from emerging markets recently as the money returns home. Thus, the opportunity.

Reasonable people can debate valuation potential, but it seems to me that emerging markets are cheap (more below). Historically, there has been political risk and devaluation risk, but these days, it's the U.S. that seems to look actually worse on the surface than many of the emerging economies. While my forecast doesn't include any sort of currency depreciation for the U.S., to the extent the dollar weakens, it strengthens the argument to invest in emerging countries.

There are two extremely liquid and huge ETFs dedicated to the emerging markets, Vanguard's EM Markets (NYSEARCA:VWO) and iShares MSCI EM Markets (NYSEARCA:EEM). They track each other (and the MSCI index) fairly well, but I don't pretend to have a deep understanding or qualitative view of the respective differences. There may also be much better ways to invest in the theme. Each of these indices is designed to match the MSCI EM index. Here is how that index has performed over the past decade (click to enlarge):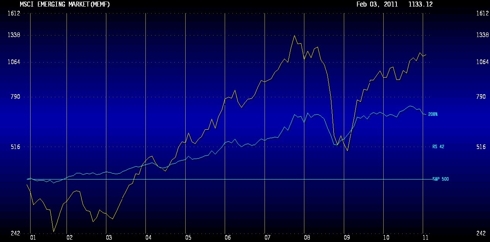 The yellow line is the index itself, while the blue line demonstrates how it has performed against the S&P 500. Over the decade, it has more than tripled relative to the S&P 500, while over the past few years it has stagnated relatively. The dip in 2008 was a liquidity-driven opportunity, no doubt. I find it interesting that three years past the prior peak, it has flat-lined on a relative basis. Hasn't the story actually gotten better?

For trying to understand the overall fundamentals more precisely, I first turned to Vanguard, which provides some data on its fund and the index. It seems to me that the PE is fairly close to that of the S&P 500, while the growth of EPS is higher. While my 20% rise in 2011 for the S&P 500 is predicated on high single-digit EPS growth (for 2012 over 2011) and some PE expansion, my 30% growth for EM is split more equally. It will probably be slightly more earnings growth-driven than multiple expansion. For an interesting perspective, read the views of the strategy team at Morgan Stanley Smith Barney. Page 7 of the year-end review describes the forward PE for the index as just 11.5X, seemingly plenty of room for multiple expansion too. Why shouldn't we see a PE at a premium to the U.S.? This would argue ostensibly for an even higher return.

30% certainly looks to fit in the "norm". Check out the annual returns of the index since 2003:
2004: 26%
2005: 34%
2006: 32%
2007: 39%
2008: -53%
2009: 72%
2010: 19%
As I stated above, I am a little out of my domain. I would like to have more hard data to share, but the big picture is higher growth, similar valuation and a confluence of events leading to a good short-term entry. In a world that has become so much more connected, I have been downplaying the need for "diversification" for many years now. There is no "need" to own emerging markets. If you do your work, you can find domestic companies leveraged to the positive fundamentals.
My current attraction to emerging market equities is driven primarily for "alpha" reasons. I expect the MSCI EM index to move to an all-time high later this year and to beat the S&P 500 in 2011. As I contemplate how to integrate this idea potentially into my own investing, I would appreciate any insight from those of you out there who might be more familiar with other ways to invest beyond passively following the index. Finally, as an aside, I expect this trend to be very good for Franklin Resources (NYSE:BEN), which is in both my Top 20 Model Portoflio as well as the Conservative Growth/Balanced Model Portfolio.

Disclosure: I have no new positions in any stocks mentioned, and no plans to initiate any positions within the next 72 hours.