Introduction: A Simple Picture & Its Lesson
First, consider a weekly chart (click to enlarge) of our favorite single picture of overall risk appetite, the S&P 500: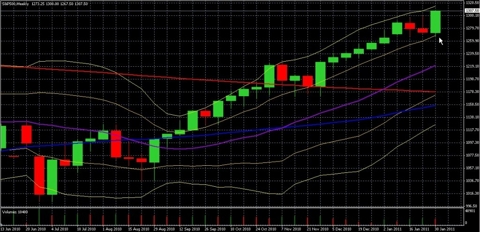 S&P 500 WEEKLY CHART COURTESY ANYOPTION.COM
07FEB06 0142
The key take-away point is that after suffering the first 2 consecutive down weeks since August 2010, the index bounced back strongly to demonstrate continued upward momentum. Market technicians will note that this momentum was confirmed by the index staying within the top 2 golden lines (aka the Bollinger Band Buy zone).
Leaving aside technical details about this indicator, for the sake of simplicity just note the intuitively obvious point – that by remaining in these uppermost golden lines the index demonstrated its continued upward momentum.
The index accurately represented the ongoing rally in most risk assets. For example:
Most other major stock indexes and other risk assets show similar upward momentum and are also at multi-year highs. As an asset class, major global stock indexes are the most representative indicator of market optimism.
Copper hit an historical high of $10,000/metric ton. Due to its widespread industrial uses it is often called "Dr. Copper" because so many believe it provides an accurate 'diagnosis' of global growth expectations. Thus this new high is a very bullish sign for risk assets, especially those that similarly move up or down with growth prospects, like oil, which is also near multi-year highs.
Now let's look at what's behind this past week's show of strength in most risk assets.
PRIOR WEEK
The past week was dominated by one key driver.
Stimulus –Fueled Upward Momentum Continues To Dominate Markets
With markets already pricing in so much good news ahead, there was plenty of bad news last week to spark at least a normal technical pullback to test support. For example:
Mideast turmoil
The increasingly obvious likelihood of either partial or total default on PIIGS bonds
Slowing growth in most of the major economies
The short answer is, cash from QE 2, ECB and other stimulus measures. This remains the dominant market driver and explanation for how risk assets can continue their largely uninterrupted uptrend since June 2010 despite a lack of fundamental support.
But wait, haven't these already been priced in?
Supposedly, yes, however as reported here, reports of yet a third round of US stimulus coming are already out. Recent history suggests these could well be true, and that those who try to fight the Fed regret it.
Lesson
The bias remains bullish as long as the markets believe that:
more cash is coming into risk assets for lack of a better place to go
the most immediate threats to the current bull market are not so imminent, like the sovereign and local debt crises besetting the EU, US, Japan, and yes, China too
A reversal should come, even if only a normal 5%-10% technical pullback to test support, but no serious trader will bet that way until there are both signs and confirming signs that a bearish reversal is forming.
Other Bullish Market Movers Last Week
The combined tone was in the direction of the overall up trend and thus these had some secondary influence that helped prevent profit taking.
Continued good US earnings season set the positive tone: Of the 104 S&P 500 components that reported results, 70% topped EPS estimates and 68% topped revenue expectations
US Jobs Reports Didn't Alter Expectations: While the NFP report showed only 36K jobs added vs. an expected ~ 136K, the overall picture of a slow but steady US recovery remains. Markets blamed bad weather for much of the shortfall. Also softening the blow:

The December NFP figure was revised upward
The unemployment rate fell from 9.4% to 9.0%, its lowest level since April 2009, and markets ignored the bearish U-6 (underemployment) evidence suggesting that the drop was due to a shrinkage in the pool of job seekers by about 430K who gave up trying to find jobs
There were also some encouraging details beneath the headline figures:
i. Manufacturing payrolls up 49k, the largest gain since August 1998
ii. Average hourly earnings up 0.4 percent, which was the sharpest monthly rise since August 2008
Abroad, German and Australian reports remained encouraging, with both nations looking at continued robust growth.
Bearish Market Movers Were Virtually Nonexistent
There was plenty of bearish news as noted above, it just didn't move markets.
While ECB Head Trichet's Dovish comments slammed the EUR, overall risk appetite continued.
COMING WEEK LIKELY MARKET DRIVERS
For All Asset Markets
Continued Upward Momentum Fueled By Anticipated Future Stimulus Cash
Barring an unforeseen bearish event that actually scares markets into a selloff, last week's primary market driver is likely to retain its #1 spot next week.
Forex Market Movers
Thursday's Aussie jobs data will provide the next big local news to drive the AUD.
Later that day the BoE's rate decision could move the GBP pairs if it reveals a more aggressive or dovish inflation stance. Traders will be watching for hints about the Feb. 16th inflation report.
The EURUSD: Continued Rising US Bond Yields, Oversold Positioning VS Upward Risk Trends, German Data This Week
Bullish For EURUSD: Rising risk appetite (this is the big one, remember) and anticipated good German data could keep the EUR moving higher.
Bearish For The EURUSD: Rising short term USD debt yields vs. those of the EUR (also JPY and GBP) WILL be felt in favor of the USD should these continue to widen. The USD is still somewhat oversold in the short term. The pair closed the week around 1.3580, and could easily test down to around 1.3300, where multiple support indicators converge to form a possible near term floor.
As long as US short term debt yields continue to rise relative to those of the EUR and other major currency groups, the likelihood for a USD rally remains higher, even if risk appetite remains healthy. The daily chart of the US dollar index is looking more like it's carving out a near term bottom.
CONCLUSIONS
The Key Lesson From The Past Week: Either stick with the uptrend or stand aside, but bears should not attempt shorting risk assets until we have both:
Further signs of technical weakening
New fundamentals to drive a sustained move lower
Thus monitor major risk gauges like:
The daily charts of the S&P 500, EURUSD, EURJPY
Key commodities: any sustained pullbacks or sudden sharp drops are a major warning
PIIGS bond yields: the EU crisis is likely to stay quiet as long as these are stable or falling. Any sudden spike in yields or CDS prices is a huge red flag
The ongoing bias to risk assets and against safety assets ( like the JPY, USD, CHF and their related AAA sovereign or corporate bonds) means:
Avoid short positions until there is new evidence of a sustained move down in your preferred trading time frame.
Anyone planning on holding a position longer than a few days should avoid shorting until we see bearish fundamentals driving markets lower and confirmation of said reversal by bearish technical indicators.
In particular, for my binary option traders with time horizons of longer than a given day, the higher probability trade is to stick with the upward trend in risk assets.
If you want to attempt to play the downside, do so with low or no leverage instruments like ETFs and careful use risk management tools like small, incremental positions, and stop losses.
DISCLOSURE & DISCLAIMER: AUTHOR SHORT THE EUR FOR PERSONAL PORTFOLIO. THE ABOVE IS FOR INFORMATIONAL PURPOSES ONLY AND NOT TO BE CONSTRUED AS SPECIFIC TRADING ADVICE. RESPONSIBILITY FOR TRADE DECISIONS IS SOLELY WITH THE READER