PulteGroup Inc. (NYSE:PHM) showed a wider loss of $165 million or 44 cents per share in the fourth quarter of 2010 compared with $117 million or 31 cents per share in the same quarter of 2010.
On an adjusted basis, the company reported a loss of $4 million or one cent per share in the quarter in sharp contrast to a profit of $8 million or 2 cents per share a year ago. This compared with a Zacks Consensus Estimate of a loss of 10 cents per share during the quarter.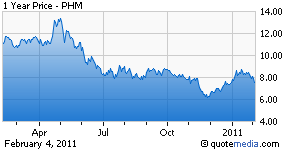 Consolidated revenues in the quarter slashed 32% to $1.19 billion, which was higher than the Zacks Consensus Estimate of $1.12 billion. The fall in consolidated revenues was driven by a 29% decline in closings to 4,405 homes, offset partially by a 2% increase in average selling price to $262,000.
Revenues in the Homebuilding segment dipped 31% to $1.16 billion. Excluding land-related charges, interest expense and merger-related costs, home sale gross margin declined to $191.77 million or 16.6% from $226.90 million or 14.2% in the previous year.
Net new home orders dwindled 19% to 3,044 units from 3,748 units a year ago. The quarter-end backlog was 3,984 homes, valued at $1.1 billion, compared with the prior-year backlog of 5,931 homes valuing $1.6 billion.
Homebuilding selling, general & administrative (SG&A) expense during the quarter was $141 million (inclusive of $11 million of severance costs related to restructuring actions) compared with $188 million (inclusive of $7 million of merger-related severance costs) in the fourth quarter of 2009.
Revenues in the Financial Services segment shrank 37% to $27.93 million. The mortgage capture rate for the quarter was flat at 81% compared with the same quarter of last year.
Annual Results
PulteGroup reported a narrower loss of $1.1 billion or $2.90 per share in 2010 compared with $1.2 billion or $3.94 per share in the previous year. The earnings per share in 2010 were calculated on 379 million of outstanding shares, whereas earnings per share in 2009 were based on 300 million of outstanding shares.
Consolidated revenues escalated 12% to $4.57 billion. The revenue growth reflected a 14% rise in annual closings to 17,095 homes and a less than 1% increase in average selling price to $259,000. SG&A expense increased to $855.7 million from $630.34 million in 2009.
Financials
Pulte had cash and cash equivalents of $1.47 billion as of December 31, 2010, down from $1.86 billion in the year-ago period. The company had $3.39 billion worth of senior notes as of the above date compared with $4.28 billion worth of the same as of December 31, 2009.
Pulte continues to focus on cost reduction actions. The company aims to reduce selling, general and administrative expenses by $100 million on a year-over-year basis in 2011. However, a sluggish growth in the homebuilding industry – which is heavily dependent upon job growth, interest rates and the business cycle at large – will continue to hamper the company's results. As a result, the company retains a Zacks #3 Rank on its stock, reflecting a Hold recommendation for the short term.