Dow Theory Postulates that American Industrial power, measured by the Dow Jones Industrial index, must be confirmed by a move in the Dow Jones Transportation index. After all, how do the products of industry get where they need to go unless the transportation sector is running at full steam. However as Mary Ann Bartels, technical analyst for Bank of America/Merrill stated on Feb 2 on CNBC:
We're getting a breakout in the Dow and S&P but we're not getting a confirmed breakout in the Transports. In fact Wednesday was a pretty rough day for the Transports. Source
Click to enlarge.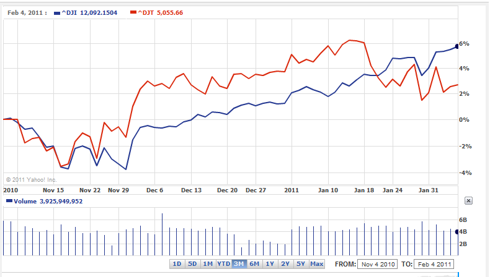 Other significant negative divergences are also notable. As the S&P 500 index has climbed to highs, the Shanghai Composite Index is down on the year and off nearly 12.5% from November's highs. The Chinese market tends to lead the S&P, not lag the S&P, but this is not currently the case. This led Mark Farber to comment to Bloomberg on the heels of the State of the Union that he believed that treasuries were the best investment for the next 3 months, emerging markets would drop 20%, and the S&P would drop 10% in the near term. Source

Additionally, small caps lead a recovery and this has been true of this recovery as well, as the Russell 2000 has powered higher with extreme consistency. The Russells did not experience the downdraft the rest of the market experienced in November post QE2 announcement through the end of the month. Yet recently this has begun to change. The Russell 2000 reached its highs in mid-January at 807. Since that time it has not been able to close convincingly above 800 and has not made new highs as the S&P 500 and the Dow have made new highs. Click to enlarge.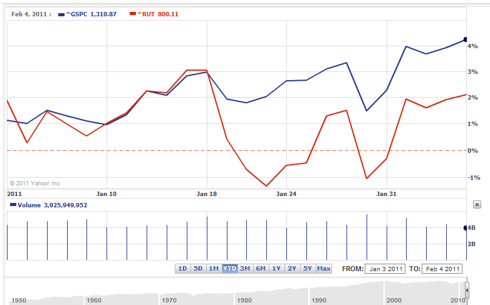 Investor Sentiment is Just Too Bullish

Despite what you might hear to the contrary on CNBC, the market is no longer climbing a "wall of worry." Most Wall Street firms have 1400-1500 year end targets for the S&P 500. Investor sentiment surveys are also exceedingly Bullish. According to the latest AAII survey investors are 51.5% Bullish, 21.6% Neutral, and 26.9% Bearish. This compares to a long term average of 39% Bullish, 31% Neutral, and 30% Bearish. Other investor sentiment surveys are similarly seeing highs in Bullishness.
Management and Sell Side Analysts Diverge in Their Views

Bank of America had a great piece the other day by Savita Subramanian comparing the upward guidance revision of analysts to that of management. There is significant divergence as sell-side analyst optimism is accelerating while management guidance revisions, while still above the zero line, are seeing a decrease in their rate of increase. As he indicates in the report:
Earnings estimate revision ratio continues to climb

The earnings revision ratio for the S&P 500 continued to increase in January, and the three-month ratio settled in at 1.7, above average optimism from the sell side. Sectors with the most positive ratios are Tech and Discretionary, and those with the most negative are Utilities and Telecom Services (p. 3). An above average and improving earnings revision ratio, which is what we have seen for the last couple of months, generally benefits lower quality stocks (Table 1).

But the guidance ratio is heading south

Management and analysts appear to be parting ways. The three-month management guidance ratio (upward to downward guidance) fell to 0.9 this month from 1.4 in December. The ratio generally declines in January, but this month's drop is more extreme. Tech and Financials have the most positive 3-month guidance ratio, and Telecom Services and Materials the most negative. The direction of guidance has historically predicted the subsequent month's earnings revision ratio, indicating future downward revisions to earnings. Click to enlarge: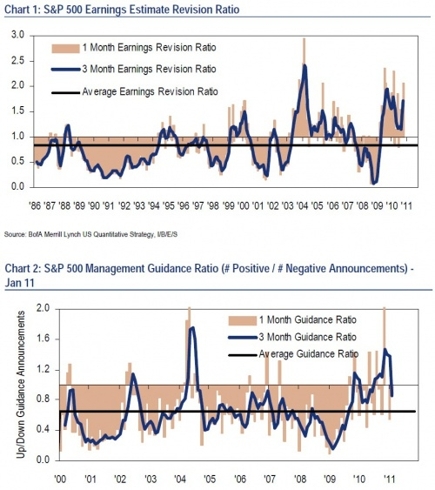 Source: Bank of America/Merrill

Insider Sales v. Insider Buys

If corporate insiders, who allegedly know their businesses better than anyone else, including Wall Street, were buying that would be a real vote of confidence. But guess what? They aren't buying. While the ratio of selling to buying hasn't been quite as bad lately, selling has very consistently outpaced buying for the last year. We have had a number of staggering weeks in the past year where selling counted in the billions of dollars while buying tallied in the 100s of thousands of dollars. Click to enlarge: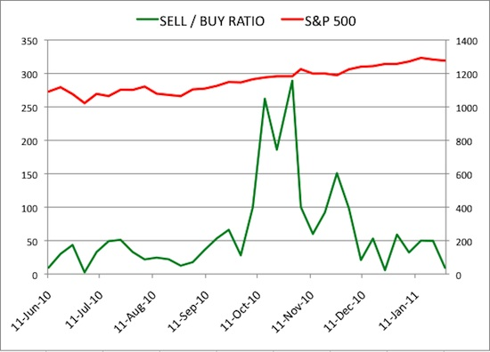 Source

Margin Compression

Commodities prices are on the rise. Copper, steel, grains, and crude have all been on the rise pressuring margins. Companies such as Whirlpool have recently delivered negative surprises as a result of margin compression. It is likely that we will see further such misses and guidance revisions as commodities inflation drives up input costs faster than companies can pass this along to consumers who are still suffering from unemployment or underemployment. Commodity inflation has Jim Rogers wary of the equity markets. He told CNBC on February 3, that oil would soon run to $150.00 a barrel. He further told CNBC:
Commodities have outperformed stock by 10 times over the last 10-12 years. Why aren't you doing only commodities. It's outperformed stocks by 1,000%. To me it's pretty simple, you should change the name to CommoditiesNBC.
And, finally, his response to what his stock exposure is is not what CNBC wanted to hear. "I am short emerging markets ETFs, short Nasdaq ETFs." Source

Near term upside and downside targets on the S&P:

Mrtopstep is a group of big S&P floor traders in Chicago who tweet their market views, post videos to YouTube, and run their own subscription service on the S&P 500 trade. Some of their traders are very concerned that we are over stretched. They would like to see us trade back to the 1250s to relieve some of the overboughtness in the markets. But they trade what they see, not what they would like to see. For near term upside targets should we not correct, we are looking first at 1313 in the S&P futures and then 666 x 2 for 1332. Source: here and here.
Tread lightly and hedge effectively:

We may trade up a bit further before we see a correction, but we are likely to see a correction soon here. What will be the catalyst for this correction? Perhaps some news from Egypt, a China rate hike, something negative on the Europe sovereign debt front, or something we don't even know about yet. There will likely be an "excuse" but the real reasons would be those mentioned here. If you have a significant long portfolio, hedge with S&P puts, VIX calls, or collar your individual positions with some room for upside. We may not be there yet, but storm clouds are brewing.

Disclosure: I am short FXI, IWM. Long FXI Feb 45 Puts, Long IWM March 80 Puts