by Dennis "Cos" Costa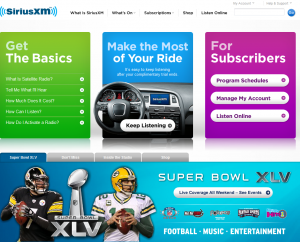 On Friday, February 4th, Sirius XM Radio (NASDAQ: SIRI) launched without any fanfare its new combined Sirius and XM website with an enhanced On-line Radio Player. As had been anticipated in an article I wrote just two weeks ago, in which I asked the question -What's Next For Sirius XM Radio? – the company has now completed the first of four "speculations" put forth in that writing.
Since the merger back in August 2008, the two Satellite Radio providers have taken significant strides to take advantage of business synergies available, saving the merged entity hundreds of millions of dollars. The area most frequently criticized, has not been its premium and unique content, but rather the overall customer experience in accessing services, or knowing what service is available through which company's website. Subscribers of XM wanting Sirius products have been confused with the offerings, while the same is true for Sirius subscribers wanting to know about XM products.
Most customers or would-be customers could have argued –What Merger? The two companies had continued to run as separate and unique businesses, while proceeding to untangle restrictions placed on each company by some of its debt covenants. The company had to be careful not to trip any of these covenants which could potentially create a default condition. While this was a legitimate and understandable focus of the company, it created this disconnect for its customers. This website combination is a huge first step to clearing up much of the confusion, in my opinion.
This action to give current and future listeners a more unified customer experience comes on the heels of the company announcing the last step of its business combination of XM Satellite Radio, into Sirius XM Radio last month in an 8K filing with the SEC. The final phase of the merger of XM into Sirius was made possible by debt restructuring efforts the company enacted, beginning in June 2009 with the restructuring of a loan made by John Malone, & Liberty Media Corporation (NASDAQ: LCAPA). These restructuring efforts continued and combined to remove leverage, and restrictive covenant language from debt held by Sirius on its 2012 Senior Secured Notes and its 2013 Notes due, with new 8.75% financing. The final piece of the restructuring effort came in October 2010, with an early call of debt held by XM due in 2013. With all debt now held by the company restructured or initiated since the merger, and without further restriction, the company was able to complete the merger as described above in January 2011.
As one company, Sirius XM Radio is now free to be opportunistic in the merging of its separate customer functions. Some would argue that they could have done this earlier, but the accounting of it all was obviously cost prohibitive while running two separate business entities. The freedom to enhance user experience by making its products more typical of what the competition is offering in both free and paid services is an important area for the company to continue to optimize.
In the second quarter conference call 2010, Mel Karmazin, Chairman and CEO of Sirius XM, announced that the company would be launching Satellite Radio 2.0 in the fourth quarter of 2011. The initial launch will involve retail product offerings and a new internet experience, with OEM installations taking place at a later date. This combination of websites and launching of a new player is a good first step to accomplishing this goal of rolling out the 2.0 products.
The company's stock has been on a solid up-trend since the end of August 2010 when its price was sitting at just under $1.00 per share. Since that time the shares have climbed to a new two year high of 1.77 on Thursday, February 3rd, 2011. In just under 6 months, that represents a gain of ~84% for the company's investors.
The company announced last week that they will be reporting their fourth quarter and full year operating and financial results in a conference call on Tuesday, February 15th, 2011 at 8:00 am ET. Investors will be eagerly awaiting the conference call to listen for news about continued innovations coming to the Satellite Radio provider, further strengthening their investment in the process.

Disclosure: I am long SIRI.