China MediaExpress Holdings (NASDAQ: CCME) investors suffered nearly devastating losses last week as short sellers Citron Research and Muddy Waters LLC published back to back reports, nearly knocking CCME out in the second round by convincingly showing that CCME overstates its true earnings power.
In a new twist, Citron and Muddy's aggressive claims are now being challenged by the respected Boston class action law firm Shapiro Haber & Urmy LLP, who seeks to determine (full text here):
Whether statements in those research reports were materially false and misleading at the time they were made. Specifically, the investigation seeks to determine, among other things, whether the research reports improperly mischaracterized numerous aspects of the Company's business.
Citron is not shy to such challenges, in fact its website warns any potential plaintiff to "make sure you are willing to defend everything you have done, not just your words, but your actions, in court — we are." Citron also claims to have never lost a case. Muddy clearly discloses that it takes care to present the facts and "makes no representation, express or implied, as to the accuracy, timeliness, or completeness" of information in its research reports.
So should investors with losses blame Citron and Muddy? Absolutely not, CCME has long been a suspected fraud. The volatility in the stock should thus be expected and has long been reflected in its outrageous options premiums. Since September a thundering heard of bulls led by Global Hunter Securities and a half dozen bloggers drove the stock up from $8 to $24 (3X) before last week's 50% collapse as over margined investors panicked, en masse, after reading the Citron and Muddy reports.
Chart of CCME since September, 2010: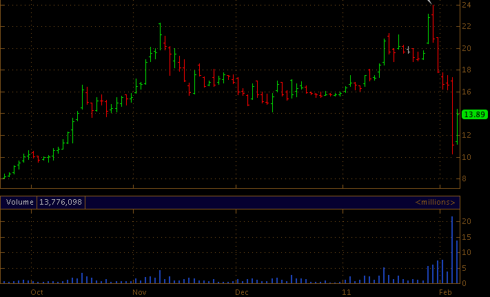 Has CCME, its analysts, bloggers, Citron or Muddy published anything materially false or misleading? We won't know for a long time. But based on the current share price, exceedingly low valuation, and with greater than 50% of the float short, it seems the market is convinced at this point that CCME committed significant fraud. Next week CCME will get its chance to respond in what is likely to be an exciting third round comeback. I, for one, expect a very strong response followed by another bull charge.
CCME has numerous ways to assure the market -- all easily at its disposal -- including announcing an investor day, providing copies of contracts, bank statements, videos, endorsements from trade associations, and even making a preannouncement of another amazing quarterly performance with free bus passes for all! Should you believe it? That's up to you. The only certainty is continued volatility. Play it carefully and don't get your feelings hurt when you lose, as most will.
In my own experience, in the last six months I clearly and convincingly showed that RINO (here), CGA (here, here), CHNG (here, here) and BORN (here) were all likely frauds. All three fell substantially and remain lower to this date. Some now face legal inquiries to decide their fate. My arguments were well documented with multiple evidence of fraud conducted by management. Each company responded publicly to the allegations after which the market weighed the evidence and voted each stock lower. Why were none of these companies able to immediately and convincingly refute "little" Alfred Little's allegations? This is the minimum investors should demand next week when CCME responds.
"Lorem auctores cladibus nostris."
(We are the authors of our own disasters.)
Disclosure: I have no positions in any stocks mentioned, and no plans to initiate any positions within the next 72 hours.