David Stockman (hat tip: Karl Denninger) points out that unemployment remains high (9.9% rate) and has increased in the last few months, despite the US government's financial stimulus.
Taking a longer view, I might say, "because of" rather than "despite". In particular, I note Stockman's comment that the Government is currently issuing bonds at the rate of $120 billion per month, but the economy is only growing at $40 billion per month.
This flogging-a-dying-horse reminds me of the desperate and damaging stimuli of the early 1970s and the 1980s. The latter is a period still generally perceived as a good time, even by what I would think is a majority of political and economic commentators. Stockman himself was President Reagan's Director of the Office of Management and Budget between 1981 - 1985, so I wonder what he now thinks of the economic expansion under his aegis.
Big spending may feel like prosperity, but the context has to be widened to judge its merits properly. I think what we in the UK are suffering now is not the result of a decade of reckless socialist mismanagement, rather, its cause is several decades (at least) of monetary expansion under governments of nominally opposed persuasions. In the USA, it seems that since 1980, Republican Presidents have seen public debt increase more on their watch than Democrats, but that's not to say that the connection is necessarily causal, and in any case private and corporate debt is now at least a great a problem: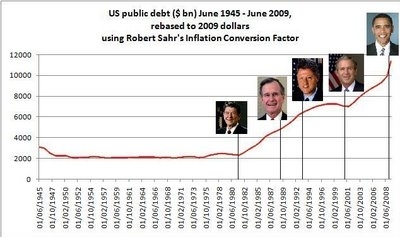 I think it hardly matters whether the accumulation of debt is by governments or by individuals and corporations: the weight on the economy is just as heavy whether in the form of taxation or of payments to banks (except boy, has the growth of private debt made the bankers rich).
Curious to explore the connection between debt and GDP, in January last year I charted the change in UK M4 bank lending versus change in GDP thus (click to enlarge images):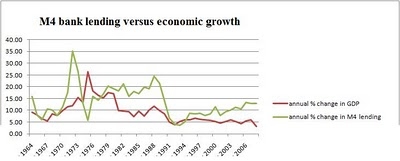 I'm sure American readers can construct something similar-looking for the USA, too. In fact, something like this was done in March last year by Nathan Martin, in what he terms "the most important chart of the century":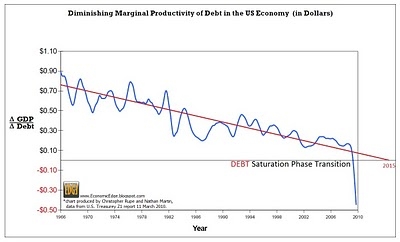 But where will it all lead? Continuing price inflation, or a bust? Or one followed by the other - and in what order? And are there other forces at work?
Chris Mayer in The Daily Reckoning sees inflation picking up, in the same sense "as the man on the street does. It is when prices for most everything go up." He's thinking about food and energy in the first place, of course. Some may attribute this to quantitative easing, though there is debate about whether some forms of QE are actually inflationary (see part of the logical argument here, but I can assure you that a confidential discussion document on this subject has recently been circulating within at least one City of London investment bank). Other possible causes include recent bad harvests, growing concerns over energy and food security at a time of international political instability and, of course, investor speculation and market manipulation.
The last is another reason for my cautious approach. Many of us will be tempted to go and invest, so we don't lose the value of our cash, even though we don't have the advantages of practically zero-cost financial leveraging and computerised flash trading like the big Wall Street concerns. Sadly for us, they're also closest to the exit doors. It's not a game that I care to join at the moment, even though I'm getting virtually nothing on my bank balance. The chummy poker group can keep its green eyeshades, marked deck and concerted tactics, and for my part I'll keep my billfold in my pocket for now, thank you.
During an inflationary period, not everything will go up at the same rate. One aspect of the Weimar experience (and before) was that as food costs soared, the real cost of rents plummeted - partly because of official controls and partly because the periodic nature of rent reviews makes them vulnerable to interim events, as this table quoted in Now and Futures shows: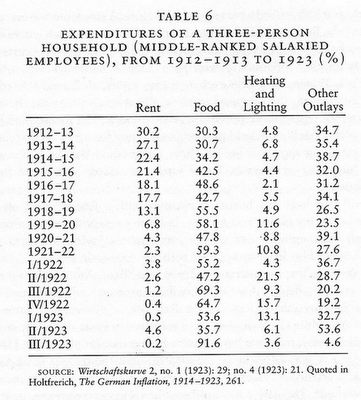 Note that this process took place over a whole decade at least, not just in the hyperinflationary blow-off in 1923.
I have a personal reason for playing whack-a-mole with investment bubbles: it so happens that we're considering moving house, to one that may cost more (my wife simply won't countenance the caravan idea, a subject I have broached many times). This gives me motivation to try reading the cross-currents in market pricing - houses, stocks, bonds and so on.
It's difficult: Since the mid-1980s, the sort of new car I first purchased has hardly changed in price (though now it would be a different make and model), whereas my house has gone up about 6 times. I guess that illustrates the difference between what can be made and transported globally, versus what can only be sourced locally. In the UK, residential property is still around five-and-a-half times average earnings as against a longer term average of three-and-a-half times. So I think here - as in the US - housing is still heading for a fall, at least in real or wage-related terms.
Maybe the story is that as we approach debt saturation, the things that tend to be credit-financed will stall or drop in price, whereas other items that we pay out of income are more susceptible to such inflationary pressures as may come into play.
So it becomes a game plan: I have to take a view of inflation that suits my particular objectives. Provided my earnings can continue to cover living costs, there may yet be a drop in house prices sufficient to reward my remaining in cash, especially if interest rates rise (and also if the unemployment rate continues high or worsens).
There are those who fear that our governments will ultimately "go Weimar" (or Zimbabwe, perhaps - a comparison made more than once by Marc Faber recently). These commentators will often advise parking the cash in commodities meantime, but that's another set of bubbles - gold, for example, is already above its long-term inflation-adjusted trend, as I charted a while back: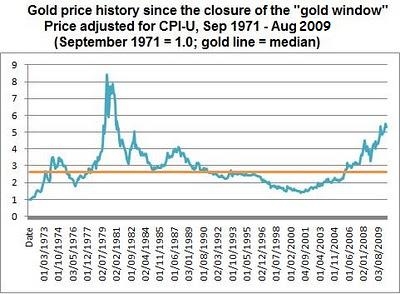 I know, there are many gold bugs saying "you ain't seen nothin' yet", but I see many of the same green-shaded people round that table again. Rather than risk much capital, I might be interested in regular premium investment in commodities and so benefit from cost averaging, a strategy repeatedly recommended by Richard Daughty aka The Mogambo Guru, e.g. last April.
In any case, it may be that the undertow on this stormy beach may not be inflation but deflation, as lenders start to charge more and get more selective about their customers, and traders start deleveraging as they run out of fools.
Like most ordinary people, my main concerns are something to live in (which, my wife insists, musn't have wheels) and something to live on. We watch the battle between inflation and deflation from the sidelines, while the game commentators predict the course of the fight, contradicting each other with a degree of confidence that I wish I could have about any important matter.
It's a time of tough calls. The IN-versus-DE game looks likely to have a number of sudden reversals, so there isn't one good-for-all-situations bet you can make and then walk off for a coffee.
The situation we are in appears not to be adequately described by most classical economists, because (it seems) their theories downplay debt as a factor; which is why only a handful can justly claim to have predicted the Credit Crunch.
But some did. One of these, Professor Steve Keen, has tried to model a capitalist economy giving due weight to the role of accumulating debt. It is a mathematical model relating to Minsky's Financial Instability Hypothesis and as early as 1995 Keen perceived that it has "chaotic dynamics" that mean "a period of relative tranquillity in a capitalist economy" is merely "a lull before the storm".
Accordingly, as his program cycles the variables (see here - PDF) it shows the economy apparently heading for a stabilisation point, and then at the end we get a sudden and drastic alteration. I have previously compared this to the way in which a heated saucepan full of milk will seem to calm down for a few seconds, just before it boils over.
Here, for example, is what Keen's model predicts in respect of wages: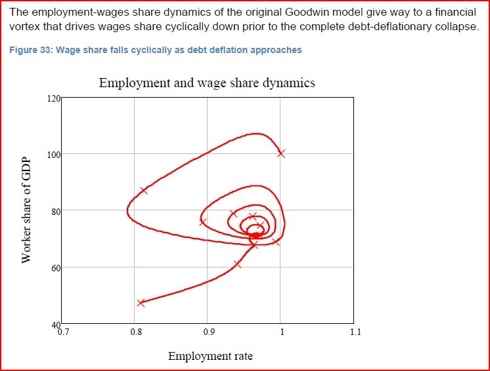 ... though it has to be said that not all suffer equally - here is what happens to the bankers' share of incomes: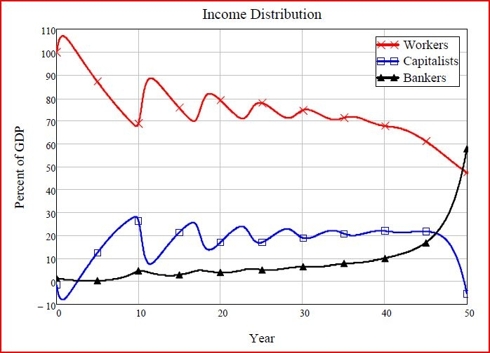 Keen, you will see, thinks we are heading for a deflationary collapse. But it occurs to me that regardless of whether the bust is IN- or DE-, it's a bust and lots of people lose a lot of what they worked so hard for. And, I fear, they then get mad, and vengeful.
The enemy, then is debt, and however it plays out (chaotically, according to this Australian economist) the result is not good. The liquidity that has increased over many decades is like a sky full of gathering storm clouds, and it seems that few of us will be able to avoid being soaked to the skin when they burst. Whatever tree we're standing under, we may be forced to dash to another and get caught in between, only to find that the next tree is as wet as the one we left; and we may not be able to predict where and when the lightning will strike.
This leaves me with the conviction that it's no longer about maximising profits. We need to make a variety of contingency and survival plans. You may possibly have heard of the British investment banker who, as the credit crunch developed, went home one weekend and bought a flock of sheep from a neighboring farmer, to make sure his family would be able to eat if the system broke down.
A moment's consideration will show that this panic spasm hardly constitutes a detailed long-term plan. The worst may never happen, but we still fit smoke alarms just in case; the real tragedy of the Titanic was the insufficient number of lifeboats on the assumption that they would never be needed; start your worrying and planning now.
Disclosure: None. Still in cash, and missing all those day-trading opportunities.I have no positions in any stocks mentioned, and no plans to initiate any positions within the next 72 hours.
Disclaimer: Nothing here should be taken as personal advice, financial or otherwise. No liability is accepted for third-party content, whether incorporated in or linked to this blog.