The stock market is climbing the proverbial wall of worry. It is not quite as obvious as in past cycles but there is an enormous skepticism about the market's ability to sustain the advances of the past two years. With technical analysts and doomsayers wrong for months there is a pent up demand for stocks. With the markets making new 52 week highs and Nasdaq leading the way high tech stocks, particularly large caps with strong EPS growth prospects, should be purchased on any short term weakness.
With that in mind, we screened our data base of 5000 stocks for large cap technology companies with bullish ratings. These 5 companies continue to gain analyst confidence by posting solid earnings with excellent ROE each quarter. Attracting investor interest at current levels and in most cases breaking out to new highs, any pullback in the broader markets should provide a good opportunity to add these stocks to a portfolio with long-term growth expectations. If we are correct and the bull market continues with an increasing emphasis on large cap stocks then technology should be leading the markets higher.
Our rating is based on a 20-factor model incorporating financial metrics, earnings performance, price/volume activity and expert opinions to determine a stock's potential over the next 3-6 months.
Applied Materials Inc (NASDAQ:AMAT): 16.49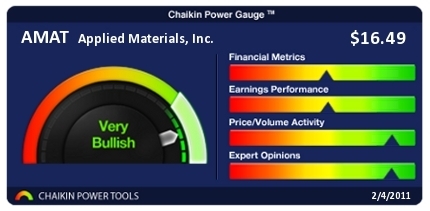 Applied Materials with a lot of cash on its balance sheet is well positioned to invest for accelerated growth as clients including Intel and Samsung continue to spend heavily on semiconductor equipment to meet rising demand for tablet computers and smartphones.
High profit margins reflect an efficient management team focused on spending wisely, thus continuing to generate strong ROE. The company posted strong 3rd quarter earnings for 2010 but warned for the 4th quarter and is cautiously optimistic regarding 2011. However, with its customers such as Intel announcing stellar results coupled with its own new product launches, we believe that management is being conservative in its guidance.
Positive money flow activity and a strong price trend vs. the broader market bolster bullish price/volume. Positive price strength vs. its industry adds to our rating. The stock has gained over 50% in the last 4 months rallying to new 52-week highs and any pullback prior to Q4 earnings report or a sell off after the earnings announcement is a buying opportunity. We suggest you put it on your watch list ahead of the earnings call and pay close attention.
EMC Corporation (EMC): 25.69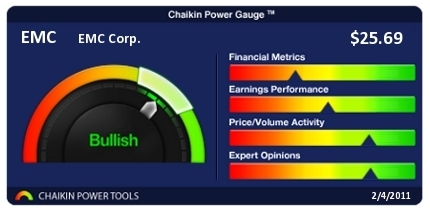 Accelerated technology spending by companies eager to jumpstart growth has boded well for the largest maker of data storage computers. EMC saw its 4th quarter jump 61% as it beat Wall Street's expectations on both revenue and earnings.
The future looks promising for EMC as companies continue to upgrade current technology and also invest in data-storage technology as they understand cost savings realized by embracing cloud computing, Management expects EMC to gain share in the data storage marketplace.
Analysts have raised their 2011 earnings estimates following the company's earnings call. Consistent earnings with high profit margins contribute to a strong ROE. Positive money flow activity and a strong price trend vs. the broader market contribute to a bullish price/volume activity.
The stock is back to its high before the 2008 collapse which could provide short-term resistance. However, given its position in one of the most critical technology areas and the momentum it has gathered, we believe such resistance will be short lived and should be viewed as an opportunity to buy on the dip.
Corning Inc (NYSE:GLW): 23.37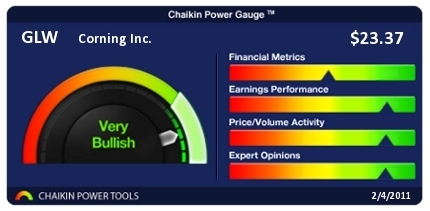 Once Corning was known as a glass company. Today, it has successfully transformed itself into a technology company. However, at its core, Corning is still a glass company. Therefore, it should not come as a surprise to anyone that the primary driver of Corning's better than expected revenues in the 4th quarter is its 'Gorrilla Glass' product used in smart phone devices and LCD TVs.
The company has returned to growth and will continue growing at an accelerated pace with Gorilla Glass segment, which has just begun gaining momentum, leading the way. Analysts are very bullish on the company's future earnings driven mainly by demand for Gorilla Glass and believe that the low P/E ratio of 10 undervalues the company.
Consistent earnings with very high profit margins, a strong ROE and a low P/E ratio on projected 2011 earnings contribute to a strong earnings performance metric. A strong price trend and bullish price strength vs. its industry and the broader market further bolster a very bullish rating.
After being mostly flat over the last year, shares jumped over 15% since the earnings call last week indicating a breakout and taking the stock to higher 52-week highs. We believe GLW will continue to rally and suggest using any sell offs of 1 ½ to 3 days to buy Corning.
Hewlett-Packard Company (NYSE:HPQ): 47.43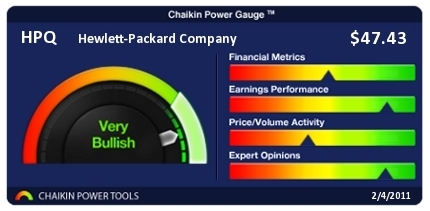 HP, like a troubled superstar player on a championship team, does everything (well, mostly everything) right on the field and wrong off it. While memories of ex-CEO Carly Fiorina and her ouster are still in the present, we now have to digest the ouster of another ex-CEO Mark Hurd.
However, despite all the noise, HP continues to execute much better than many of its peers and competitors on the field. Whether it is gaining market share in the waning PC market, teaming up with Verizon to introduce a 4G LTE notebook, or flexing its muscles in the cloud computing marketplace, it continues to "invent" and grow.
Despite posting consistent earnings with high profit margins and generating strong ROE, HPQ lost 30% in less than 3 months from its 52 week high in May to its 52 week low in August amid the Mark Hurd scandal, losing 20% in August alone following the CEO's resignation. Since then, the stock has recovered 25% and is back to Mr. Hurd's preresignation days but still 10% off its 52-week high. The current board is completely revamped following the replacement of many of Hurd's directors.
The fundamentals of the company seem to be intact. A low projected P/E ratio on 2011 earnings suggests that shares are undervalued at current levels. Analysts are bullish on the company's 2011 prospects and have raised their estimates. All these factors result in a very bullish rating. We believe that with new management team now in place and the Mark Hurd scandal a story of the past, HPQ will resume focus on business opportunities and growth rather than personalities.
Qualcomm Incorporated (NASDAQ:QCOM): 55.23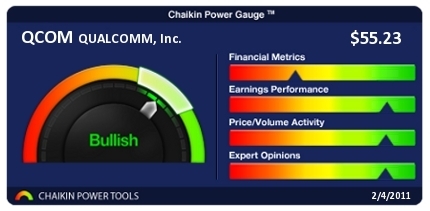 As Verizon and Apple continue to strengthen their partnership and bring the iPhone onto America's most reliable network; there will be some automatic beneficiaries. With its chips powering the iPhone 4, Qualcomm will be leading the pack. Smartphones are the next wave and since Qualcomm chips are a necessity in many of these smartphones, the company stands to benefit. As if this wasn't enough demand for growth, the company is also seeing increased demand for sales of its chips for wireless devices from two populous countries, China and India.
The company recently announced a better-than-expected quarter and raised its forecast for 2011. Wall Street analysts, pleased with the earnings announcement, have raised their 2011 earnings estimates leading to a bullish expert opinions metric. Positive money flow activity and a very strong price trend vs. the broader market suggest that the current rally has legs and the stock will continue riding the smart-phone wave and build upon its 70% gain since July. Any pullback at these levels should provide an opportunity to add QCOM to technology oriented portfolios.
Disclosure: I have no positions in any stocks mentioned, and no plans to initiate any positions within the next 72 hours.